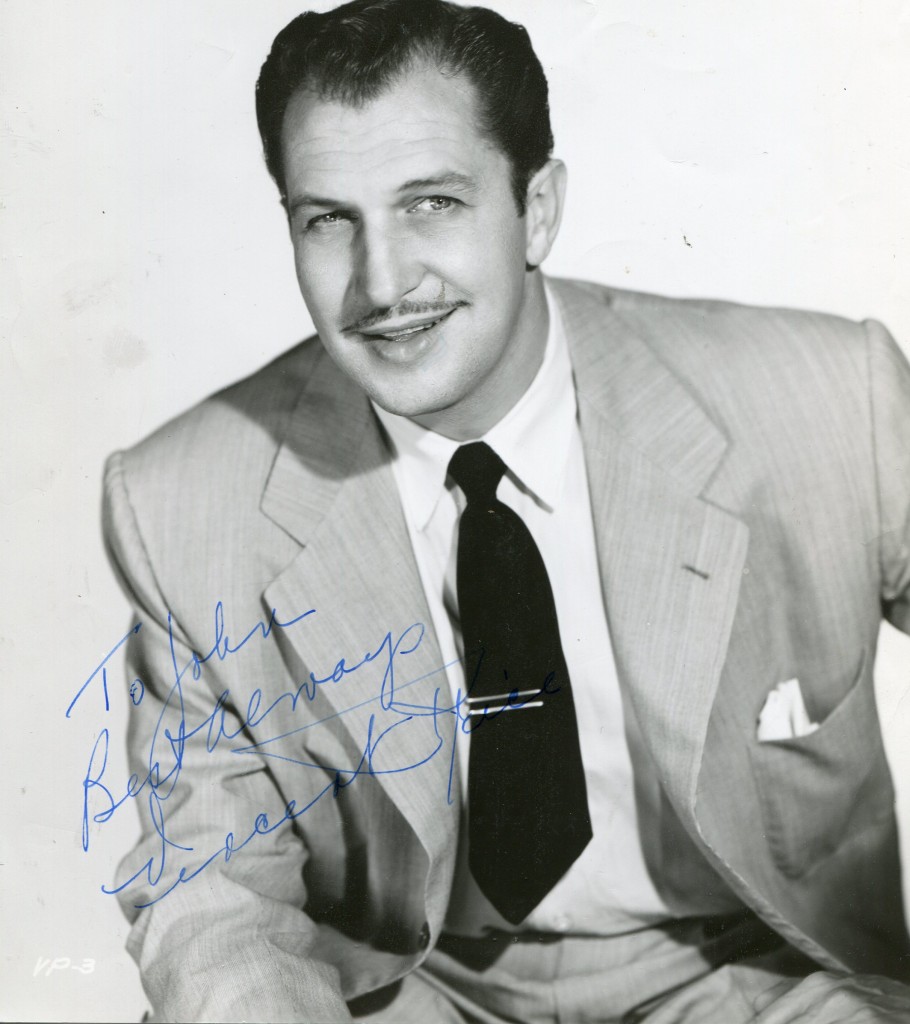 TCM Overview:
A cultured and debonair star with a mellifluous voice, actor Vincent Price developed a reputation portraying campy villains in a number of horror films. Though he began his career on the British stage, Price made his name as a supporting character player in noirs like "Laura" (1944), "The Long Night" (1947) and "The Bribe" (1949) before becoming inextricably tied to horror, thanks to his turn as the vengeance seeking wax sculptor in the classic "House of Wax" (1953). From there, he solidified his standing with "The Mad Magician" (1954) before appearing in mainstream studio fare like "While the City Sleeps" (1956) and "The Ten Commandments" (1956). After earning cult status with "The Fly" (1958) and its sequel "Return of the Fly" (1959), Price began a collaboration with low-budget producer Roger Corman on a series of Edgar Allen Poe adaptations, including "House of Usher" (1960), "The Pit and the Pendulum" (1961), and "The Raven" (1963). He hit a career low point with a pair of overly-campy James Bond spoofs, while revealing his role as the arch villain Egghead on "Batman" (ABC, 1966-68). Price wound down his career in the next decades using his distinctive voice in a number of projects, most notably Tim Burton's stop-motion short "Vincent" (1982) and Michael Jackson's seminal music video, "Thriller" (1983). Price made his final film appearance in Burton's fantastical "Edward Scissorhands" (1990), before succumbing to lung cancer in 1993 and leaving behind a legacy forever entwined with the horror genre.
Born on May 27, 1911 in St. Louis, MO, Price was raised in a wealthy home by his father, Vincent, the president of a candy manufacturing company, and his mother, Marguerite. Price received a top-notch education, attending the private St. Louis Country Day School before earning bachelor degrees in history and language from Yale University. While attending the Ivy League school, he began to dabble in performing, particularly in Gilbert and Sullivan operettas. Price moved on to the University of London, where he studied history and studied art at the Courtald Institute. During his time in the British Isles, Price began to perform on stage professionally and made his stage debut in a production of "Chicago" at the Gate Theatre in Dublin. In 1935, he delivered a sterling performance as the Prince Regent in the Gate Theatre's production of "Victoria Regina," which made its way across the Atlantic for a triumphant performance on Broadway. Price's success on stage soon led to a film career, starting with his debut in "Service De Luxe" (1938) and graduating to more prominent parts such as Raleigh in the costume drama "The Private Lives of Elizabeth and Essex" (1939).
Price soon moved into playing the villain in several films and turned in strong performances in straight dramas, notably in Otto Preminger's "Laura" (1944), opposite Gene Tierney and Dana Andrews, and Anatole Litvak's "The Long Night" (1947). Price continued to play the heavy in noirs like "The Web" (1947), "Rogue's Regiment" (1948) and "The Bribe" (1949), before landing the lead role of a conman and expert forger in "The Baron of Arizona" (1950). Following supporting roles in "His Kind of Woman" (1951) and "The Las Vegas Story" (1952), Price became almost exclusively associated with the horror genre, thanks to his role as the revenge-driven sculptor in the 3-D classic of the macabre, "House of Wax" (1953), a film with which he was indelibly entwined for the rest of his career, and that led to starring roles in other horror pictures like "The Mad Magician" (1954). He next supported Victor Mature and Piper Laurie in the noir thriller "Dangerous Mission" (1954), and had a cameo as the real Casanova in the Bob Hope comedy "Casanova's Big Night" (1954). After turns in Howard Hughes' troubled production "Son of Sinbad" (1955) and Fritz Lang's "While the City Sleeps" (1956), his theatrical flair was also put to good use as the villainous Baka in Cecil B. DeMille's epic remake of his "The Ten Commandments" (1956), starring Charlton Heston and Yule Brynner.
While amassing a number of supporting roles in major pictures, Price continued to be a star in lower budget horror, and further cemented his stature in that genre as the scientist-turned-fly's brother in the cult favorite "The Fly" (1958) and the sequel "Return of the Fly" (1959). He also appeared as an eccentric millionaire in the original version of "House on Haunted Hill" (1959), which was remade 40 years later. In the early 1960s, Price began appearing in movies produced by American International Pictures, a busy studio that specialized in churning out cheapie teen genre fare for drive-ins. He often worked with famed low-budget director Roger Corman, for whom he starred in a series of stylish gothic chillers loosely based on the stories of Edgar Allan Poe, including "House of Usher" (1960), "The Pit and the Pendulum" (1961), "The Raven" (1963), and "The Masque of the Red Death" (1964); AIP sometimes teamed Price with aging Hollywood icons Peter Lorre, Boris Karloff and Basil Rathbone. He went on to appear in "Dr. Goldfoot and the Bikini Machine" (1965), an obvious spoof of the James Bond classic "Goldfinger" (1964), which spawned the dreadful sequel "Dr. Goldfoot and the Girl Bombs" (1966).
Price was also a fine arts collector, chef and lecturer of some note. He published books on art and cuisine, ranging fromDrawings of Delacroix (1962) to The Come Into the Kitchen Cook Book, (1969), co-authored with second wife Mary. From 1966-68, Price gleefully spoofed his onscreen image playing the villain Egghead on the camp series "Batman" (ABC, 1966-68), a role that he relished. Meanwhile, he broadened his horizons and made his Broadway musical debut in "Darling of the Day" (1968), before touring the United States and later the world in "Diversions and Delights," his one-man play about Oscar Wilde. He continued to appear onscreen, of course, delivering classically campy turns in "The Abominable Dr. Phibes" (1971) and its sequel, "Dr. Phibes Rises Again (1972). Price counted "Theatre of Blood" (1973) among his favorite credits, in which he played Edward Lionheart, a Shakespearean ham who exacts bloody vengeance on his critics by dispatching them in recreations of the Bard's famous death scenes. He next starred in the British-made horror film "Madhouse" (1974) and stayed across the pond for the strange comedy "Percy's Progress" (1974), about a man who undergoes the world's first penis transplant.
Price next starred opposite Sam Waterston and Donald Pleasence in the thriller "Journey into Fear" (1975) and joined the all-star cast of the spoof "Scavenger Hunt" (1979), which featured an ensemble cast that included Tony Randall, Cloris Leachman, Roddy McDowall, James Coco and Ruth Gordon. In the late-1970s, Price found the horror movies were not as popular as they once were and began shifting toward more voiceover work, having already been noted for his rarified diction tinged with a hint of malice. He also found his career to be winding down just a bit, and thus made fewer appearances as he had in the past. In 1981, he began serving an eight-year stint as the urbane, gently sinister host of the PBS series "Mystery!" (1980-88), which showcased adaptations of famed horror stories. At the same time, he was contacted for his services by two self-avowed Vincent Price fans. First, Price was asked to narrate up-and-coming filmmaker Tim Burton's stop-motion short, "Vincent" (1982), as well as supplied the spoken word narration for Michael Jackson's landmark song and video "Thriller" (1983). He next appeared onscreen opposite old friend Christopher Lee and Peter Cushing in the horror spoof "House of the Long Shadows" (1983), and followed that with a turn in the over-the-top "Bloodbath at the House of Death" (1984).
Price provided the voice for the diabolical Professor Ratigan, the Dr. Moriarty-like villain of the Disney animated feature, "The Great Mouse Detective" (1986). His last major role in a feature was Mr. Maranov, the transplanted Russian nobleman who charms Bette Davis and Lillian Gish in Lindsay Anderson's "The Whales of August" (1987). Price was a major influence on filmmaker Tim Burton, who idolized his screen persona as a child and led to the morbid adoration that was the subject of "Vincent." Burton later cast him as the kindly old inventor who creates the titular "Edward Scissorhands" (1990), a role that was cut down in size because of Price's worsening emphysema brought about by a lifetime of smoking cigarettes. The brief, but charming appearance proved to be Price's last appearance on film. He later made an appearance on the small screen in the television movie "The Heart of Justice" (TNT, 1993), the very last time he was on any screen. Price eventually succumbed to lung cancer on Oct. 25, 1993. He was 82 years old.
 The above TCM overview can also be accessed on line
here.