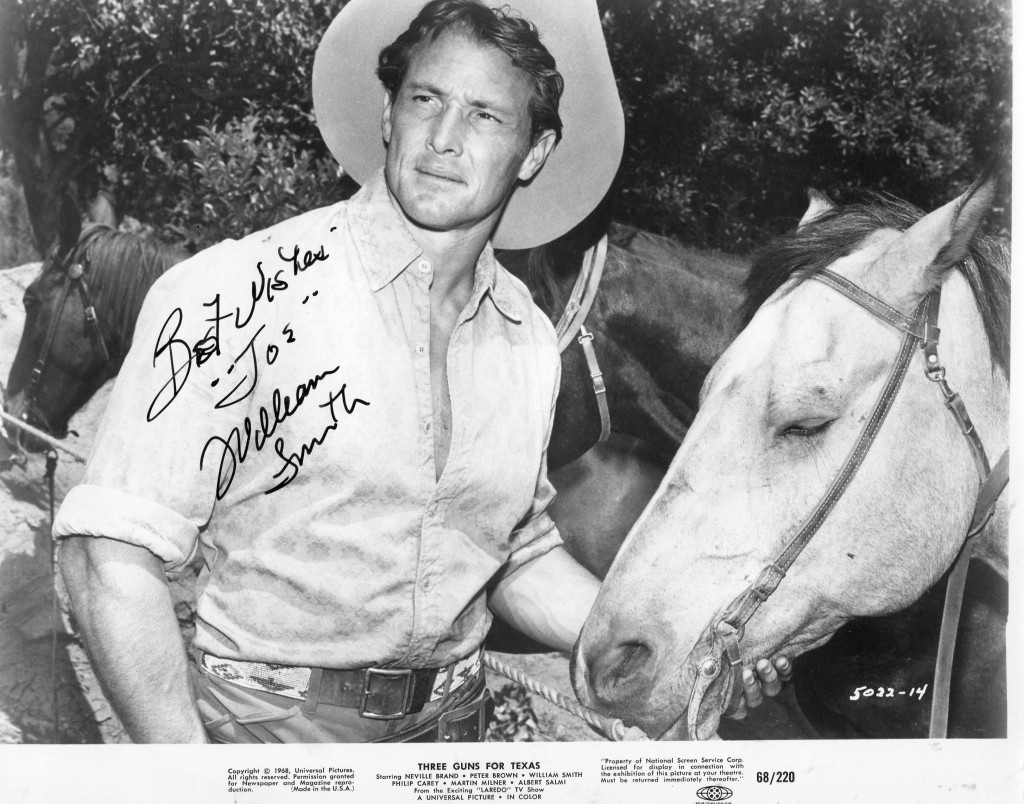 William Smith was born in 1933 in Missouri. A lifelong boldybuilder, the 6ft 2″ Smith has featured in over 300 film and television programmes. He is perhaps best know for his role as the evil 'Falconetti' in "Rich Man, Poor Man" mini-series in 1976 and the TV Western series "Laredo" from 1965 until 1967. His movies include "Darker Than Amber" with Rod Taylor in 1971, "Twilight's Last Gleaming" and "Any Which Way You Can" with Clint Eastwood in 1980. He joined the cast of "Hawaii 5 0" for it's last series in 1979. He is also known as the last Marlboro Man on cigarette advertisments.
William Smith. Wikipedia.
William Smith (born March 24, 1933) is an American actor who has appeared in almost three hundred feature films and television productions,[1] with his best known role being the menacing Anthony Falconetti in the 1970s television mini-series Rich Man, Poor Man.
Smith is also known for films like Any Which Way You Can (1980), Conan The Barbarian (1982), Rumble Fish (1983), and Red Dawn(1984), as well as lead roles in several exploitation films during the 1970s.
Born in Columbia, Missouri, Smith began his acting career at the age of eight in 1942; he entered films as a child actor in such films as The Ghost of Frankenstein, The Song of Bernadette and Meet Me in St. Louis.
Smith served in the United States Air Force. He won the 200 pound (91 kg) arm-wrestling championship of the world multiple times and also won the United States Air Force weightlifting championship. A lifelong bodybuilder, Smith is a record holder for reverse-curling his own body weight. His trademark arms measured as much as 19½ inches. Smith held a 31-1 record as an amateur boxer.
During the Korean War he was a Russian Intercept Interrogator and flew secret ferret missions over the Russian SFSR. He had both CIAand NSA clearance and intended to enter a classified position with the U.S. government, but while he was working on his doctorate studies he landed an acting contract with MGM.
He was a regular on the 1961 ABC television series The Asphalt Jungle, portraying police Sergeant Danny Keller. One of his earliest leading roles was as Joe Riley, a Texas Ranger on the NBC western series Laredo (1965–1967). In 1967, Smith guest starred as Jude Bonner on James Arness's long-lived western Gunsmoke.
Smith was cast as John Richard Parker, brother of Cynthia Ann Parker, both taken hostage in Texas by the Comanche, in the 1969 episode "The Understanding" of the syndicated television series Death Valley Days, which was hosted by Robert Taylor. In the story line, Parker contracts the plague, is left for dead by his fellow Comanche warriors, and is rescued by his future Mexican wife, Yolanda (Emily Banks).[2]
He played the outlaw turned temporary sheriff Hendry Brown in the 1969 episode "The Restless Man". In that story line, Brown takes the job of sheriff to tame a lawless town, begins to court a young woman (again played by Emily Banks), but soon returns to his deadly outlaw ways in search of bigger thrills.[3]
On Gunsmoke, Smith appeared in a 1972 episode, "Hostage!"; his character beats and rapes Amanda Blake's character Miss Kitty Russell and shoots her twice in the back. Smith has been described as the "greatest bad-guy character actor of our time".
Smith joined the cast of the final season of Hawaii Five-O (as Detective James "Kimo" Carew, a new officer in the Five-O unit). He had previously appeared with Jack Lord in Lord's prior series Stoney Burke. Smith starred in one episode each of the Adam West Batman TV series (in the episode "Minerva, Mayhem and Millionaires" as Adonis, one of the minions of the title guest villainess portrayed by Zsa Zsa Gabor), I Dream of Jeannie (in the episode "Operation: First Couple on the Moon" as Turk Parker), Kung Fu, and as The Treybor, a ruthless warlord, in the Buck Rogers in the 25th Century episode "Buck's Duel to the Death". Smith also made guest appearances opposite James Garner in the 1974 two-hour pilot for The Rockford Files (titled "Backlash of the Hunter" and also featuring Lindsay Wagner and Bill Mumy), and George Peppard in The A-Team (in two appearances as different characters, in the first season's "Pros and Cons" and the fourth season's "The A-Team Is Coming, The A-Team Is Coming").
In the 1976 television miniseries Rich Man, Poor Man, he portrayed Anthony Falconetti, nemesis of the Jordache family, and reprised the role in the sequel Rich Man, Poor Man Book II. Other 1970s TV appearances included the Kolchak: The Night Stalker episode "The Energy Eater", as an Indian medicine man who advises Kolchak, and an early Six Million Dollar Man episode "Survival of the Fittest" as Commander Maxwell. He also appeared in the 1979 miniseries The Rebels as John Waverly, and in an episode of The Dukes of Hazzard as Jason Steele, a bounty hunter hired by Sheriff Rosco P. Coltrane to frame the Duke Boys into jail.
On the big screen, Smith became the star of several cult movies from the early seventies. Smith appeared as heavy Terry Bartell in Darker than Amber in 1970. Also that year, Smith was also featured in two biker flicks Nam's Angels (originally released under the title "The Losers") co-starring Bernie Hamilton and C.C. and Company with Ann-Margret, Joe Namath, Jennifer Billingsley and genre favorite Sid Haig, the latter of which was directed by Seymour Robbie and written by Ann-Margret's husband, actor Roger Smith. He starred in 1972's Grave of the Vampire as James Eastman (co-starring with Michael Pataki and Lyn Peters), and 1973's Invasion of the Bee Girls (co-starring Victoria Vetri, Anitra Ford and Katie Saylor, written by Nicholas Meyer and directed by Denis Sanders), and 1975's The Swinging Barmaids (starring Ms. Saylor, Bruce Watson and Laura Hippe, and directed by Gus Trikonis). In 1972 and 1975, respectively, he appeared in two popular Blaxploitation films, Hammer and the controversially titled Boss Nigger, both with Fred Williamson.
After that, he played a vindictive sergeant in Twilight's Last Gleaming (1977) with an all-star cast headed by Burt Lancaster and Richard Widmark, a drag-racing legend in Fast Company (1979) also co-starring Claudia Jennings and John Saxon, the main character's father in Conan the Barbarian (1982) with Arnold Schwarzenegger, bad guy Matt Diggs in The Frisco Kid (1979) opposite Gene Wilder and Harrison Ford, and Clint Eastwood's bare-knuckle nemesis Jack Wilson in 1980's Any Which Way You Can (a sequel to 1978's Every Which Way But Loose in which Smith did not appear), and also had a top villainous role of the Soviet commander in the hit 1984 theatrical film Red Dawn. In 1983, Smith appeared in two films from Francis Ford Coppola, in The Outsiders as a store clerk and in Rumble Fish as a police officer. In 1985, Smith landed the starring role of Brodie Hollister in the Disney mini-series Wildside, created by writer-producer Tom Greene, and another role as the bookmaker's enforcer known as "Panama Hat" in director Richard Brooks's final movie, Fever Pitch (1985) opposite Ryan O'Neal.
William Smith died aged 88 in California in August 2021.