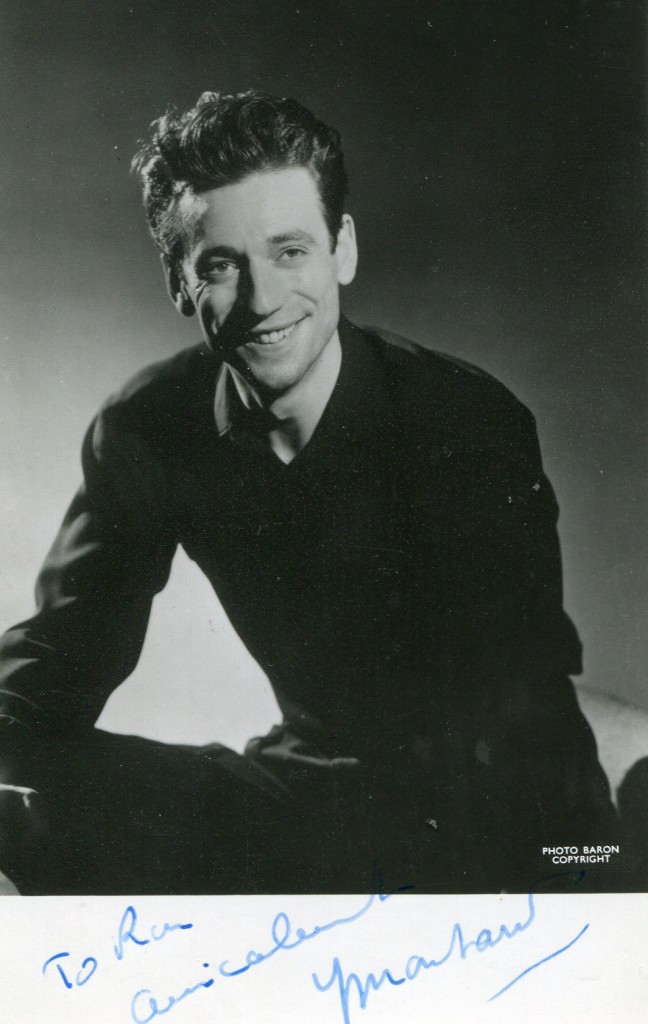 "The Telegraph" obituary from 1991:
Yet the man, once memorably described as 'the bedroom voice in the body of a lorry driver', who came to be regarded as the epitome of virile Gallic charm, was not in fact French at all. He was born Ivo Livi in the Tuscan village of Monsumano Alto on Oct 13 1921. His father, a Jewish broom manufacturer, soon fled from the Fascists and settled in France. The family followed him to Marseilles, where young Ivo grew up in the back streets. He abandoned school at 11 for a job in a pasta factory. Thereafter he scraped a living as a barber's assistant and a metal-worker, only escaping from the slums to music halls and the local cinema, which specialised in subtitled Hollywood films. He recalled that he brought himself up 'on Bogart, Edward G Robinson, the Marx Brothers and Fred Astaire.'
He also learned to imitate Donald Duck. Armed with this talent and a creditable impersonation of Maurice Chevalier, he began performing in local bistros and changed his name to Yves Montand – apparently inspired by his mother's call to come upstairs, 'Ivo, monta]' In 1939 Montand made his stage debut at the Alhambra Theatre, Marseilles, where he sang Dans les plaines du Far West wearing a cardboard cowboy hat. But the singing cowboy had no intention of staying on the waterfront. During the Second World War he worked as a docker, while also taking lessons in dancing, singing, diction and English. When a summons arrived from the Vichy Government, he headed swiftly for Paris. In February 1944 he made his Paris debut and within months was the opening act for Edith Piaf at the Theatre de l'Etoile. Piaf's protégé became Piaf's lover. Montand was 24, and the 'Little Sparrow', then 33, said she was conquered by his 'thundering personality, an impression of strength and solidity'. Her admiration did not, however, prevent Piaf from changing his cowboy image in favour of the poetic songs that were to become his trademark, along with the simple brown shirt and trousers he wore on stage.
Montand's first film role was as Piaf's boy friend in Etoile sans Lumiere (1946). Next, he replaced the legendary Jean Gabin as the lead in Marcel Carne's Les Portes de la Nuit (1946). Although 'a resounding flop', this film enriched Montand's music-hall repertoire with some classic songs, acquired from the scenarist Jacques Prevert – including Feuilles Mortes, which remained his signature tune. Montand then joined the crowded ranks of Piaf's ex-lovers, and descended into what he described as a two-year 'black hole'. But in 1949 he met the actress Simone Signoret. As she recorded in her memoirs, Nostalgia is Not What it Used to Be (1975): 'In the course of four days there occurred something dazzling, indiscreet and irreversible.' They moved into Montand's apartment on the Place Dauphine and were married in 1951; Deanna Durbin was among the guests at the traditional Provencal wedding, complete with fifes and tambourines, at St Paul de Vence. Afterwards Montand embarked on a musical tour of Europe and North Africa. In 1953 he made his first successful film – Henri-Georges Clouzet's The Wages of Fear, a harrowing tale of four adventurers hurtling round hairpin bends in Central America with a truckload of nitroglycerine.
Montand won another round of plaudits for his interpretation of the Puritan adulterer John Proctor in The Crucible, by Arthur Miller. The film version of the play, The Witches of Salem, however, which he starred in three years later, was a little too French for American tastes. Meanwhile, under the influence of the 'politically aware' Signoret, Montand had been introduced to radical crusading. They became the dynamic duo of the French Left, and were feted in Moscow – where on one occasion they sat up until the early hours, rapt in a debate about freedom with Khrushchev. Montand's Socialist ardour was dampened by the Soviet invasion of Hungary in 1956, however, and he never officially joined the Communist party because it would have prevented him from working in America. His political dexterity paid off. After the execution of Imre Nagy, he publicly criticised the USSR's foreign policy, and in 1959 he was invited to make his debut in New York. Soon afterwards he was signed up for Let's Make Love (1960) with Marilyn Monroe. That was precisely what they did. The affaire, which prompted Monroe to call him 'the most exciting man in the world', was more memorable than George Cukor's film.
'A man can have two, maybe three love affairs whilst he is married,' Montand declared at the time, 'but three is the absolute maximum. After that, you're cheating.' Next Montand managed to bargain himself out of his contract with 20th-Century Fox by accepting the dubious role of a Cajun bootlegger in an 'unfilmable' adaptation of William Faulkner's novel Sanctuary (1961). He remained singularly unfastidious about the films he appeared in. Although he co-starred with some of cinema's most powerful female leads: Ingrid Bergman in Goodbye Again (1961), Shirley MacLaine in My Geisha (1962), Barbra Streisand in On a Clear Day You Can See Forever (1970), his Hollywood work was undistinguished. He remained essentially a European star. He did some of his best work in films where his politics and his profession coincided; in Alan Resnais's La Guerre est Finie (1966), for example, a denunciation of the Franco dictatorship, which traced three days in the life of a political refugee.
The peak of his career was probably his classic collaboration with the director Constantin Costa-Gavras. Together they made a series of brilliant, haunting political thrillers: Z (1969), which won the Palme d'Or at Cannes and an Oscar for the best foreign film; The Confession (1970); and State of Siege (1973). Montand's achievement was to bring conviction to his parts on both sides of the political coin – it was said that his identification with his role, as the Czech official kidnapped and tortured in The Confession, was 'so grievously absolute that one would be ashamed to speak in terms of an actor's performance'
During his 'Costa-Gavras period' which ended on a rather low note with Clair de Femme (1979), Montand took on more than a dozen roles with other directors in films which included The Devil by the Tail (1969), Cesar et Rosalie (1972) and Police Python 357 (1976). As his film career went into decline, he returned to his songs. He followed up a popular album, Montand d'hier a aujourd'hui, with a three-month engagement at the Olympia, and then embarked on a lengthy tour of the provinces. In 1982 he had a week-long engagement at the New York Met. During a 90-minute show, Montand sang, danced, mimed and clowned his way through a 28-song repertoire, including early hits such as Autumn Leaves, Luna Park and A Paris. For a while, it seemed as if his career had come full circle, and would end on the musical stage, where it had begun. But, in the late 1980s his screen talent blossomed anew, when he won the part of Cesar Soubeyran, the peasant patriarch with the mind of Machiavelli, in Claude Berri's Jean de Florette (1987) and Manon des Sources (1988), adapted from the novels by Marcel Pagnol.
In this poignant Provencal tale of innocence betrayed by a conspiracy between evil men and the elements, Montand gave the performance of his career – duplicitous, cruel, and yet so dignified in his final defeat, that audiences were hard put to it not to shed a tear for the old devil. All the time he was filming in Provence, Simone Signoret was dying of cancer. Finally, in 1985, came the end of what he described as '35 years of life together – a long lease.' 'I never allowed myself to reproach Simone,' he said of his wife, whose appetite for cigarettes, alcohol and food knew no bounds. 'The more she demolished herself the more I loved her.' Neither his affaires nor his political defection had come between them. In fact Montand's love affair with Communism had come to an abrupt end with the Prague Spring. And after Signoret's death he stepped up his commentaries on the French political scene – to the extent that he was seriously mentioned as a candidate for the 1988 presidential elections. This was the man who had marched with Françoise Sagan and Jean-Paul Sartre, the man who topped a newspaper poll as the Frenchwoman's ideal companion on a romantic holiday. Now he was a right-wing heavyweight, hosting an economics programme on television.
Once people had wanted to know what it was like to make love to Monroe; now they consulted him about his views on the Strategic Defence Initiative. In the event Montand decided not to stand for the presidency – he said he did not bear comparison with Ronald Reagan. He still kept his hand in with the film industry, notably in his capacity as president of the jury at the Cannes Film Festival in 1987, but also as the proprietor of the Colombe d'Or hotel, at St Paul des Vence, which he turned into a haven for stars Not that he wooed them with any great enthusiasm – while Elizabeth Taylor was eating inside, Montand would be out the back, discussing economics with the locals over a game of petanque. Yves Montand was a singular mixture of bruiser and troubadour. The quality he most admired was resilience – of Margaret Thatcher, he mused, 'the Falklands was fantastic… show them you won't be pushed around.' Yet it was the vulnerability in the baggy eyes that gave him enduring sex appeal, what he himself liked to call 'twinkle twinkle'. He and his secretary, 36 years his junior, had a son in 1988.
The above "Telegraph" obituary can also be accessed online here.