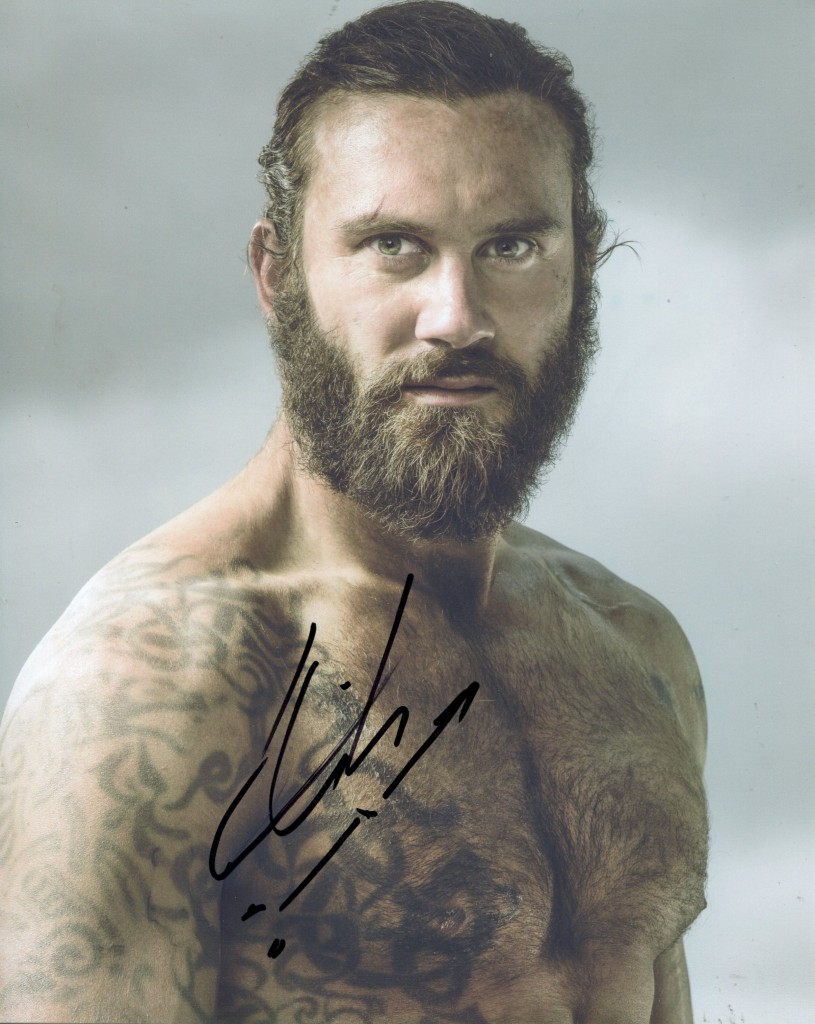 Clive Standen is a British actor, he was born in1981 in a British Army base in Holywood, County Down, Northern Ireland, and grew up in the East Midlands in England. He went to school at King Edward VII School (Melton Mowbray) followed by a performing arts course at Melton Mowbray College. In his late teens Standen was a international Muay Thai Boxer and later Fencing gold medalist. He married his wife Francesca in 2007 at Babington House. They live in London with their three children, Hayden, Edi and Rafferty.
His first experience of stunts and sword fighting was at the tender age of 12 when Standen got his first job working in a professional stunt team in Nottingham learning to Ride, Joust and sword fight. His sword fighting skills are seamless, he is left-handed but learned to fight with his right hand in his early years making him uniquely ambidextrous in the craft. At the age of fifteen Clive was both a member of the National Youth Theatre and the National Youth Music Theatre performing lead roles in plays and musicals in West End and at venues such as The Royal Albert Hall and Shakespeare's Globe Theatre. He then won a place at the London Academy of Dramatic Art LAMDA on their three year acting course.
He is best known for playing the battle hardened warrior 'Gawain' a series regular in the Starz networks TV series 'Camelot' and also 'Archer', the swashbuckling brother of Robin Hood in the BBC TV series Robin Hood; a role which brought Standen much critical acclaim with many of the national press comparing Standen's charming but edgy performance and seemingly effortless sword fighting Skill to Errol Flynn. It was much speculated at the end of the 3rd season that after his brothers death "Archer" would pick up the mantle of Robin Hood and become the shows new hero. Clive is also known for a previous recurring role as Private Harris in the British sci-fi show Doctor Who.
Prior to his role in Camelot & Robin Hood Standen appeared in 3 episodes of Doctor Who,the crime thriller "Waking the dead",the Second World War drama documentary "Ten days to D-day", three episodes of "Doctors" and "Tom Brown's Schooldays", the acclaimed ITV adaptation of the book by Thomas Hughes. He also played the lead role of Major Alan Marshall in the Zero Hour TV dramatization of the SAS mission in Sierra Leone known as operation Barras. Standen took a lead role in the mainstream Bollywood film "Namastey London" alongside Katrina Kaif and Akshay Kumar. Clive was also the face of Evian water 2008.
In 2012 Clive landed a lead role in the Vertigo films feature "Hammer of the Gods" and the new series "Vikings" produced by MGM/History both slated to be released in spring 2013