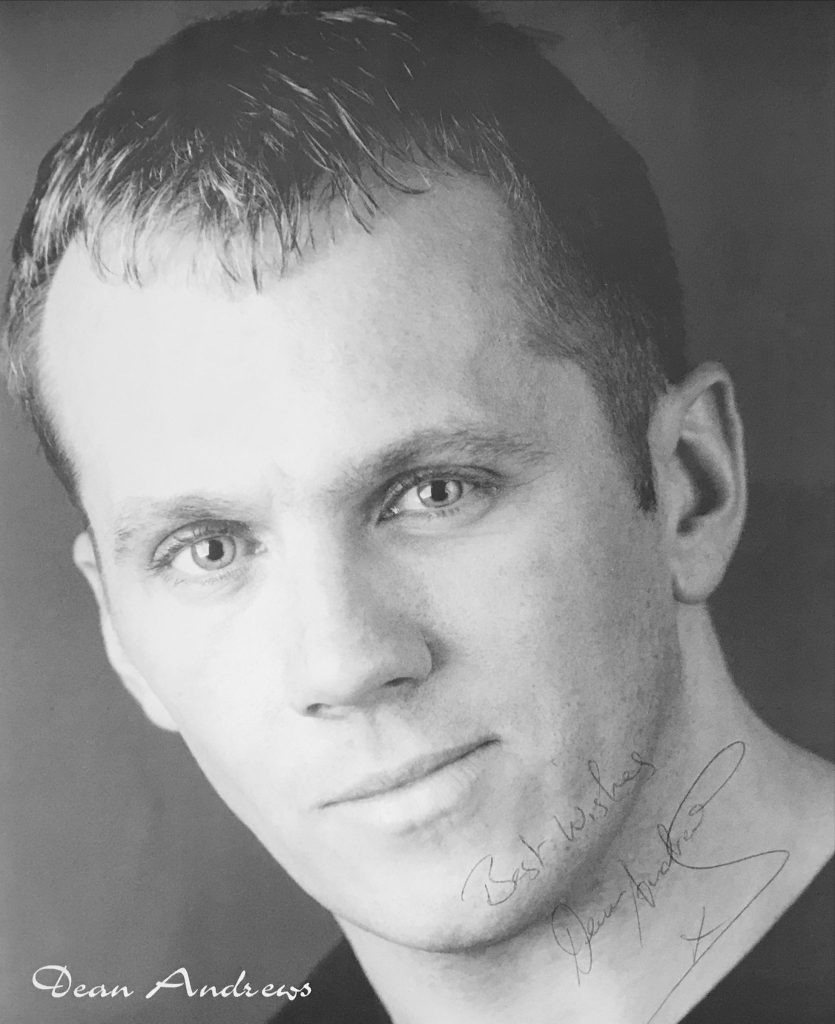 Dean Andrews. Wikipedia.
Wikipedia entry:
Born in 1963 in Rotherham, West Riding of Yorkshire, Andrews went to Sitwell Junior School on Grange Road and Oakwood Comprehensive School on Moorgate Road. He went to school with Top Gear presenter James May.[3] His parents were publicans and he lived at the Masons Arms pub on Wellgate and the Green Dragon in Kimberworth. He belonged to the local Phoenix Amateur Operatic Society and appeared in several productions with Phoenix Players. He began work at Kirkby Central, a Vauxhall car dealership, in Wellgate, then began singing at holiday resorts such as Skegness, Lincolnshire, and on cruise ships over twenty years. His entry into acting came when successfully auditioning for the 2001 film, The Navigators, which was set in Sheffield.
Andrews played Barry Shiel in the TV series Buried, which won the BAFTA Award for Best Drama Series in 2004. In 2005, Andrews played the character of Steven Maynard in the ITV drama Wire in the Blood. In 2007, he appeared in the BBC dramas True Dare Kiss and The Street. In 2006, he appeared in yet another BBC drama, Life On Mars, as the character DS Ray Carling. In 2008, he returned to play the character in the spin-off series Ashes to Ashes. Andrews also had a small role in the Channel 4 series No Angelsplaying Neil. He also starred in episode 11, series 5 of Waterloo Road. Andrews played one of the lead roles in ITV's supernatural drama series Marchlands.
In 2011, he appeared in the BBC Two TV film United, which tells the story of the Manchester United "Busby Babes" team and the 1958 Munich air disaster. In September 2011 he appeared in the BBC drama The Body Farm as Peter Collins. In November 2012 he appeared in the six part BBC drama Last Tango in Halifax as Robbie. He plays the lead role in the five part BBC One series The Case, about a man accused of murdering his terminally ill girlfriend. He has also recorded voice-overs for Currys television advertisements.[4]Andrews will take over the role of Pete Lewis from Stephen Graham in the BBC show Being Eileen, airing from February 2013.[5][6][7]
In 2015 Andrews appeared as Tom Asher in ITV's Midsomer Murders episode 17.3 "The Ballad of Midsomer County"
Andrews has two daughters, Sharny and Alice (born c.1985 and c.1991). He is a passionate supporter of his local football team, Rotherham United. He also enjoys watchingrugby league.
In September 2010, Andrews took part in the Bupa Great Yorkshire Run to raise funds for the Alzheimer's Society, Bupa's nominated charity for the 2010 Bupa Great Run Series.