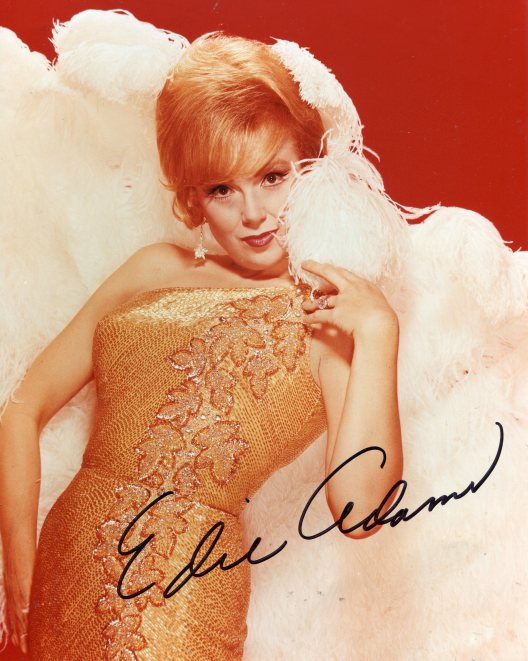 "Guardian" obituary of Edie Adams from 2008:
For those filmgoers nostalgic for mainstream Hollywood movies of the 1960s, Edie Adams, who has died aged 81, was an indispensable element. The perky redhead (or sometimes blonde) appeared in supporting roles, enlivening 10 films, from 1960 to 1967.
Her best film was undoubtedly Billy Wilder's The Apartment (1960), in which Adams made her big-screen debut as Miss Olsen, the secretary and discarded lover of the philandering JD Sheldrake (Fred MacMurray). At an office party, she "educates" Fran Kubelik (Shirley MacLaine), her boss's current mistress, with delicious relish. "Before me, there was Miss Rossi in auditing, and after me there was Miss Koch in disability, and right before you, there was miss, um, oh what's-her-name, on the 25th floor … oh, what a salesman! Always the last booth in the Chinese restaurant – and the same pitch about divorcing his wife – and in the end, you wind up with egg foo yong on your face." The film won five Oscars.
Adams recalled: "I always had to laugh when everybody was talking about how hard it is to get into motion pictures. All I had to do was go out to dinner with Ernie [Kovacs, her actor husband] and Billy Wilder and his wife. Billy said to me right off, 'I have a picture for you to shoot on Monday.' You have to realise I'd already been on Broadway. I was kind of huffy about coming out to the big Wild West to do movies."
Adams, who was born in Kingston, Philadelphia, as Elizabeth Edith Enke, studied opera at the Juilliard School in New York. She started off as a singer on television in Ernie in Kovacsland (later the Ernie Kovacs Show), and went on to become a hit in two Broadway musicals, Leonard Bernstein's Wonderful Town (1953) and Johnny Mercer and Gene de Paul's Li'l Abner (1956).
In the former show, she played Rosalind Russell's naive sister Eileen and sang A Little Bit in Love, though she never sang in the movies. According to the New York Times, "Miss Adams moves through this elusive character with the greatest of ease, keeping it fresh and sweet and adding just enough worldliness to make it palatable." In Li'l Abner, adapted from the comic strip, she won a Tony as Daisy Mae, wearing a low-cut polka dot blouse and the shortest of decorously torn skirts, and sang the touching romantic number, Namely You.
On screen, after The Apartment, Adams was vivacious in Lover Come Back (1961) as a chorus girl turned advertising model called Rebel Davis, one of lothario Rock Hudson's conquests until Doris Day comes along. She had married the cigar-smoking, mustachioed comedian Kovacs in 1954. They made a great comedy team, both receiving nominations for Emmys for best performance in a comedy series in 1957. Adams wrote an autobiography, Sing a Pretty Song, in which she explained that "all those years with Ernie taught me how to hold my own in a roomful of comics".
In 1962, Adams and Kovacs left a party at Milton Berle's Los Angeles home in two different cars. The first skidded on the wet road and crashed, killing Kovacs. It was suggested that he was probably lighting one of his cigars when he lost control. After his death, it was discovered that he owed around $500,000 to the Internal Revenue Service in back taxes.
Refusing to file for bankruptcy, and declining the offer of a benefit concert offered by friends including Berle, Frank Sinatra and Dean Martin, Adams worked hard, managing to pay back the debt within five years. The work included dozens of television and theatre performances, touring and stock, including Sweet Bird of Youth, Hello, Dolly!, Annie Get Your Gun and a female version of The Odd Couple, as well as films.
In 1963, she had roles in four movies, the first as Sid Caesar's wife in Stanley Kramer's epic comedy of greed, It's A Mad, Mad, Mad, Mad World. There followed Call Me Bwana, in which Adams, as a CIA agent, vied with Anita Ekberg for Bob Hope's affections. In Love With a Proper Stranger, she had a small but showy part as a classy dog-loving stripper who refuses to lend money to her ex-lover Steve McQueen to help his girlfriend (Natalie Wood) get an abortion.
The Best Man (1964) saw her as the wife of ambitious politician Cliff Robertson. Adams's last feature film, apart from a role in the misnamed Boxoffice (1982), was as a has-been movie star hoping to inherit Rex Harrison's money in The Honeypot (1966), Joseph Mankiewicz's updated version of Ben Jonson's Volpone.
In the US, she was most famous for a series of TV commercials for Muriel cigars that lasted almost 20 years, from the late 50s. Wearing the slinkiest of dresses and the highest of heels, she caressed giant cigars while dancing, and giving a come-hither wink, before whispering the slogan, "Why don't you pick one up and smoke it some time?", a sly allusion to Mae West's celebrated "come up and see me" invitation.
In 1982, tragedy struck again, when her daughter, Mia Kovacs, was killed in a car accident, also in Los Angeles. Adams, who married twice more, to the photographer Marty Mills and the jazz trumpeter Pete Candoli, is survived by her son, Joshua Mills.
• Edie Adams (Elizabeth Edith Enke), actor and singer, born April 16 1927; died October 15 2008
The Above "Guardian" obituary can also be accessed online here.