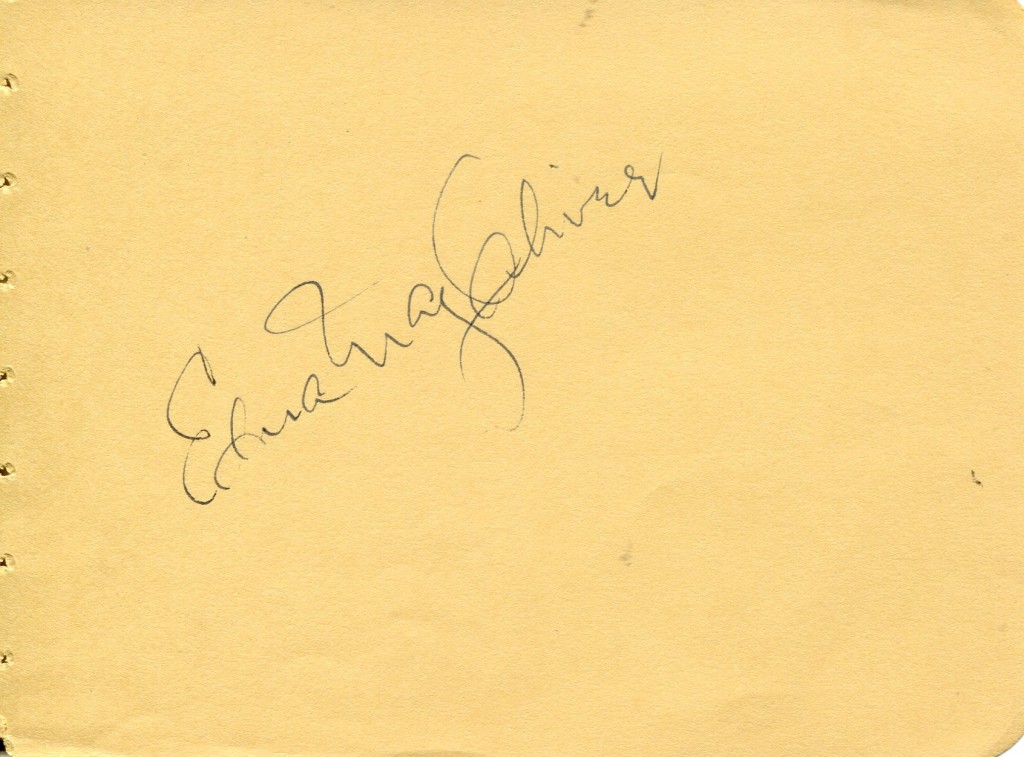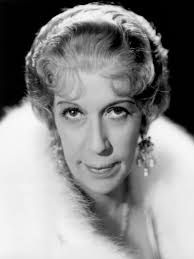 IMDB entry:
She was born Edna May Nutter, a child of solid New England stock, on 9th November 1883 in Malden, Massachusetts. The daughter of Ida May and Charles Edward Nutter, Edna was a descendant of the 6th American president John Quincy Adams. Miss Oliver took an early interest in the stage, and she would quit school at the age of 14 to pursue her ambitions in the theater.
Despite abandoning traditional schooling, Edna continued to study the performing arts, including speech and piano. One of her first jobs was as pianist with an all female orchestra which toured America around the turn of the century. By 1917 she had achieved success on Broadway in the hit play "Oh, Boy". By 1923 she had appeared in her first film. . Edna May Oliver seems to have been born to play the classics of American and British literature. Some of her most memorable film roles were in adaptations of works of Charles Dickens. Although some have described her as plain or "horse faced", Edna May Oliver's comedic talents lent a beautiful droll warmth to her characters. She was usually called upon to play less glamorous roles such as a spinsters, but she played them with such soul, wit, and depth that to this day she remains one of the best loved of Hollywood's character actresses. A fine example of her comedic talent can be found inLaugh and Get Rich (1931). Here we find her playing a role almost autobiographical in nature, that of a proud woman with Boston roots who has married "down". As the plot unwinds, she is invited to a society gala despite her modest circumstances. At the gala she becomes tipsy. With a frolicsome air Edna May seems to use the role to gently mock her real self. Her slightly drunk character seizes upon a bit of flattery, and alluding to her old New England family, proudly proclaims to each who will listen, "I am a Cranston. That explains everything!". In real life, Edna May Oliver was a Nutter, and perhaps that explains everything. Edna May Oliver married stock broker David Pratt in 1928, but the marriage ended in divorce five years later. In 1939 she received an Oscar nomination for her supporting role as Widow McKlennar in the picture Drums Along the Mohawk (1939). That was to be one of her last films. Miss Oliver was struck ill in August of 1942. Although she seemed to recover briefly, she was re-admitted to Los Angeles's Cedars of Lebanon hospital in October Her dear friend actress Virginia Hammond flew out from New York to stay by her bedside. Edna May Oliver died on her 59th birthday, 9th November 1942.Virginia Hammond was with her and said, "She died without ever being aware of the gravity of her condition. She just went peacefully asleep."
– IMDb Mini Biography By: Thomas McWilliams <tgm@netcom.com>
The abve IMDB entry can also be accessed online here.
"Movies Unlimited" article:
Oh yes, I'm grateful in a way for this face, now that I've gotten used to it. I know it's brought me this success. I know it's given me the chance to make and save enough money so I won't spend the end of my days in an old ladies' home somewhere. But all the same I'm a woman, and what woman doesn't long to be beautiful?" Well, her visage may not have been the kind that made the covers of movie fan magazines, but filmgoers in the 1930s looked forward to the on-screen appearances of Edna May Oliver, the dour-faced performer whose grand dame attitude served her equally well in dozens of comedic and dramatic turns, usually as a spinster or sarcastic busybody.
That haughty New England demeanor came naturally to the actress, born Edna May Nutter in Malden, Massachusetts in 1883 (she was a descendant on her father's side of U.S. president John Quincy Adams). It was, perhaps, her father's desire that she be a singer that inspired the young Edna to become a performer, but his death when she was 14 put any such plans on hold, and she left school to work for a dressmaker. Two years later, an uncle helped her land a position with an outdoor light opera troupe.
Oliver had her indoor stage debut in a 1911 Boston stock company production of Mrs. Wiggs of the Cabbage Patch, and in 1916 she made the move to New York. The first Broadway part, in a drama entitled The Master, required her to pay for her own costumes (her sewing experience must have come in handy!) and left her with, as she put it, "about two cents a week." Edna received good notices–and a bigger salary–as Aunt Penelope in the 1917 Jerome Kern musical/comedy Oh, Boy!, but bigger things came in 1923. That year she got her first film role, as the heroine's mother in the melodrama Wife in Name Only, and on Broadway she played a servant in the Pulitzer Prize-winning drama Icebound (she'd appear in the movie version in 1924). Over the next several years Edna was seen in various stage shows (including 1925's The Cradle Snatchers, with Mary Boland and a young Humphrey Bogart, and the original 1927 production of Kern's and Oscar Hammerstein II's Show Boat) and she worked in silent films at Paramount's Astoria, New York studio. She also found the time to get married to stockbroker David Pratt in 1928, although the couple would separate shortly thereafter and divorce in 1933.
Movie audiences first got to hear Edna's distinctive voice in the 1929 Clara Bow comedy The Saturday Night Kid, and the following year Oliver made Hollywood her permanent home when she signed a contract with RKO. She would serve as a Margaret Dumont-style authority figure to that studio's reigning kings of comedy,Bert Wheeler and Robert Woolsey, in three films: Half Shot at Sunrise (1930), Cracked Nuts (1931) and Hold 'Em Jail (1932). In between she appeared in 1931's Best Picture Academy Award-winner, the frontier saga Cimarron, as a very prim schoolteacher; was top-billed alongside "Woo Woo!" funnyman Hugh Herbert in Laugh and Get Rich that same year; and in 1932 ran roughshod on her fellow jurors as she tried to prove an ex-showgirl innocent of murdering her wealthy husband in the courtroom comedy Ladies of the Jury.
It may have been the Ladies of the Jury role that led RKO to headline Oliver as author Stuart Palmer's New York teacher-turned-amateur sleuth, Miss Hildegarde Withers, in a series of light-hearted whodunits, beginning with 1932's Penguin Pool Murder. When a field trip to the aquarium with her racially-mixed class of grade schoolers leads to the discovery of a stockbroker's corpse in the title exhibit, the umbrella-wielding, tart-tongued Withers ("I'm a schoolteacher, and I might have done wonders with you if I'd caught you young enough.") ingratiates herself with Police Inspector Piper (James Gleason) as she horns in on his investigation. The banter between Oliver and Gleason so delighted moviegoers that the studio re-teamed them for two more Withers mysteries: 1934's Murder on the Blackboard, set in the heroine's own school, and 1935's Murder on a Honeymoon, which found Hildegarde vacationing on Catalina Island (Say, just how much did schoolteachers make during the Depression?). After Edna left RKO for MGM, the series continued with Helen Broderick, then ZaSu Pitts, playing Withers, but neither actress caught on with the public in the role.
Her aristocratic mien and knack for shifting from comical to serious in an instant made Oliver an indispensable part of many studios' literary adaptations. She was memorable as Aunt March opposite Katharine Hepburn and Joan Bennett in RKO's 1933 version of Little Women, and later that year played the Red Queen in Paramount's lavish, all-star rendition of Alice in Wonderland. As stern-hearted Aunt Betsey, Edna came to love nephew David Copperfield (Freddie Bartholomew) in the 1935 MGM movie of the Dickens novel, and she co-starred as the fiercely loyal Miss Pross alongside Ronald Colman and Elizabeth Allan in another Metro Dickens filming from 1935, A Tale of Two Cities. 1936 found Oliver going Shakespearean, playing Norma Shearer's devoted nurse in Romeo and Juliet, and one of her final roles was as Lady Catherine de Bourgh in 1940's Pride and Prejudice.
Along the way she also gave fine support to such stars as Joan Crawford (No More Ladies in 1936), Clark Gable (1937's Parnell), Nelson Eddy (Rosalie, also 1937), and even Shirley Temple (1938's Little Miss Broadway), who–like Bartholomew–was able to melt her icy exterior. It was as the feisty Widow McKlennar–opposite Henry Fonda and Claudette Colbert in director John Ford's 1939 Revolutionary War epic Drums Along the Mohawk–that Oliver received her first and only Academy Award nomination, but she would lose the Best Supporting Actress statue that year to Gone with the Wind's Hattie McDaniel. And Edna's unmistakable inflection and (to be charitable) bottom-heavy build made her a favorite for animators from the Disney and Warner studios to put in their cartoons, including Mickey's Polo Team (1936) and Porky's Road Race (1937).
Oliver's final film work was for producer Alexander Korda in the 1941 drama Lydia, in which she played the hypochondriac grandmother ("The NERVE of him, telling me my liver is perfect!," she says of a doctor) of title heroine Merle Oberon. Ironically, the actress would develop an intestinal disorder that worsened over the next year, and would claim Oliver on her 59th birthday in November of 1942. One can almost hear Edna at the pearly gates, saying to St. Peter in her haughtiest and most indignant tone, "Take me on my birthday? The NERVE!"
The above "Movies Unlimited" article can also be accessed online here.