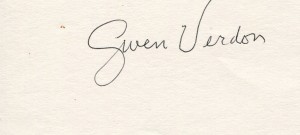 Bill Drysdale's "Guardian" obituary of Gwen Verdon from 2000.
Legendary Broadway dancer and Fosse muse
---
A great problem for today's dance students aspiring to careers in musical theatre is the shortage of role models. Gwen Verdon, who has died aged 75, was one of the last great exponents, with direct experience – both as a performer and choreographic muse to her late husband, Bob Fosse – of a dance tradition which traces its roots back to the work of Jack Cole, whom she assisted in the 1940s.For the last two decades, the Broadway music tradition, embodied by Oklahoma! and nurtured by director/choreographers such as Agnes de Mille, Gower Champion, Jerome Robbins, Joe Layton and Fosse himself, has been deposed by the British musical, owing more to the traditions of European operetta.
So the extraordinarily successful revival of Chicago – Verdon was its original Roxie Hart in 1975 – followed by the show, Fosse, has been a revelation of the extraordinary standards of dance creativity that prevailed in musicals after the second world war. It was Verdon's tireless industry, and devotion to her husband's memory, that enabled these revivals to materialise.
She was born in Culver City, California, the daughter of British-born parents. Her father was an MGM technician, and her mother, who had trained with the modern-dance company Denishawn, opened her own school. Verdon, her legs weakened by childhood illness, got her early dance training from Ernest Belcher, who also trained Cyd Charisse.
Initially, she followed her first husband, James Henaghan, into journalism, reviewing films and nightclub acts. The marriage was over by 1947, but thus it was that she discovered the work of jazz-dance pioneer Cole, and eventually joined his nightclub act. Later, she became his assistant, replacing Carol Haney, who left to work with Gene Kelly.
Cole choreographed Verdon's Broadway debut revue, Alive And Kicking (1950), which flopped. She was not ambitious to be a star, preferring her role of choreographer's assistant, but Cole was a volatile and abusive task master, and, eventually, she took refuge with Michael Kidd, starring on Broadway in Can-Can (1953) – for which she received dazzling reviews and a Tony award. For Fosse, she starred as Lola in Damn Yankees (1955), won another Tony, and repeated her performance in the 1958 movie.
As a performer, Verdon had a unique quality of comic sexuality. This protected her endearingly innocent, vulnerable personality from slipping into outright vulgarity – unlike Fosse, who frequently strayed into conflict with his producers through his highly individual attitudes to portraying sexuality in dance.
During her time with Cole, Verdon made minor dancing appearances in movies, coached Jane Russell, and taught Marilyn Monroe the steps for her number in the movie Gentleman Prefer Blondes. She was perfect casting for the role of Charity in Sweet Charity (1966), the musical based on Fellini's 1957 film, Le Notte Di Cabiria.
Her other leads in musicals were New Girl In Town (1958), and Redhead (1959), both choreographed by Fosse, the latter show directed by him, and both winning Tonys for Verdon. When her dancing career was over, she also found success as a character actress, in such films as Cocoon (1985), The Cotton Club (1984) and Woody Allen's Alice (1990).
She had married Fosse in 1960, but he was a notorious womaniser (a fact he made no secret of in his autobiographical film, All That Jazz), though despite their agreeing to live apart, he and Verdon were never divorced. She remained devoted to the man and his work, and was with him when he died of a heart attack during a tour of a revival of Sweet Charity in 1987. She had no difficulty in collaborating with Ann Reinking, an ex-mistress and muse of her husband's, on Fosse (1999), a celebration and retrospective of his work.
Verdon was universally loved and admired by the dancers in the London production of Fosse. Neil Johnson, who dances Percussion in the show, remarked: "Gwen has a way of really stretching you, drawing strengths out of you that you didn't know you had. She once put me through that number five times in an afternoon. By the end of the rehearsal, I could scarcely walk."
Somehow that steely strength, tempered by years of emotional stress, never appeared to coarsen her vulnerable and touching personality. She is survived by a daughter from her marriage to Fosse, a son from her first marriage, four grandchildren and a great-grandchild.
• Gwen Verdon, dancer, born January 16 1925; died October 18 2000
The above "Guaedian" obituary can also be accessed online here.