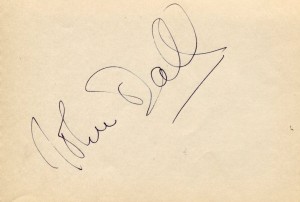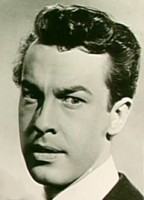 IMDB Entry:
John Dall was born John Dall Thompson (some sources state John Jenner Thompson) on May 26, 1918. He made his Broadway debut in Norman Krasna's comedy "Dear Ruth," directed by Moss Hart, in 1944. The show was a hit, running for over a year and a half and 680 performances.
He next appeared on Broadway in Jean-Paul Sartre's "Red Gloves" in 1948. The show ran for 113 performances. Dall's penultimate stint on Broadway, in the 1950 revival of "The Heiress", was a flop, closing after 16 performances. He had the role of the callow fortune hunter Morris Townsend, played so memorably by Montgomery Clift in William Wyler's 1949 movie version, The Heiress (1949).
Dall received a Best Supporting Actor Oscar nomination for The Corn Is Green (1945), his first movie. He reached the height of his movie career in 1948, playing one of the two students modeled after the 1920s' thrill killers Leopold & Loeb in Alfred Hitchcock's Rope(1948). Unfortunately for Dall, "Rope" was a flop. The other role for which he is best remembered, the firearms fetishist in Gun Crazy (1950) (better known by its reissue title, "Gun Crazy," the name of the short story the movie was based on), earned him a place in the film noir pantheon. It was a B-movie and, like "Rope," also flopped. The only prominent film he appeared in subsequently was Stanley Kubrick–Kirk Douglas' Spartacus(1960) in 1960, which–like "Gun Crazy"–was scripted by Dalton Trumbo, the most famous member of the Hollywood 10.
Dall, whose career started out so promisingly in the 1940s, getting an Oscar nod for his movie debut, never gained any traction. He appeared in only eight movies from 1945 to 1961, though he did many TV acting gigs. He died in 1971, reportedly of a heart attack but possibly from complications from a punctured lung.
– IMDb Mini Biography By: Jon C. Hopwood
The above IMDB entry can also be accessed online here.