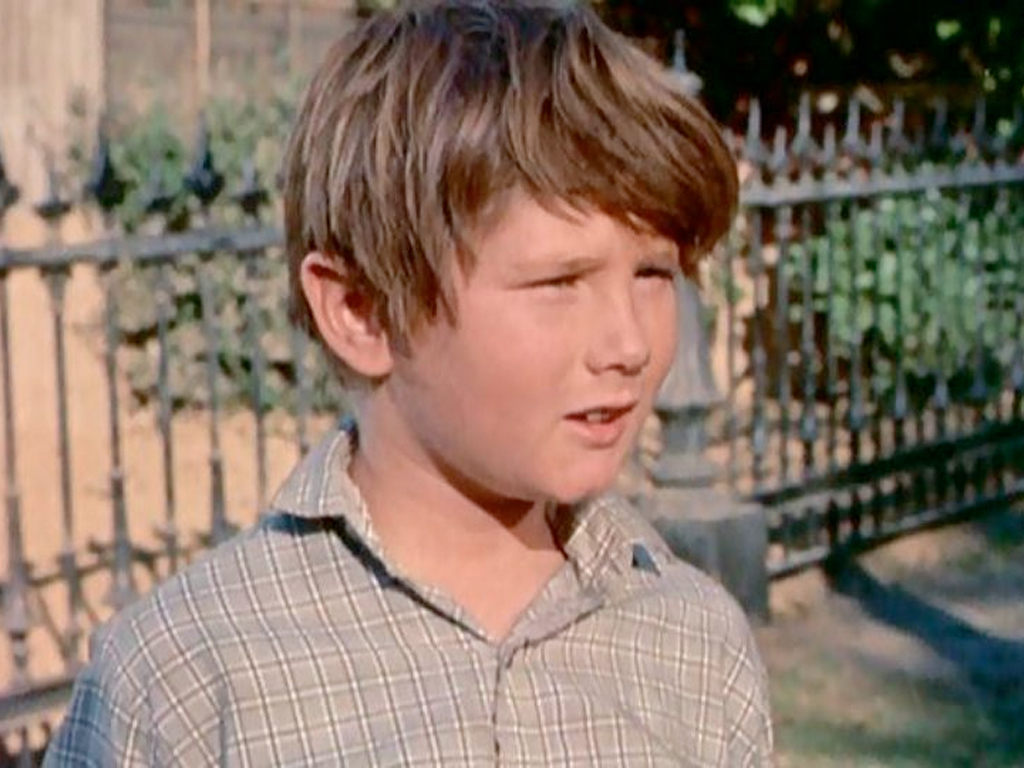 Kevin Corcoran was a very popular child actor in  Disney movies of the late 1950s and very early 1960s.  He died in 2015 at the age of 66.
"Guardian" obituary:
The name Walt Disney immediately conjures up Donald Duck and Mickey Mouse cartoons, as well as perennially popular animated features such as The Jungle Book and Bambi. But Disney was also once a purveyor of "live-action" family-friendly movies that spotlighted child actors, a favourite among whom was Kevin Corcoran, who has died of cancer aged 66.
Corcoran's acting career with Disney began at the age of six when he appeared on television in a Mickey Mouse Club serial called Adventures in Dairyland (1956). In it he played a pugnacious little boy named Moochie, a nickname that stuck to him throughout his childhood and beyond. Walt Disney was so impressed with Corcoran's debut that he had a special role written for Moochie in another Mickey Mouse Club serial, Further Adventures of Spin and Marty, which was aired the same year.
In 1957 Corcoran was given a leading role in Old Yeller, one of the best and most poignant boy-and-his-dog movies, still remembered as being a defining childhood experience for many baby boomers. Set in Texas in 1869, the film, discreetly directed by the Disney stalwart Robert Stevenson, tells of how Arliss (Corcoran) and his older brother Travis (Tommy Kirk) adopt a large yellow dog of indeterminate pedigree – "the best doggone dog in the west" as the title song declaims. At the tear-jerking climax, Travis is forced to shoot the faithful pooch, which has contracted rabies, much to the distress of Arliss.
Corcoran went on to play Kirk's slightly brattish kid brother again in four further movies, in which Kirk, eight years Corcoran's senior, would portray a character going through a painful puberty, often irritated by his mischievous and talkative brother. "Don't you ever run out of questions?" Kirk asks Corcoran in Old Yeller.
In the comedy-fantasy The Shaggy Dog (1959), Corcoran, though younger, is wiser than Kirk who, because of an ancient curse, is turned into a large sheep dog at inopportune moments. As the youngest member of the shipwrecked SwissFamily Robinson (1960), Corcoran collects all sorts of animals, getting in the way of Kirk, who is more interested in a girl he has helped rescue from pirates.
The screen brothers had a similar awkward relationship in Bon Voyage! (1962) as part of a "typical" American family on a tour of Europe. In Savage Sam (1963), a disappointing sequel to Old Yeller, Kirk and Corcoran reprised their roles, this time bickering over the defunct canine hero's son. At one stage the boys' uncle (Brian Keith) tells Kirk: "All little brothers hate bossin'. You've got to learn how to outfigger him."
Other Disney movies in which Corcoran had leading roles were Pollyanna (1960), where, as Jimmy Bean, a mischievous orphan boy, he counterbalances the sweetness and light spread by the 12-year-old heroine (Hayley Mills), and Toby Tyler (1960), in which he played the title role, another orphan, this time running away from his foster parents to join a circus, where he makes friends with an endangered chimpanzee.
However, after A Tiger Walks (1964), another animal movie aimed at children – a tiger is threatened with death after escaping from a circus – Corcoran, at the grand old age of 15, quit acting. "I decided to retire when I realised that I knew more about movies than the guys making them," he said.
He had already been in the business for a long time, having, from the age of four, had brief roles in several feature films even before he signed with Disney. These included The Glenn Miller Story (1954) as the bandleader's son; as the childhood incarnation of the lead character Paul van Riebeck (Tyrone Power) in Untamed (1955), and as one of Quaker farmer Ernest Borgnine's children in Violent Saturday (1955). Corcoran's real sisters, Noreen and Donna, played the other children.
Born in Santa Monica, California, to Kathleen and Bill, an MGM studio policeman, Corcoran had seven siblings, all of whom did some film acting. "While my father was working at MGM, he heard that children were needed to play some extra roles," Corcoran recalled. "By the time I arrived – No 5 of eight children – the Corcoran kids had been established in the industry."
Young Kevin was fortunate to come along during a successful period of Disney's live-action movies. But Disney was fortunate too, because Corcoran embodied its vision of the "American everykid", who the studio saw as "a highly intelligent human being – characteristically sensitive, humorous, open-minded, eager to learn, [with] a strong sense of excitement, energy, and healthy curiosity about the world in which he lives."
After his early retirement from acting, Corcoran went to California State University, where he graduated with a degree in theatre arts. He then returned to Disney, later working as an assistant producer, but mainly as an assistant director, on a number of television series – including Baywatch and Murder, She Wrote. Over the years he was persuaded to play small parts in one US-based television series (My Three Sons, 1967) and two films (Blue in 1968 and It Starts with Murder in 2009).
He is survived by his wife, Laura (nee Soltwedel), whom he married in 1972, by three sisters, Che, Noreen and Kerry, and by a brother, Hugh.
• Kevin Corcoran, actor and director, born 10 June 1949; died 6 October 2015