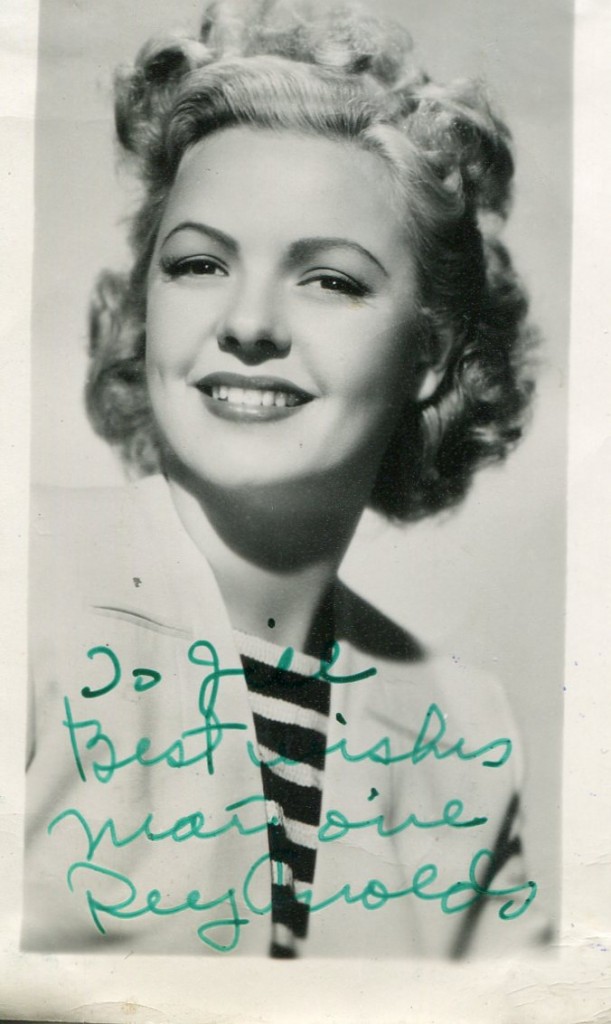 "Guardian" obituary from 1997:"Marjorie Reynolds, a blonde newcomer," enthused Variety, "is a comely looker of much talent, poise and versatility, who will certainly calendar her own professional prominence from the springboard of this Crosby- Astaire filmusical." The curious use of the word "calendar" (to denote "gain") can be explained by the fact that the film under review was Irving Berlin's Holiday Inn (1942). The use of the word "newcomer" is also curious; the 21-year-old Miss Reynolds was then the veteran of more than 40 films, having made her screen debut 19 years earlier.
Born Marjorie Goodspeed, she was taken to Los Angeles as a small child and enrolled in dance classes by her ambitious mother. As Marjorie Moore, she was soon appearing on the silent screen with Ramon Navarro in Scaramouche (1923), and with Viola Dana in Revelation (1924). After a brief retirement, she returned to make her first talkie, John Barrymore's Svengali (1931). She played small roles in College Humour (1933) and The Big Broadcast of 1936 (1935), both of which starred her future leading man Bing Crosby. After College Holiday (1936), Broadway Melody of 1938 and Champagne Waltz (both 1937), she appeared with Tex Ritter in Tex Rides With the Boy Scouts (1938), the first of 14 small-budget westerns she would make in the next four years, opposite such sagebrush stars as Buck Jones, Ken Maynard, Bob Baker, George O'Brien, Tim Holt and Roy Rogers. In between she toiled in equally low-rent thrillers.
Less than a week before Holiday Inn went into production, Paramount Pictures had yet to find a suitable leading lady. Their problem was solved when the choreographer Danny Dare recommended an actress/ dancer with whom he had worked on various musicals. The studio wasted precious time searching for Marjorie Moore before learning that she'd changed her name in 1937, after marrying one Jack Reynolds.
Once they had found and screen-tested her, she was eagerly signed and flung into dance rehearsals with Fred Astaire. True, she wasn't much of a singer, but since when has that ever posed a problem to Hollywood? Martha Mears dubbed her vocals, and Paramount were so pleased with her performance in Holiday Inn that they awarded her a seven-year contract, and cast her opposite Crosby again in Dixie (1943), the alleged biography of the composer Dan Emmett, in which, as his loyal wife, she inspired the writing of the title song. She gave an impressive dramatic performance as a Viennese refugee in Fritz Lang's film version of Graham Greene's Ministry of Fear (1945), and made a ravishingly beautiful princess in the Bob Hope romp, Monsieur Beaucaire (1946). She was loaned to Universal for one of Abbott and Costello's better vehicles, The Time of Their Lives (1946), in which she and Costello played ghosts doomed to haunt a stately mansion until they had proved they weren't traitors during the American Revolution. In a clever special effect, the two ghosts had a head-on collision, but simply passed through, ending up wearing one another's clothes. Reynolds, who was pregnant throughout the filming, said later, "I just wanted to get it over with."
When her Paramount contract expired, she appeared in Mario Lanza's first starring film, That Midnight Kiss (1949), and then in a trio of "B" pictures that suggested the action quickies she ground out in the 1930s: Customs Agent, The Great Jewel Robbery and Rookie Fireman (all 1950). For MGM she made a film calculated to endear the studio to the House Un-American Activities Committee. Called Home Town Story (1951), and financed by a top executive of General Motors, it was the story of a liberal newspaper editor who learned that Big Business wasn't a heartless monolith, when his little sister was buried in a cave-in, and the owner of the town's largest firm organised her rescue. Marilyn Monroe made an early screen appearance in this oddity.
Reynolds entered television when William Bendix chose her to play his dutiful wife in the sitcom The Life of Riley (1953-58). After Riley, there were guest appearances in various television series, but few films, the last of which was The Silent Witness (1962).
In 1987, asked by a journalist from Classic Image magazine whether she would welcome a big screen comeback, Marjorie Reynolds replied, "Sure, I'd like to click and become a box office tornado, but, if I don't, I've got no kick coming. Personally, I like Hollywood and I like pictures. But that doesn't mean I have any illusions about either."
Marjorie Goodspeed (Marjorie Reynolds), actress: born Buhl, Idaho 12 August 1921; married 1937 Jack Reynolds (one daughter; marriage dissolved 1952), 1953 Jon M. Haffen (died 1985); died Manhattan Beach, California 1 February 1997.
The above "Guardian" obituary can also be accessed online here.