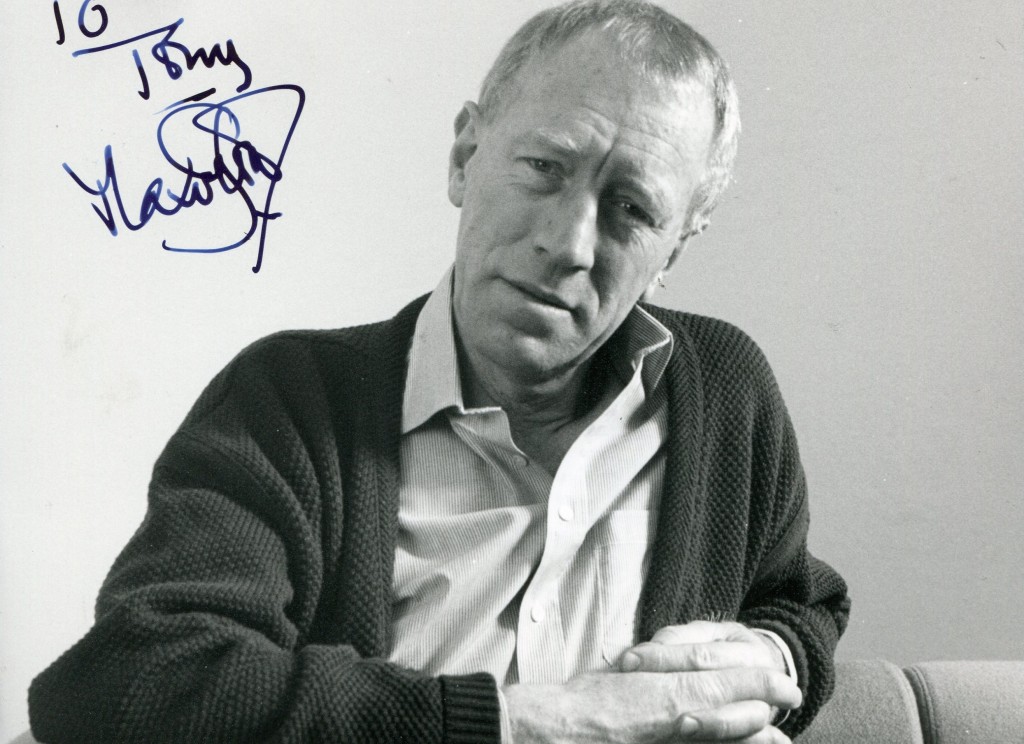 TCM Ovewrview:
After his training at Stockholm's Royal Dramatic Theatre School, actor Max von Sydow became recognized as his native Sweden's foremost film star, thanks to his long-running collaboration with acclaimed director Ingmar Bergman. Both von Sydow and Bergman triumphantly emerged onto the international film scene with "The Seventh Seal" (1957), an existential meditation on death that was long after considered to be one of the greatest foreign films ever made. The actor and director continued their collaboration for the next several years, churning out complicated and often surreal films like "The Magician" (1958) and "The Virgin Spring" (1960) that earned international accolades and awards. When von Sydow crossed the Atlantic to appear in Hollywood films, however, he was initially consigned to playing stern, unsympathetic characters. He finally had a breakthrough playing the titular role in "The Exorcist" (1973), playing the immortal Father Merrin in a film that forever cemented von Sydow into cinema history. Ever since then, he was able to branch out and explore a variety of compelling roles, which culminated in an Academy Award nomination for his performance in "Pelle the Conqueror" (1988), which only confirmed the notion of von Sydow being Sweden's modern-day Laurence Olivier.
Born on April 10, 1929 in Lund, Sweden, von Sydow was raised by his father, Carl, a professor of Scandinavian and Irish folklore at the Royal University, and his mother, Greta, a school teacher. With no theatre in the area, von Sydow absorbed novels in his youth. But when he was 14, a modern theatre was built in nearby Malmo. The young lad was immediately taken by its magic, leading to him and his friends forming their own company where they performed all the classics. Though his parents wanted him to study law, von Sydow went ahead with acting when he attended the Royal Dramatic Theatre – or as it was known in Sweden, Dramaten – where he studied the craft from 1948-1951. After graduating, he began honing his skills in repertory theatre all around Sweden in a variety of roles. Along the way, he made the acquaintance of someone who would later propel him to stardom, director Ingmar Bergman, who was the chief director of the municipal theater in Malmo. Bergman directed von Sydow in numerous productions, including "Cat on a Hot Tin Roof" and "Faust."
While von Sydow had already been in several features, including "Fröken Julie" (1950) and "Ingen Mans Kvinna" (1953), he attracted international attention in Bergman's existential drama "The Seventh Seal" (1957), playing a 14th century knight who challenges Death (Bengt Ekerot) to a game of chess in exchange for his life, which leads to an examination of whether or not God exists. The cornerstone of Bergman's repertory group of performers, von Sydow went on to make numerous films with the director. He had a small role in "Wild Strawberries" (1957), which he followed by playing the title character in "The Magician" (1958). Von Sydow was the mysterious Mr. Volger, a traveling magician whose supernatural performance attract the unwanted attentions of a town's local authorities, leading to a surreal encounter that confronts the enigma of life and death itself. He continued working exclusively with Bergman, appearing in "Brink of Life" (1958) and starring in "The Virgin Spring" (1960), a drama in which he played a distraught father who avenges the murder of his daughter (Birgitta Pettersson) at the hands of three goatherds.
Following two more films with Bergman – "Through a Glass Darkly" (1961) and "Winter Light" (1963) – von Sydow made his debut in the United States playing Jesus in George Stevens' "The Greatest Story Ever Told" (1965). Though it fared poorly at the box office, the film opened the door for von Sydow to perform in more American films. Seizing upon his long, somber face and imposing physicality, Hollywood initially typecast him in stern and unsympathetic roles, casting him as a knuckle-cracking Nazi in "The Quiller Memorandum" (1966), a stiff-necked minister in "Hawaii" (1966) and a Russian strongman in "The Kremlin Letter" (1970) – none of which set the box office aflame. Returning to working in his native Sweden, he forged another lasting association when he teamed up with director Jan Troell in "Here Is Your Life" (1966) and made his American television debut as Otto Frank in an adaptation of "The Diary of Anne Frank" (1967). He next rejoined his collaboration with Bergman for another memorable series of films, including "Hour of the Wolf" (1968), the director's only gothic horror film in which von Sydow played a painter who is haunted by demons while spending a summer in seclusion with his pregnant wife (Liv Ullmann).
The trio of von Sydow, Ullmann and Bergman reunited for "Shame" (1968), a compelling drama about two musicians who escape to an island from their unnamed country which is embroiled in civil war, only to run into trouble when a plane of soldiers crashes on the island, leading to betrayal and misery. After "Made in Sweden" (1969), von Sydow joined forces with Ullmann and Bergman once again for "The Passion of Anna" (1970), playing a reclusive ex-convict who has a stormy affair with a woman grieving over the deaths of her husband and son. In "The Touch" (1971), he was a seemingly happy husband whose wife (Bibi Andersson) has a clandestine affair with a mysterious intruder (Elliott Gould), while next starring again opposite Ullmann in Jan Troell's "The Emigrants" (1971), a historical drama that depicted a Swedish family emigrating to Minnesota in the 19th century in search of more fertile soil. The film's sequel, "The New Land" (1972), picked up where its predecessor left off and focused on the family losing all they had gained in the New World.
Von Sydow finally earned his due in America when he used his imposing presence to his advantage in William Friedkin's "The Exorcist" (1973), playing the immortal Father Merrin, who is brought in by another priest (Jason Miller) to exorcise the Devil from a little girl (Linda Blair). Von Sydow delivered an iconic performance that transcended generations and lived on in cinematic history, thanks to his famous line "The power of Christ compels you" as he tried to drive the devil out of the child. With his newfound recognition, von Sydow began landing Hollywood roles with greater frequency, while remaining wedded to the films of his native land. He played Alsatian hit-man Joubert in Sydney Pollack's "Three Days of the Condor" (1975), appeared in the preposterous sequel "Exorcist II: The Heretic" (1977), even though his character was killed in the first installment, and playfully chewed the scenery as Ming the Merciless in "Flash Gordon" (1980), even though the film itself was long remembered for being campy to a fault. In "Victory" (1981), he was the commander of a German prisoner of war camp who puts together a team of Allied soldiers (Sylvester Stallone, Michael Caine and Pelé) to play an exhibition game against the Nazis without realizing the prisoners are planning their escape.
Finding more work within the American studio system, von Sydow had numerous co-starring roles, including as King Osrik in "Conan the Barbarian" (1982) and as the arch-villain Blofeld in Sean Connery's return to the James Bond franchise, "Never Say Never Again" (1983). That same year, he played an evil owner of Elsinore Brewery who plots to take over the world by controlling beer drinkers with a secret additive, only to run into problems courtesy of hosers Bob and Doug McKenzie (Rick Moranis and Dave Thomas). After giving some heft to the otherwise flimsy psychological thriller "Dreamscape" (1984), von Sydow made a few appearances on the small screen, playing the Philistine governor in "Samson and Delilah" (ABC, 1984) and King John of Portugal in the two-part miniseries "Christopher Columbus" (CBS, 1985). Following a turn as the Apostle Peter in the Italian-made "Quo Vadis" (1985), he delivered a stellar supporting turn as Barbara Hershey's artist-lover in Woody Allen's "Hannah and Her Sisters" (1986).
In a personal and creative triumph, von Sydow delivered one of his finest onscreen roles, playing a humble old Swedish widower struggling for survival alongside his son as immigrants to Denmark in Bille August's "Pelle the Conqueror" (1988), the Oscar-winning Best Foreign Film that earned him the first Academy Award nomination of his long career. Stepping behind the camera for the first time, von Sydow made an unspectacular directing debut with "Katinka" (1988), adapted from Herman Bang's novel Along the Road". In a return to his beginnings on the stage, he delivered a performance as Prospero in a London production of "The Tempest" (1988). Back on the small screen, he appeared in several made-for-television movies, including "Red King, White Knight" (HBO, 1989) and "Hiroshima: Out of the Ashes" (NBC, 1990), in which he played Father Siemes, who helps survivors after the 1945 nuclear bombing. In the turkey, "A Kiss Before Dying" (1991), he played a wealthy businessman whose daughter becomes the victim of murder at the hands of an ingratiating schemer (Matt Dillon).
Following a trip to the sci-fi realms of Wim Wenders' cyberpunk noir "Until the End of the World" (1991), von Sydow renewed his association with Bergman, playing the heroine's father in August's "The Best Intentions" (1992), which he preceded by playing a priest who urges a farmer who kills his estate owner's ox to feed his family for the winter in "The Ox" (1992), directed by Bergman's long-time cinematographer Sven Nykvist. He next played a devilish antiques store owner in a big screen adaptation of Stephen King's "Needful Things" (1993), after which he played Judge Fargo in the blockbuster Sylvester Stallone vehicle "Judge Dredd" (1995). On the small screen once again, he appeared in the based-on real-life serial killer drama "Citizen X" (HBO, 1995), followed by a turn as an aging priest and mentor to a woman (Pernilla August) who admits infidelity to her husband (Samuel Fröler) in "Private Confessions" (1996), written by Ingmar Bergman and directed by actress Liv Ullmann. He next played Norwegian hero and Nobel Prize-winning novelist Knut Hamsun who sided with the Nazis in "Hamsun" (1996).
After a supporting role in the Rutger Hauer thriller "Hostile Waters" (HBO, 1997), he was a wise guide who leads a distraught man (Robin Williams) across the River Styx after his death in the Technicolor fantasy "What Dreams May Come" (1998). He followed this role by playing the defense attorney for a Japanese-American man (Rick Yune) on trial for the murder of his close friend (Eric Thal) in "Snow Falling on Cedars," which he followed by a portrayal of the biblical King David in the two-part miniseries "Solomon" (PAX TV, 2000). Maintaining a steady presence on the screen, von Sydow was a wizened old druid in the aptly named historical epic "Druids" (2001), a casino owner who loses everything in "Intacto" (2002) and the corrupt director of the futuristic pre-crime unit in Steven Spielberg's compelling actioner, "Minority Report" (2002). Going back in time a couple thousand years, he co-starred as a pagan king in the German-made sword-and-sorcery epic "Dark Kingdom: The Dragon King" (2004).
Following the low-key "Autumn Hearts: A New Beginning" (2007), von Sydow was a French ambassador who becomes the victim of a car bombing in the action comedy sequel "Rush Hour 3" (2007). Von Sydow next played the father of a 16th century Puritan (James Purefoy) who travels the world vanquishing evil in "Solomon Kane" (2009), while joining the cast of "The Tudors" (Showtime, 2007-2010) for the third season, playing the fierce and moral Cardinal von Waldburg, who becomes a potent critic and adversary to King Henry VIII (Jonathan Rhys Meyers). After supporting roles as a physician at an institution for the criminally insane in Martin Scorsese's "Shutter Island" (2010) and Sir Walter Loxley in Ridley Scott's "Robin Hood" (2010), von Sydow starred opposite Tom Hanks and Sandra Bullock in "Extremely Loud and Incredibly Close" (2011). He played a man who accompanies a 10-year-old boy (Thomas Horn) on a quest to find a lock box in New York City after the boy's father died on 9/11. Von Sydow's wordless performance earned widespread critical praise, as well as an Academy Award nomination for Best Supporting Actor.
The above TCM Overview can also be accessed online here.
Max Von Sydow obituary in "The Guardian" in 2020.
The great Swedish film and stage actor Max von Sydow, who has died aged 90, will be remembered by different people for different roles: the title role in The Exorcist, Christ in The Greatest Story Ever Told, and his Oscar-nominated part as the slave-driven Lasse in Pelle the Conqueror, but his passport to cinema heaven will be his many remarkable performances under the direction of Ingmar Bergman.
The tall, gaunt and imposing blond Von Sydow, pronounced Suedov, made his mark internationally in 1957 as the disillusioned 14th-century knight Antonius Block, in Bergman's The Seventh Seal.
Returning from the crusades to his plague-stricken country, he finds that he has lost his faith in God and can no longer pray. Suddenly, he is confronted by the personification of Death. Seeking more time on Earth, he challenges Death to a game of chess. Von Sydow's portrayal of a man in spiritual turmoil demonstrated a maturity beyond his years and was to exemplify his solemn and dignified persona in further Bergman films, even extending to some of his less worthier enterprises.
Although it was the actor's first film for Bergman, they had worked together at the Municipal theatre in Malmö on several plays and would continue to do so between films. From 1956 to 1958, for Bergman, Von Sydow played Brick in Cat on a Hot Tin Roof, Peer in Peer Gynt, Alceste in The Misanthrope and Faust in Urfaust. In the same company were Gunnar Björnstrand, Ingrid Thulin, Bibi Andersson and Gunnel Lindblom, who, with Von Sydow, were to become part of the Bergman repertory company of the screen.Advertisement
He was born Carl Adolf Von Sydow – later taking the name Max – to an academic family in Lund, southern Sweden. His father, Carl Wilhelm, was an ethnologist and professor of comparative folklore at the university of Lund; his mother, Maria Margareta (nee Rappe), was a school teacher.
He attended a Catholic school before doing his military service. From 1948 to 1951, Von Sydow attended the acting school at the Royal Dramatic theatre in Stockholm; while still a student there, he had small parts in two films directed by Alf Sjöberg, Only a Mother (1949) and Miss Julie (1951). After graduating, Von Sydow, who had married Christina Olin in 1951, joined the Municipal theatre in Helsingborg before moving to Malmö, which resulted in the significant meeting with Bergman.
Following The Seventh Seal, Von Sydow played in six sombre films in a row for Bergman; he was quite content to play supporting roles when asked. He had a small part in Wild Strawberries (1957), and was rather peripheral in Brink of Life (1957), as Eva Dahlbeck's husband, waiting calmly for his wife to have a baby (which she loses), but was central in The Face (1958, later known as The Magician). As Vogler, a 19th-century mesmerist and magician, Von Sydow embodies admirably the part-charlatan, part-messiah character.
It was back to medieval Sweden in The Virgin Spring (1960), with Von Sydow as the vengeful father of a girl who has been raped and murdered. In Through a Glass Darkly (1961), he was the anguished husband of Harriet Andersson, watching his wife lapsing into insanity, and in Winter Light (1962), he was a man terrified of nuclear annihilation.
Von Sydow refused offers of work outside Sweden, even the title role in the first James Bond movie, Dr No (1962), though two decades later he played the evil genius Blofeld to Sean Connery's Bond in Never Say Never Again, 1983. He finally gave in when George Stevens begged him to play Jesus in his 225-minute epic The Greatest Story Ever Told (1965). However, despite Von Sydow's charisma, the epic turned out to be Jesus Christ Superbore.
His next two Hollywood movies were not much better: The Reward (1965), in which he was an impoverished crop-dusting pilot trapped in the Mexican desert, and Hawaii (1966), as an unbending and arrogant missionary who makes no effort to understand the islanders. Von Sydow's two sons played his son in the film, aged seven (Henrik), and 12 (Clas). The scheming German aristocrat in The Quiller Memorandum (1966) was the first of many bad Germans he would play well.
Complex roles in four films for Bergman temporarily stopped the rot: as an artist subject to terrible nightmares and hallucinations in Hour of the Wolf (1968); as a big, gangling innocent forced to face reality in Shame (1968), a powerful parable in which he was allowed to improvise some of his dialogue for the first time; as a man whose peaceful seclusion is disturbed by a woman recovering from the car accident that killed her husband and son (Liv Ullmann), as well as a warring couple and a homicidal maniac in The Passion of Anna (1969); and as the cold cuckolded doctor husband of Bibi Andersson in The Touch (1971), Bergman's first English-language film.
Von Sydow and Ullmann suffered beautifully as poor Swedish peasants trying to survive in 19th-century Minnesota in Jan Troell's diptych, The Emigrants (1971) and The New Land (1972). It was almost inevitable that Von Sydow should be cast as the Jesuit priest, Father Merrin, in William Friedkin's pretentious shocker The Exorcist (1973) after having gone through so many metaphysical crises in Bergman films. His craggy features haunt the film and its shoddy sequel The Exorcist II – The Heretic (1977).
On the whole, his films tended to oscillate between the serious and the silly. Among the former were Steppenwolf (1974), in which he played Hermann Hesse's alter ego Harry Haller, a disillusioned man going on a spiritual journey; Duet for One (1986), in which he was the callous, death-fearing psychoanalyst; and Woody Allen's Hannah and Her Sisters (1986), where he was a prickly, antisocial artist. Allen has said that the only two actors he directed of whom he found himself in awe were Von Sydow and Geraldine Page.
On the more ridiculous side were his Ming the Merciless in Flash Gordon (1980), and King Osric in Conan the Barbarian (1982), through which he managed to keep a straight face – and there was no straighter face in films than Von Sydow's.
He felt much more in his element in Bille August's Pelle the Conqueror (1987), which won the best foreign film Oscar. Von Sydow elegantly captured the simple grandeur of an illiterate widowed farmer who leaves a poverty-stricken Sweden for a Danish island with his nine-year-old son, to find himself almost a slave on a farm.
Von Sydow reconnected with Bergman when he played the latter's maternal grandfather in The Best Intentions (1992), directed by August from Bergman's autobiographical script.
However, his portrayal of the Norwegian novelist Knut Hamsun in the biopic Hamsun (1996), directed by Troell, was far too sympathetic for a man who tried to rationalise his admiration for Hitler.
"Why me?" was Von Sydow's reaction to the director Jonathan Miller, after he had been cast as Prospero in The Tempest at the Old Vic, in 1988. "Do you have to cross the river to fetch water when you have so many wonderful actors in England?" But Miller was justified in his choice because Von Sydow brought the aura of the Bergman films to the role as well as authority and warmth.
In 1988, he directed Katinka, a simple tale about a woman stifled by a loveless marriage, which made little impact. Von Sydow was glad to have made it, but said that he would never direct again. He continued to alternate between mainstream Hollywood (he was in Steven Spielberg's Minority Report, 2002), and more challenging material such as The Diving Bell and the Butterfly (2007), mostly in small scene-stealing roles.
He was a sinister German doctor in Martin Scorsese's psychological thriller Shutter Island (2010); a mysterious mute in Extremely Loud and Incredibly Close (2011), for which he received his second Oscar nomination; Lor San Tekka in Star Wars: The Force Awakens (2015); and the Three-Eyed Raven in the sixth season of Game of Thrones (2016). His last film role came in Thomas Vinterberg's Kursk (2018).
He and Olin divorced in 1979; in 1997 he married the French film-maker Catherine Brelet, and they settled in Paris (Von Sydow became a French citizen in 2002). He is survived by Brelet and their sons, Cédric and Yvan, and by Henrik and Clas, the sons of his first marriage.
• Max von Sydow (Carl Adolf von Sydow), actor; born 10 April 1929; died 8 March 2020