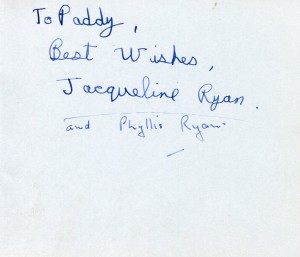 Biography from the Irish Theatre Institute:
Phyllis was born in Dublin in 1920. At the age of 13 she was accepted into the Abbey School and at 14 made her Abbey debut in Denis Johnston's play The Moon and the Yellow River. In 1937, at 16 she played 'Brigid', the lead, in Paul Vincent Carroll's play Shadow and Substance, directed by Hugh Hunt, and was then recommended for membership of the Abbey Company. With the appointment of Ernest Blythe as the Abbey's managing director, Phyllis left the company and pursued a successful freelance acting career. By that time, 1944, she had performed in over 28 Abbey and Peacock productions and worked with the greats of Irish theatre including Eileen Crowe, Cyril Cusack, Barry Fitzgerald, F.J. McCormick, Ria Mooney and Shelah Richards.
Phyllis moved into theatrical management in 1956 and set up Orion Productions. Then, in 1958, she formed Gemini Productions with the actor Norman Rodway. The company was based for many years in the Eblana Theatre (at Busáras) and established itself very quickly as a leading producer of new Irish writing. Gemini had very important and successful relationships with many leading Irish writers including Hugh Leonard and John B. Keane. In the mid 1960s, Gemini had huge commercial success with The Field (Ray McAnally as Bull McCabe) and Big Maggie (Marie Kean as Maggie). Also, in the 1960s she produced world premiere productions of Eugene McCabe's King of the Castle, Máiréad Ni Ghráda's An Triail (English language version On Trial) and Tom Murphy's The Orphans. Gemini produced many world premieres of Hugh Leonard plays, often in association with the Dublin Theatre Festival. Her most significant Leonard production was Stephen D at The Gate for the 1962 Dublin Theatre Festival which, following a capacity sellout run in Dublin, travelled to the West End and launched T.P. McKenna and Norman Rodway's careers in the UK.
In the mid-1970s, Phyllis was instrumental in setting up the state funded Irish Theatre Company and was its first Artistic Director. ITC was founded "to present plays and theatrical entertainments of a high standard round Ireland"[1]. ITC had also a remit to give employment to actors and throughout Phyllis' producing career she was a significant employer of actors and was especially keen to spot new acting, directing and playwriting talent.
Phyllis produced more that 100 plays and revues over her long career in theatre of which about 40 were new plays or adaptations. For many years in the Eblana Theatre, Gemini produced revues with some of Ireland's leading theatre names including Des Keogh, Rosaleen Linehan and Fergus Linehan. The Black Rosie revue, written by Fergus Linehan, is considered to be one of Gemini's Productions' highlights.
In later years Phyllis made a return to acting and worked on a number of productions with director, Michael Scott including his Cuchulain Cycle.Phyllis' final stage performance was in 2000 in Deborah Warner's production of Medea starring Fiona Shaw for the Abbey Theatre.
Phyllis received a number of awards including honorary life membership of Irish Actors Equity and in 2002 she was recipient of the Special Tribute Award at the Irish Times/ESB Theatre Awards. She wrote and published her memoire, The Company I Kept, in 1996.
Phyllis married Sean Colleary in 1941 and had two children Jacqui and Graham (Gregg). Phyllis died on 7th June 2011.
The above biography can also be accessed   online here.