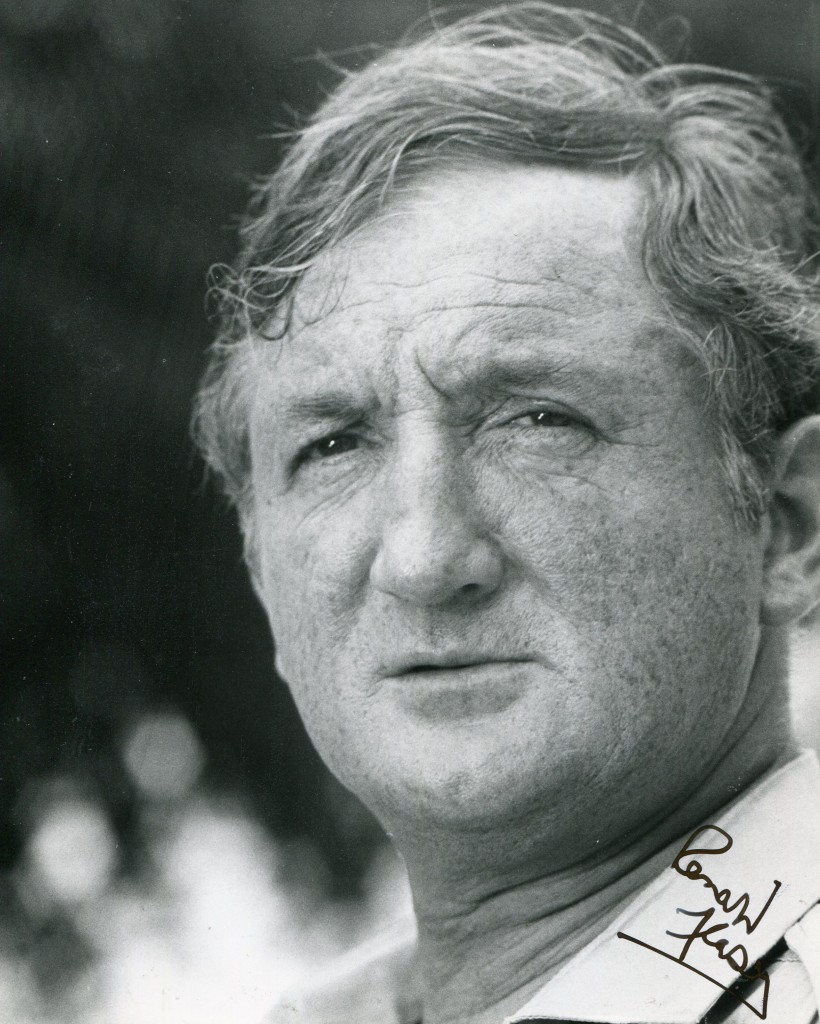 Anthony Hayward's obituary of Ronald Fraser in "The Independent":
The pompous, blustering tones of Ronald Fraser brought to television and films for 40 years an actor invariably cast as an upper-class gent, not of the David Niven variety, but often prone to seediness and self- deprecation.
He was best known on television for his Seventies sitcom roles as the rumbustious old colonial "Badger" Allenby-Johnson, arriving back in Britain and confronting the permissive society, in The Misfit and a wacky police inspector in Spooner's Patch. He was also known as a man about town in the Sixties, often to be found in London's pubs and nightspots.
Born in Ashton-under-Lyne, Lancashire, in 1930, the son of a Scottish builder and interior decorator, Fraser caught the acting bug while performing in Terence Rattigan's French Without Tears in Benghazi, North Africa, during National Service with the Seaforth Highlanders. He subsequently trained at RADA and, on leaving in 1953, became a dresser to the legendary actor-manager Sir Donald Wolfit at the King's Theatre, Hammersmith, before gaining more acting experience at the Citizens' Theatre, Glasgow. Fraser made his London stage debut in The Good Sailor and joined the Old Vic Company in 1954.
His many West End performances included roles in The Long and the Short and the Tall, The Ginger Man, The Singular Man, Androcles and the Lion, The Showing Up of Blanco Posnet, Purple Dust, Entertaining Mr Sloane, The Pirates of Penzance and High Society. He also appeared on Broadway in La Grosse Valise and played Falstaff in a production of The Merry Wives of Windsor at the Open Air Theatre, Regent's Park.
In almost 50 film roles, Fraser acted alongside such greats as Robert Mitchum, Deborah Kerr, Norman Wisdom, Laurence Harvey, David Niven, Harry Andrews, Richard Todd, Maurice Chevalier, Tony Hancock, Richard Burton, Elizabeth Taylor, James Stewart, Peter Finch and Ralph Richardson. The films included Black Ice (his debut, 1957), The Sundowners (1960), There Was a Crooked Man (1960), The Long and the Short and the Tall (1960), The Punch and Judy Man (1962), The Flight of the Phoenix (1965), The Killing of Sister George (1968), the surrealistic comedy The Bed Sitting Room (1969), the satirical, Monty Python-style The Rise and Rise of Michael Rimmer (1970) and the beautifully made family drama Swallows and Amazons (1974, based on Arthur Ransome's novel).
But, as the British film industry went into its bleak years of production in the Seventies, Fraser was increasingly seen in pictures such as the comedies Rentadick (1971) and Ooh, You Are Awful (1972) and exploitation films such as Percy's Progress (1974) and Come Play with Me (1977). Roles on the big screen appeared to improve with his appearance in The Wild Geese (1978), although Trail of the Pink Panther (1982) was disappointing, as was director Julien Temple's musical Absolute Beginners (1986).
Fraser experienced a revival in Scandal (1988), playing Justice Marshall – who tried Stephen Ward for living off the immoral earnings of prostitution in the Profumo affair of the Sixties – Let Him Have It (1991) and The Mystery of Edwin Drood (1993). He was due to play an aristocratic Marxist taxi-driver, driving a Rolls-Royce, in the forthcoming feature film I Love You Love Me Love, to be directed by James Cellan-Jones.
On television, Fraser made his name as Basil "Badger" Allenby-Johnson, a rubber planter returning from Malaya to find a very different England from the one he had left, in two series of Roy Clarke's The Misfit (1970-71). Complete with Panama hat and clinging on to Edwardian standards, "Badger" was shocked by the society around him – and the casual behaviour of his son Ted (played by Simon Ward). He was even more shocked when he had to travel north in a vain search for employment.
Fraser returned to sitcom in 1979 as the manic Inspector Spooner in the first series of Ray Galton and Johnny Speight's spoof police series Spooner's Patch. Set in Woodley police station, the stories involved corruption and skits of other television policemen. However, Fraser did not continue in the role when the programme returned for two more series and was replaced by Donald Churchill.
His dozens of character roles on television have included appearances in Pennies from Heaven (1978), Brideshead Revisited (1981), Fortunes of War (1987), Taggart: Violent Delights (1992), The Blackheath Poisonings (1992), Class Act (1994, as a judge, alongside Joanna Lumley) and P.G. Wodehouse's Heavy Weather (1995, as Sir Gregory Parsloe).
One of Fraser's last television appearances was as the drunken judge Sir Richard Gregory in The Fortunes and Misfortunes of Moll Flanders, Andrew Davies's 1996 adaptation of Daniel Defoe's classic novel. Davies created the role to give Moll the reprieve that saves her from the gallows and allows her to be transported to Virginia instead. The worse for drink, Sir Richard leaves a tavern with Moll (Alex Kingston) and has sex with her in his carriage, leaving him open to blackmail and being forced to give her a pardon.
Fraser, a colourful character, admitted to a fondness for alcohol and explained away several drink-driving convictions as resulting from "a little revelry on the roads of our kingdom".
Anthony Hayward
The above obituary from "The Independent" can also be accessed online here.
Ronald Gordon Fraser, actor: born Ashton-under-Lyne, Lancashire 11 April 1930; married 1956 Elizabeth Howe (two daughters; marriage dissolved 1964); died London 13 March 1997.