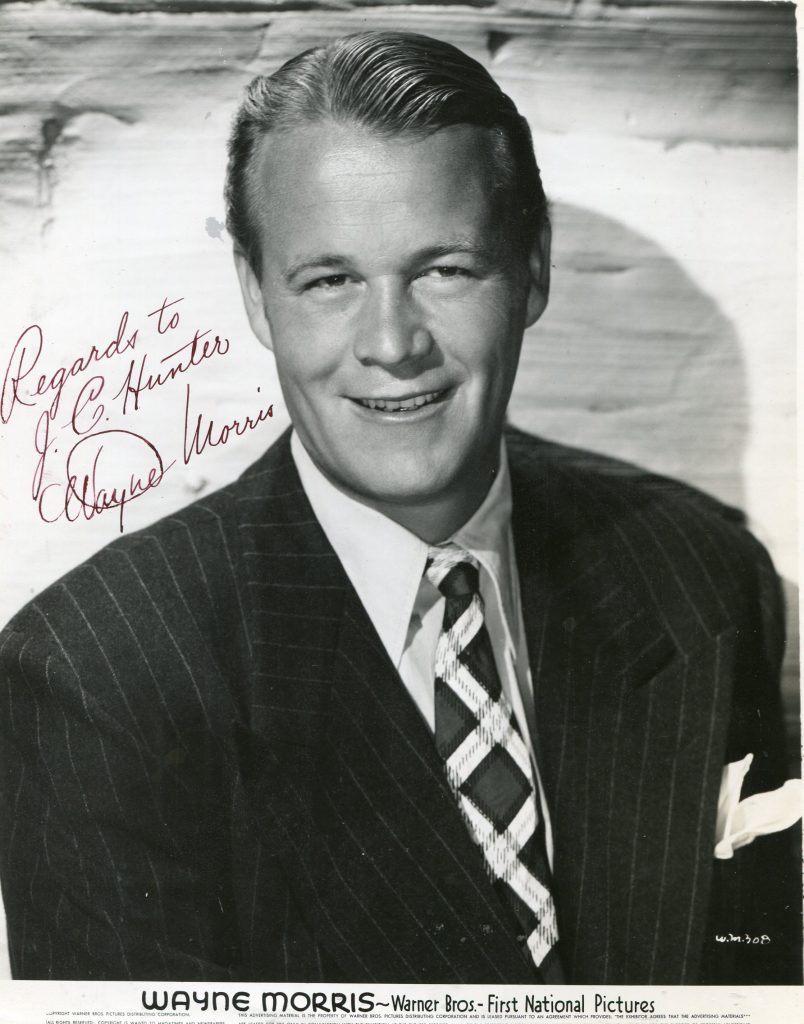 IMDB Entry:
American actor who had early success as a sunny juvenile, but whose career declined following World War II, in which he was a highly-decorated hero. A native of Los Angeles, Morris played football at Los Angeles Junior College, then worked as a forest ranger. Returning to school, he studied acting at Los Angeles Junior College and at the acclaimed Pasadena Playhouse. A Warner Bros. talent scout spotted him at the Playhouse and he signed with the studio in 1936. Blond and open-faced, he was a perfect type for boy-next-door parts and within a year had made a success in the title role of Kid Galahad(1937). While filming Flight Angels (1940), Morris became interested in flying and became a pilot. With war in the wind, he joined the Naval Reserve and became a Navy flier in 1942, leaving his film career behind for the duration of the war. Assigned to the carrier Essex in the Pacific, Morris shot down seven Japanese planes and contributed to the sinking of five ships. He was awarded four Distinguished Flying Crosses and two Air Medals. Following the war, Morris returned to films, but his nearly four-year absence had cost him his burgeoning stardom. He continued to topline movies, but the pictures, for the most part, sank in quality. Losing his boyish looks but not demeanor, Morris spent most of the Fifties in low-budget Westerns. A wonderful performance as a weakling in Stanley Kubrick's Paths of Glory (1957) might have given impetus to a new career as a character actor, had Morris lived. However, he suffered a massive heart attack while visiting aboard the aircraft carrier Bon Homme Richard in San Francisco Bay and was pronounced dead after being transported to Oakland Naval Hospital in Oakland, California. He was 45. His last film was not released until two years after his death.
– IMDb Mini Biography By: Jim Beaver <jumblejim@prodigy.net>
The above IMDB entry can also be accessed online here.
"Movies Unlimited" article:
He can be seen playing alongside Bette Davis as a boxer in Kid Galahad (1937) or a cadet running amok at the Virginia Military Institute in Brother Rat (1938). Wayne Morris may not be a name you're familiar with, but you have most likely seen the husky, affable blond in Warner Brothers 1930s and '40s films. But you may not be familiar with Morris' wartime record. We frequently hear about Hollywood actors such as James Stewart, Clark Gable and Mickey Rooney who enlisted and were decorated for their bravery during World War II. However, Morris is rarely recognized for his service and was one of World War II's first flying aces.
His interest in flying started in Hollywood. While filming Flying Angles (1940) with Jane Wyman and Dennis Morgan, Morris learned how to pilot a plane. Once World War II began, Morris joined the Naval Reserve and became a Naval flier in 1942 on the U.S.S. Essex. He put his career on hold to fight. The same year he was married to Olympic swimmer Patricia O'Rourke.
"Every time they showed a picture aboard the Essex, I was scared to death it would be one of mine," Morris said. "That's something I could never have lived down."
Morris flew 57 missions–while some actors only flew 20 or less–and made seven kills, which qualified him as an ace. He also helped sink five enemy ships. He originally was told he was too big to fly fighter planes until he went to his uncle-in-law, Cdr. David McCampbell who wrote a letter allowing him to fly the VF-15, according to "McCampbell's Heroes: the Story of the U.S. Navy's Most Celebrated Carrier Fighter of the Pacific" by Edwin P. Hoyt. Three of his planes were so badly damaged by enemy fire that they were deemed unfit to fly and were dumped in the ocean, according to IMDB.
"As to what a fellow thinks when he's scared, I guess it's the same with anyone. You get fleeting glimpses in your mind of your home, your wife, the baby you want to see," Morris said. "You see so clearly all the mistakes you made. You want another chance to correct those mistakes. You wonder how you could have attached so much importance to ridiculous, meaningless things in your life. But before you get to thinking too much, you're off into action and everything else is forgotten."
For his duty, Morris was honored with four Distinguished Flying Crosses and two Air Medals. When he returned to Hollywood after four year at war, his once promising career floundered and Warner Brothers did not allow him to act for a year. Morris's most notable post-war films include The Voice of the Turtle, John Loves Mary and Paths of Glory. His career ended with several B-westerns.
At the age of 45, Morris passed away in 1959 from a massive heart attack. But his service to his country was not forgotten. Morris is buried in Arlington Cemetery and was given full military honors at his funeral.
Though I am thankful for all men and women who serve our country, I wanted to recognize Wayne Morris. For years I saw Wayne in films and knew nothing about him except that I liked him. He is one of those character actors that can make a movie special. Morris seemed like a regular guy. Before he started out in Hollywood, he played football at Los Angeles Junior College and worked as a forest ranger. After I researched him and discovered his war record, I wanted to honor his service and his work in films.
Thank you to Wayne Morris and men and women in the military for serving our country.
Jessica Pickens is the writer for Comet Over Hollywood Blog. The blog explores everything from classic actressbeauty tips to celebrities from the Carolinas. Outside of blogging, Jessica is a reporter at The Shelby Star in Shelby, N.C. You can visit her on Facebook and follow her on Twitter @HollywoodComet.
The above "Movies Unlimited" article can also be accessed online here.