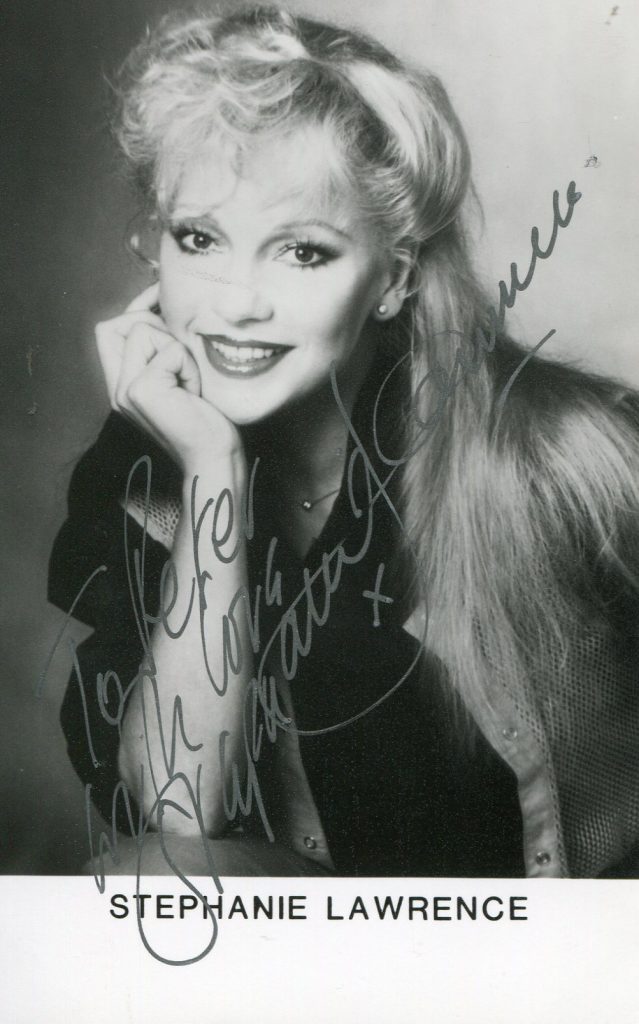 "Guardian" obituary from 2000.
Glamorous leading lady of the British stage musical
---
Stephanie Lawrence, who has died suddenly at the age of 50, was a musical actress of rare glamour, which made her natural casting for a show about Marilyn Monroe. But, although she was a pillar of British musical theatre over the past 20 years and played lead roles in Cats, Evita, Starlight Express and Blood Brothers, she never fully achieved the 40-carat stardom that came to her no-more talented peers.
She was born in Hayling Island, Hampshire, into a performing background. Her father was a musician and her mother, Gladys Kent, was a classically trained dancer who later formed a children's dance troupe, the Kent Babes. The young Stephanie went to the Arts Educational School in Hertfordshire and made her West End debut as a roller-skating tap-dancer in Peter Nichols's Forget-Me-Not Lane (1971): a prophetic move since she spent a good part of her later musical career on skates.
It was hard to miss her in the Nichols play since she embodied the adolescent sexual fantasies of the play's autobiographical hero.
Her stunning looks were accompanied by a fine voice and a dedicated professionalism and it was no surprise when she took over the lead role in Andrew Lloyd Webber and Tim Rice's Evita in 1981 and made no less an impression than Elaine Page as the Argentinian icon.
The choreographer on that show, Larry Fuller, was also the director of a musical called Marilyn which opened two years later at the Adelphi Theatre. The show was intended as a tribute to another popular icon who died young, but it failed to capture the public imagination. The one person who emerged with credit was Stephanie Lawrence. She not only captured the externals of Marilyn Monroe – the wiggle, the walk, the passionate pout, the vocal breathiness – but conveyed the carmined innocence and soft vulnerability within. It should have been her passport to fame but the show failed to live up to its star.
Undaunted, she picked herself up and got on with it. In 1983 she played the reformed prostitute, Mary Magdalene, in an ITV play called Doubting Thomas. In 1984, she was back on roller-skates in Lloyd Webber's Starlight Express at the Apollo Victoria Theatre. Amid the hi-tech efficiency of Trevor Nunn's over-busy production, she once again caught the eye. As I wrote in my review: "The first number to really grab me was He Whistled At Me which worked because Stephanie Lawrence, as a pink-suited steam-buff, was allowed to stand centre-stage and communicate a recognisable human emotion: unfulfilled longing."
Lawrence remained a popular figure on the musical scene. Succeeding Barbara Dickson and Angela Richards, she spent four years in Willy Russell's Blood Brothers. As well as appearing at the Phoenix Theatre, she also led the cast of the company that took the production to New York in 1993 where, thanks to the determination of producer Bill Kenwright, it survived mixed reviews.
She was a renowned animal lover and someone who put her career before long-term relationships although she married Laurie Sautereau only this year. She also brought to the West End musical stage a luminous glamour that has been extinguished cruelly early.
• Stephanie Lawrence, actress, born December 16 1949; died November 4 2000.