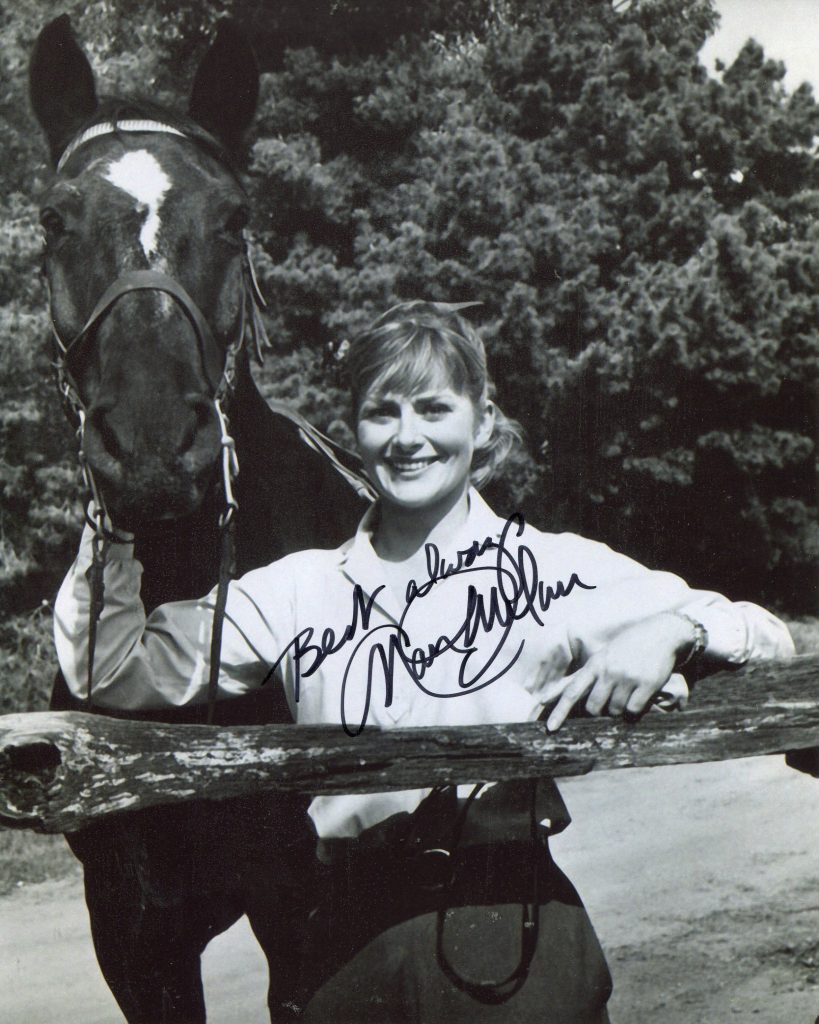 "New York Times" obituary from 2014.
Nancy Malone, a child model in the 1940s who became a successful actress as an adult before moving to the other side of the camera as a television producer and director at a time when few women in Hollywood held those positions, died on May 8 in Duarte, Calif. She was 79.   The cause was pneumonia, a complication of leukemia, her publicist, Harlan Boll, said. A resident of Toluca Lake, Ms. Malone had been hospitalized nearby in Duarte, both in Los Angeles County.   "She did it all, but she had to fight for it all — all the way," the actress Tyne Daly, a longtime friend, said in an interview on Thursday.
Ms. Malone was 11 when she appeared on the cover of Life magazine's 10th-anniversary issue in November 1946, an anonymous girl-next-door in pigtails. At 17, she was praised for her role on Broadway in "Time Out for Ginger," playing a girl who wants to try out for a football team. By the mid-1950s she was immersed in a two-decade run of appearances on television, including episodes of "Hallmark Hall of Fame," "Route 66," "77 Sunset Strip," "The Twilight Zone," "The Andy Griffith Show" and "The Partridge Family."   At one point she juggled the role of Robin on the soap opera "The Guiding Light" with another on the police drama "Naked City," in which she played Libby, an aspiring actress whose boyfriend was a detective. She was nominated for an Emmy Award for outstanding supporting actress for that role, but she wanted more complicated parts.
"I watch the show regularly when it's on the air, and I'm terribly dissatisfied with what I'm doing," she said of "Naked City" in an interview with The New York Times in 1962. "I seem to repeat myself; it seems to be in the same area all the time. I've told the producers how I feel, but I realize that there isn't very much they can do. It is, after all, a show about detectives, and I'm not one of the detectives."
By the early 1970s, even as her acting career was thriving, she had grown more frustrated by its limitations.   "I just can't wrap my mouth around 'How do you want your coffee, darling?' once more," she told Tom Moore, then the president of ABC, according to the 2002 book "Women Who Run the Show: How a Brilliant and Creative New Generation of Women Stormed Hollywood," by Mollie Gregory.   Mr. Moore, who was starting his own production company, Tomorrow Entertainment, invited her to join it, and she eventually did. Within a few years she had formed a company of her own, Lilac Productions, and begun producing television movies, including "Winner Take All," starring Shirley Jones as a woman with a gambling addiction. By 1975 she had moved to 20th Century Fox, where she became its first female vice president, helping oversee new television shows. By the end of the decade she had moved again — into directing.   As was the case with her acting career, her projects as a director ranged widely over the next two decades. They included episodes of "Dr. Quinn, Medicine Woman," "Beverly Hills, 90210," "Melrose Place" and "Dynasty."She shared a producing Emmy in 1993 for the special "Bob Hope: The First 90 Years" with Don Mischer and Hope's daughter Linda, a longtime friend.
She was born Nancy Josefa Maloney on March 19, 1935, in Queens. She began acting professionally at about 10, appearing on radio and television, and became so busy that she left a Roman Catholic school she was attending to enroll at Professional Children's School, which allowed her to do schoolwork on a schedule that accommodated her career.
In a review of "Time Out for Ginger," staged when Ms. Malone was 17, Brooks Atkinson of The Times wrote that her performance "becomes more sensitive as the evening progresses and finishes as something shyly triumphant."
No immediate family members survive. In the early 1970s Ms. Malone helped found Women in Film, a support and advocacy group. In 1977, she was among the first to receive the organization's Crystal Award, for increasing opportunities for women in the entertainment industry.
In the 1980s Ms. Malone was one of the directors of "Cagney & Lacey," the long-running series about two female detectives that starred Ms. Daly and Sharon Gless. When Ms. Daly was later cast on "Judging Amy," she suggested to a producer that he hire Ms. Malone as a director.   "He said, 'Oh, not in the first season,' " Ms. Daly recalled on Thursday. "That translates to 'the men have to establish what the thing is before letting the women get involved.' "
The above "New York Times" obituary  can also be accessed online here.