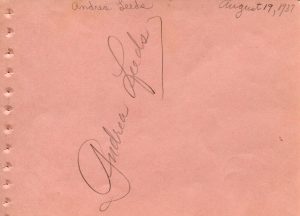 IMDB Entry:
She made only a handful of films within a span of four years (1936-1940), but gentle, soulful-eyed Andrea Leeds touched hearts with those few, culminating in an Oscar-nomination for Best Supporting Actress as the sensitive, aspiring young actress who doesn't survive the school of hard knocks in the 1937 movie version of Edna Ferber–George S. Kaufman's serio-comic play Stage Door (1937).
Andrea was born on August 18, 1914 in Butte, Montana. As her father was a British-born mining engineer, the family traveled quite extensively during her "wonder years". Following graduation from UCLA with the intentions of being a screenwriter, she pursued acting instead and apprenticed in bit roles under her given name, Antoinette Lees. She appeared in Hal Roach comedy shorts with comedian Charley Chase at this same time before landing better parts in better pictures. She portrayed another actress hopeful in the fine film Letter of Introduction (1938), and gave equally affecting turns in the sentimental drama The Goldwyn Follies (1938), Swanee River (1939) (as Mrs. Stephen Foster), The Real Glory (1939) and Earthbound (1940), all blessed with her trademark gentleness, grace and humanity. Personal tragedy struck, however, when her fiancé, Jack Dunn, then an ice skating partner of Sonja Henie, died suddenly of a rare disease in July of 1938, and her once strong interest in her career began to wane dramatically. More than a year later, Andrea married wealthy sportsman Robert Stewart Howard, heir to father Charles S. Howard's racing stables, and gave up her profession completely to raise a family.
Devoutly religious, Andrea and her husband eventually settled in the Palm Springs area with their two children, Robert Jr. and Leann, the latter dying of cancer in 1971. Her life and interests would include owning and breeding horses. After her husband's death in 1962, she operated and owned a modest jewelry shop in the Palm Springs area, designing many of her own pieces. Andrea died of cancer in 1984 at age 70.
– IMDb Mini Biography By: Gary Brumburgh / gr-home@pacbell.net