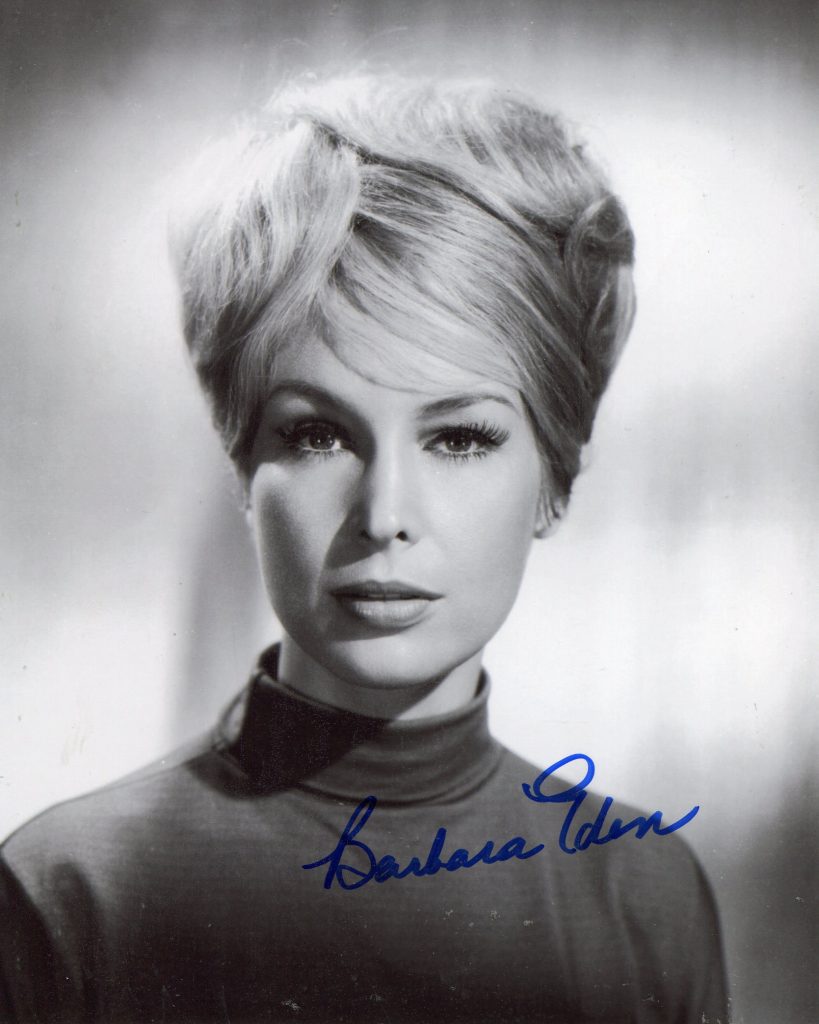 Barbara Eden
TCM Overview:
One of television's most enduring icons, actress Barbara Eden unfortunately had great difficulty escaping her association with the character and show that made her a star, playing the 2,000-year-old Jeannie on the sitcom "I Dream of Jeannie" (NBC, 1965-1970). Prior to the beloved show, Eden appeared on a number of television shows like "Father Knows Best" (CBS, 1954-1960), "Gunsmoke" (CBS, 1955-1975) and "The Andy Griffith Show" (CBS, 1960-68), before starring on the small screen version of the hit movie, "How to Marry a Millionaire" (syndicated, 1957-59). She made the jump to features around this time and had an early co-starring role opposite Elvis Presley in "Flaming Star" (1960), before logging performances in "Voyage to the Bottom of the Sea" (1961) and "The Yellow Canary" (1963). But it was her performance as "Jeannie" that made her a household name, while bring a new level of sexuality to television, albeit with a nose-wiggling innocence. After the show was finished, Eden struggled to shake the image by starring in the horror movie "A Howling in the Woods" (1971) and in the comedy "Harper Valley PTA" (1978), but often to no avail. She later embraced the association with the naïve Jeannie and, though tame by modern standards, her brand of playful femininity was revolutionary for its time and helped open the doors for future television sex symbols.
Born Barbara Jean Moorhead on Aug. 23, 1934 (though some sources claim 1930), Eden's parents divorced when the actress was three. Following her mother's second marriage, Eden took the name Barbara Huffman after her stepfather, Harrison Connor Huffman. As a child, Eden suffered from a severe vision problem which required her to wear thick glasses and a sometimes eye patch. As a result, Eden grew up very shy. To help ease her daughter's insecurities, her mother, Alice, arranged for young Barbara to take singing lessons which did indeed help alleviate her shyness. By the time she was a teenager, this "ugly duckling" had blossomed into an attractive young woman, graduating from San Francisco's Abraham Lincoln High School in 1949. Moving to the Bay Area in the early 1950s, Eden made a living singing in nightclubs, but soon decided that a singing career was not in the cards for her. In 1951, Eden entered a local beauty pageant and won the title of Miss San Francisco â¿¿ the catalyst which propelled the actress to Hollywood.
In 1956, Eden made her screen debut in with a minor, uncredited role in "Back from Eternity." Later that year, however, while performing in a local play, Eden was discovered "Hollywood style" by respected film director, Mark Robson. Impressed by Eden's talent and beauty, Robson introduced her to casting directors at Twentieth Century Fox. Only a year after her debut, Eden landed the leading role on the television comedy "How to Marry a Millionaire" (1957-59), a show based on the 1953 film, in which Eden played Marilyn Monroe's gold-digging character. Though this was her first sitcom, it would hardly be her last or her best known, for that matter. In the early 1960s, Eden branched out, appearing in a string of unremarkable films including "Flaming Star" (1960), "Five Weeks in a Balloon" (1962) and "The Yellow Canary" (1963). She also landed a co-starring role in Irwin Allen's sci-fi outing, "Voyage to the Bottom of the Sea" (1961). At the same time, Eden maintained high visibility on the small screen with guest roles on such series as "The Andy Griffith Show" (CBS, 1960-68), "Route 66″(CBS, 1960-64), and "Gunsmoke" (CBS, 1955-1975).
In 1965, Eden finally landed the role that would define her career â¿¿ as the star and title character of the fantasy sitcom, "I Dream of Jeannie." Created by prolific novelist Sidney Sheldon, the series was a direct response to rival the popular "Bewitched" (ABC, 1964-1972). Both shows shared a similar premise: the misadventures of a sexy sorceress who falls in love with a bumbling mortal and must adjust to life in suburbia. As hoped, "Jeannie" quickly proved to be a huge success. Over the show's five year run, Eden was twice nominated for Golden Globe Awards, as was her co-star, Larry Hagman. Ironically, for a show that relied so heavily on its sex appeal, "Jeannie" had to play things remarkably coy in order to satisfy NBC's prudish standards. The most famous example of this was the network's "No Navel Edict," which barred Eden from baring her belly button in any way. Appropriately enough, "Jeannie" ended just as the sexual revolution was redefining women's roles. By the time it went off the air, the once risqué show was already considered a "quaint" remnant of a bygone era.
Post-"Jeanie," Eden starred in the lightweight 1978 feature film comedy based on the 1968 Jeannie C. Riley country hit, "Harper Valley PTA." The film's success spawned a short-lived TV series of the same name, "Harper Valley PTA" (NBC, 1981-82), in which Eden reprised her role. Since then, the actress appeared on screen only intermittently. In 1991, Eden was signed to a five-episode guest-starring role on "Dallas" (CBS, 1978-1991), reuniting her with Hagman. In 1998, it was reported that Eden would make a cameo as Jeannie's aunt in a feature remake of "I Dream of Jeannie" starring Alicia Silverstone. Though the film was never produced, Eden got to play a similar role in 2002 as Sabrina's Great Aunt Irma on the hit comedy series, "Sabrina, The Teenage Witch" (ABC, 1996-2003).
The above TCM Overview can also be accessed online here.