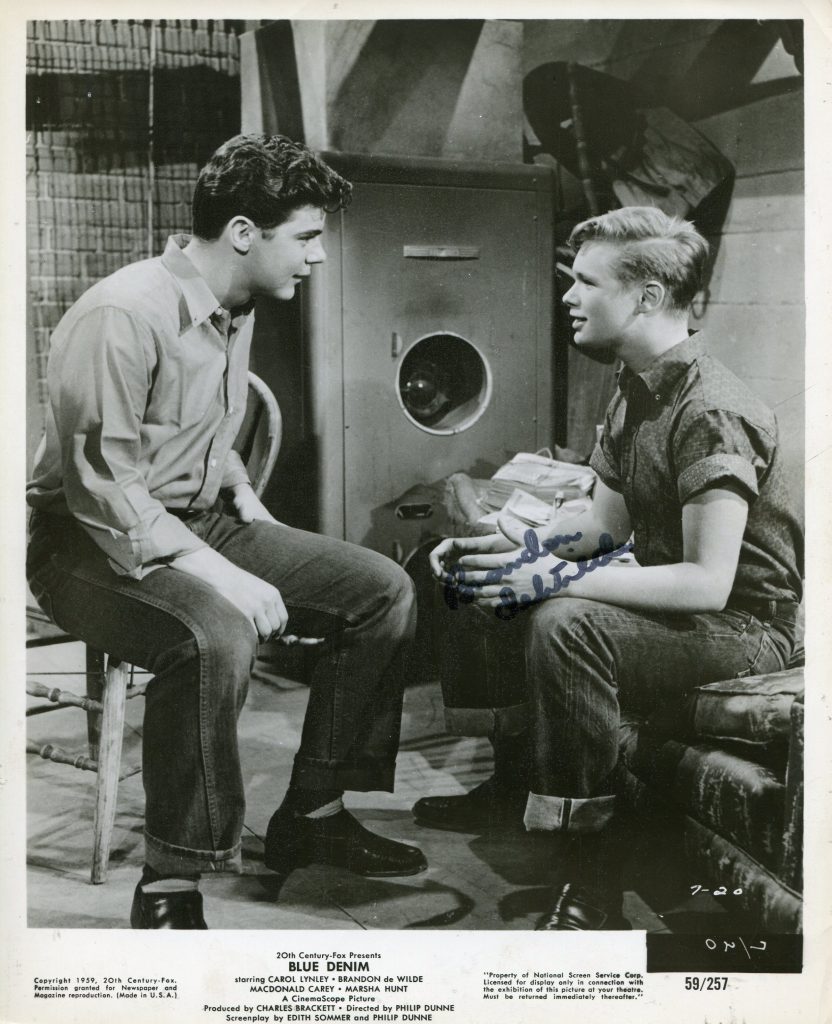 TCM Overview:
When Brandon De Wilde died in a motorcycle accident in July 1972 he was only 30 years old but in that short lifetime he had starred in several films now considered classics, been nominated for an Academy Award®, won a Golden Globe, been the first child actor to win a Donaldson Award (for his theatrical debut at the age of seven), had his own television series, hung out with The Beatles, Gram Parsons and Jim Morrison, was the father of a young son and had been divorced twice.
Andre Brandon De Wilde was born into a theatrical family on April 9, 1942 in Brooklyn and spent his early life in Baldwin, Long Island. His father Frederick A. "Fritz" De Wilde was an actor and a Broadway stage manager and his mother Eugenia was a part-time actress on Broadway. Despite his surroundings Brandon did not show any interest in acting until 1949 when a friend of his father was casting a play by Carson McCullers, The Member of the Wedding and was looking for a young boy and thought Brandon might be good. As Virginia Spencer Carr wrote in her book Understanding Carson McCullers, "[Ethel] Waters and Julie Harris had been signed for the principal roles, and every part was cast except for the role of John Henry West, which was assigned, finally, to five year old [sic] Brandon De Wilde, who had never acted before and could not read. The child's father, Fritz De Wilde (who was cast as Jarvis Addams, the bride-groom) read the entire play aloud to him to help him learn his lines and in the process, young Brandon learned the lines of everyone else as well, much to the chagrin of Waters, whom he prompted regularly until she told him, 'Now honey, I don't want you to bother me anymore.'"
De Wilde was a natural and received critical acclaim for his performance from no less an authority than the legendary actor John Gielgud, who wrote in a letter to a friend, "I saw an excellent play yesterday Member of the Wedding […] The little boy from next door [Brandon De Wilde] a child of eight, gives a wonderful performance and serves as an almost silent chorus, representing the youngest generation. He is on the stage playing all through the hysterical scenes of the young girl, sometimes vaguely aware of what it all means, sometimes just bored and longing for notice, and sometimes just thinking to himself – all done with extraordinary subtlety and emphasis."
Having received the Donaldson Award for his performance, he was signed by director Fred Zinnemann to reprise his role in the film adaptation of The Member of the Wedding in 1952, for which he was awarded a Special Golden Globe Award for Best Juvenile Actor.
His next role would be his most famous, as the tow-headed boy Joey Starrett who worships gunman Alan Ladd in George Stevens' classic Western Shane (1953). He filmed it in the summer and fall of 1951, but the film was not released for two years due to extensive editing. De Wilde's immortal line at the end of the film, "Shane! Shane! Come back!" was voted as number 47 of the AFI'S 100 Best Movie Quotes and it ranked number 69 of the Best Movie Quotes by Premiere Magazine earlier in 2007. His performance earned him an Academy Award nomination for Best Supporting Actor (he lost to Frank Sinatra for From Here to Eternity) and the praise of critics like The New York Times' Bosley Crowther who wrote, "Mr. Ladd, though slightly swashbuckling as a gunfighter wishing to retire, does well enough by the character, and Jean Arthur is good as the homesteader's wife…But it is Master De Wilde with his bright face, his clear voice and his resolute boyish ways who steals the affections of the audience and clinches Shane as a most unusual film."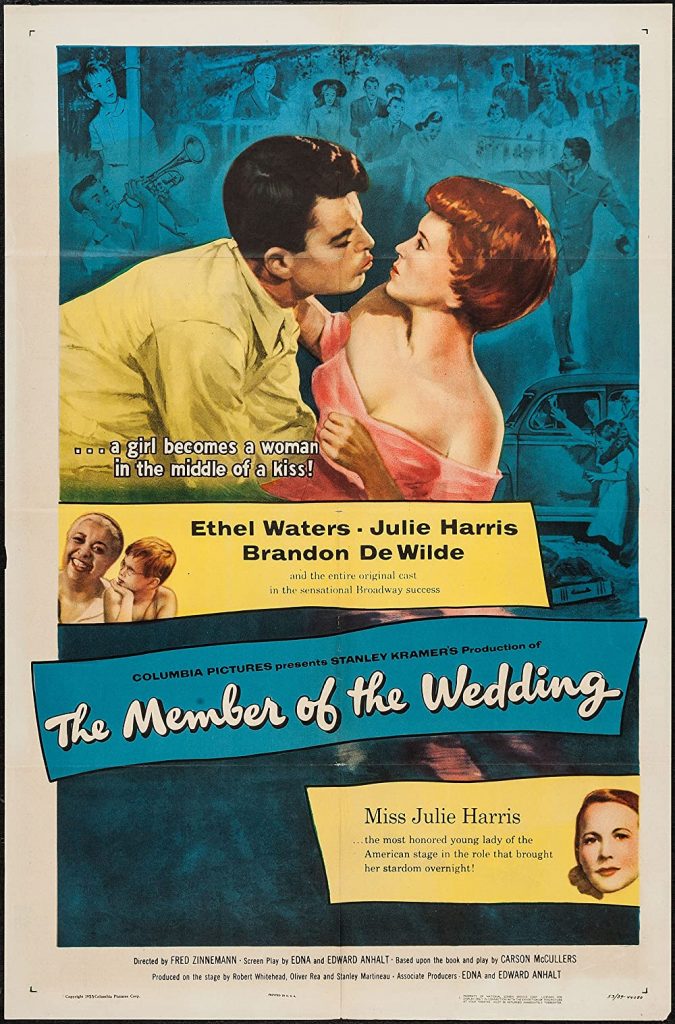 The attention from Shane won De Wilde his own television series for ABC entitled Jamie in which he played an orphan living with his aunt. The show only ran during the 1952-1953 season due to a contractual dispute. He would spend the next six years appearing on television on programs such as Climax!, The Screen Director's Playhouse, The Alcoa Theater and The United States Steel Hour. At the age of 17 in 1959, he appeared in a controversial drama entitled Blue Denim co-starring Carol Lynley. In it, De Wilde's character gets Lynley pregnant and the two try to find an abortionist.
De Wilde spent three more years in television on shows like Alfred Hitchcock Presents and Wagon Train before making All Fall Down (1962) in which he plays the younger brother of Warren Beatty and the following year he made Hud with Paul Newman, Melvyn Douglas, and Patricia Neal. Although his character was only 16, De Wilde was actually 20 during the filming of Hud. He was the only one of the principal actors not to be nominated for an Academy Award, but on Oscar® night, De Wilde accepted the Best Supporting Actor Award for Melvin Douglas who was unable to attend.
By 1965, when he appeared in his last major film opposite John Wayne – the WWII drama In Harm's Way – De Wilde had become part of a hard-living, drug-taking Hollywood group including Peter Fonda and Dennis Hopper. During this time, he had become interested in launching a music career. De Wilde was in the Bahamas in February 1965 at the same time The Beatles were filming Help! and hung out with the band, who got stoned on the pot De Wilde provided. Paul McCartney remembered De Wilde as "a nice guy who was fascinated by what we did. A sort of Brat Pack actor. We chatted endlessly, and I seem to remember writing [the song] "Wait" in front of him and him being interested to see it written." This interest led De Wilde to become friends with up and coming musician Gram Parsons in New York and the two would sing harmony together. Parson's friend and fellow musician John Nuese said that De Wilde sang better with Parsons than anyone except Emmylou Harris. De Wilde brought Parsons and his band into the studio at RCA to record some tracks but the project never materialized.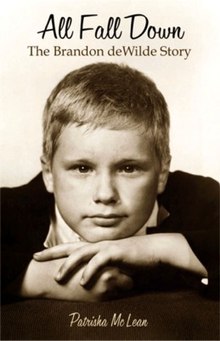 Most of De Wilde's remaining work would be television guest appearances. He once spoke about his career to author Linda Ashcroft at a party they attended with Jim Morrison. Ashcroft later wrote that she "listened to him talk about having given most of his life to acting, which sounded so strange from such a young man. He was about Jim [Morrison's] age, though he looked younger. He spoke of giving up movies until he could come back as a forty-year-old character actor. All that had been in his favour as a child, his being small for his age and a bit too pretty, had worked against him as an adult. […]"
Sadly De Wilde's life was cut short by a driving accident. On July 6, 1972, he was in Denver, Colorado appearing onstage in the play Butterflies Are Free. That night while on his way to the theater, he was killed when his motorcycle ran into a truck. His good friend Gram Parsons was so affected by his death that he and Emmylou Harris wrote the song In My Hour of Darkness about De Wilde,
Once I knew a young man
Went driving through the night
Miles and miles without a word
With just his high-beam lights
Who'd have ever thought they'd build such
a deadly Denver bend
To be so strong, to take as long as
it would till the end
by Lorraine LoBianco