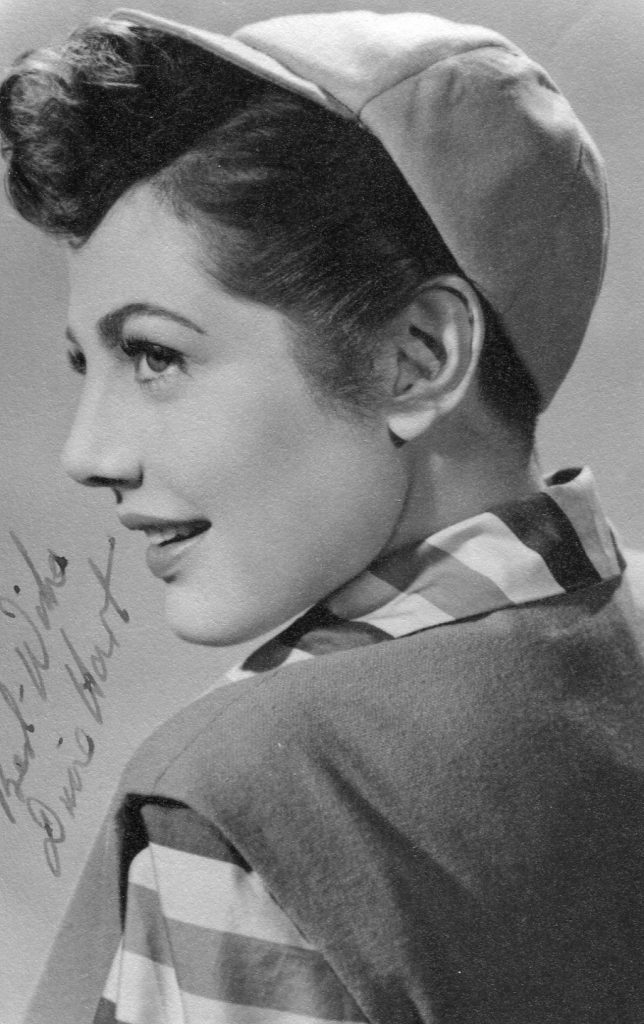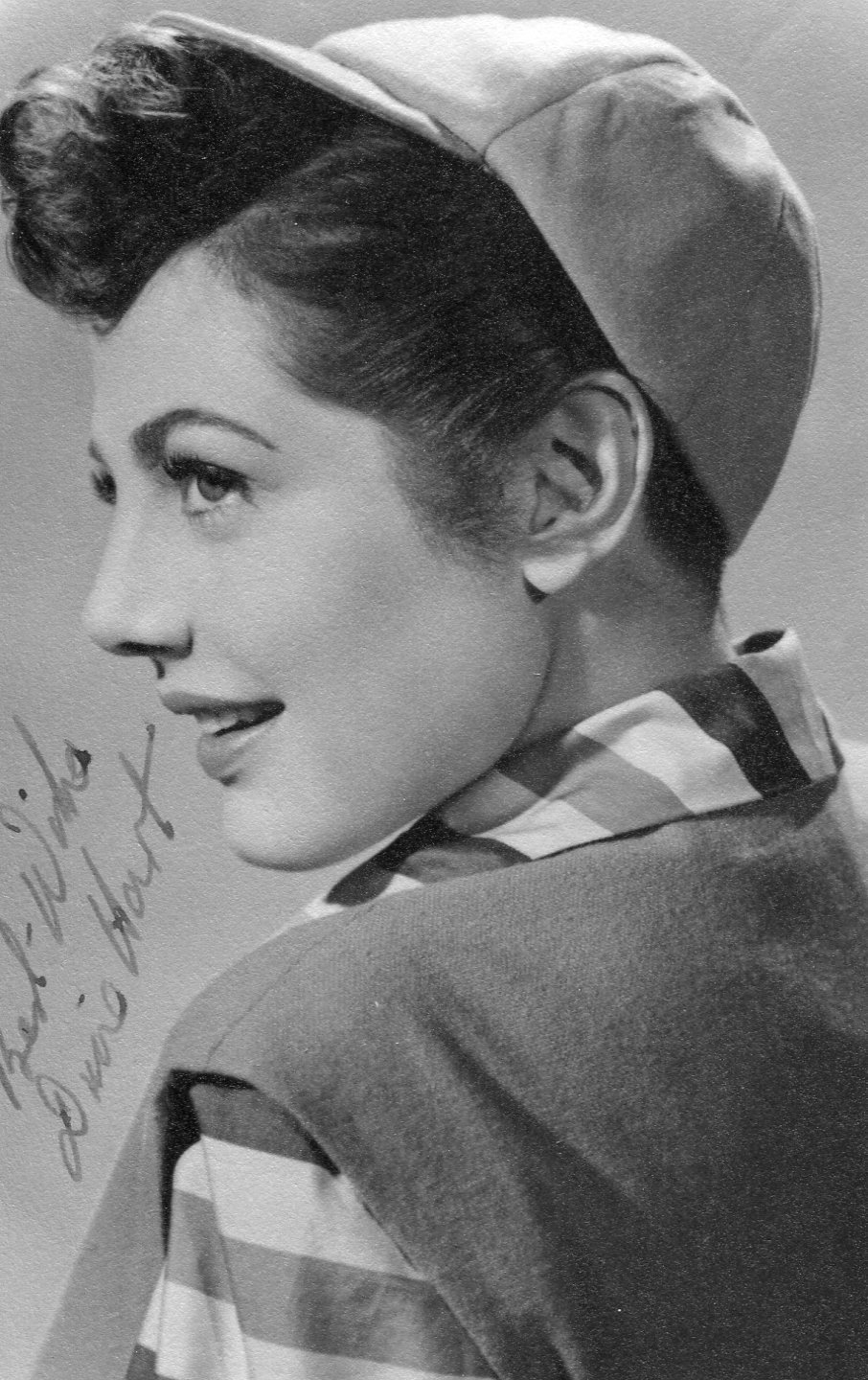 "Independent" obituary from 2002:
Diane Lavinia Hart, actress and inventor: born Bedford 20 July 1926; married 1952 Kenneth MacLeod (two daughters; marriage dissolved); died London 7 February 2002.
The vivacious energy which stamped Diane Hart's most memorable stage and screen performances was also a hallmark of her offstage life when good roles were thinner on the ground. There can be few actors who also hold international patents on corset design – Hart's interest in that subject rivalled that of Flora Poste's sophisticated chum in Cold Comfort Farm – and fewer still who have also invented a mine-destroyer and stood for Parliament.
Born in 1926, Hart was educated at various convents and then at Abbot's Hill School, King's Langley (where she was a passionate Classics scholar), going to Rada remarkably precociously in 1941, only to depart after less than a year; one teacher remarked that she lacked "the right kind of voice" – ironically, given her later versatility on radio.   She worked briefly for the BBC as a secretary and, in the middle years of the Second World War, as a sound engineer, gleefully scrambling Hitler's speeches back to the Germans over their airwaves.   The stage still beckoned, however, and in 1943 Hart had a baptism of fire working as a "feed" to the comedian (later an agent) Pat Aza at the Finsbury Empire, the first date of an exhausting six-month tour of the Moss Empire circuit on the halls. This invaluable apprenticeship, which taught her more about comedy timing than Rada could then have provided, was useful in Hart's subsequent period entertaining the troops for Ensa.
An early West End break came with her casting as a high-spirited adolescent supporting role in Daughter Janie (Apollo, 1944) and her success in this led to William Douglas Home's early hit The Chiltern Hundreds (Vaudeville, 1946, and Booth, New York, 1949). In this long-running political light comedy, centred round the eccentric Earl of Lister and a local by-election, Hart was widely noticed for her effervescent comedy as the pert young housemaid Bessie, more than managing to hold her own amid such seasoned comedy masters as A.E. Mathews.   When Glynis Johns – the original choice – became unavailable for Terence Rattigan's comedy Who is Sylvia? (Criterion, 1950), Hart was ideal casting. Loosely based on the amorous exploits of the author's father and spanning three decades, the play offered a wonderful opportunity to its leading lady – a showy chance to play three very contrasted roles, one in each act (all variations on the eponymous love in adolescence of the Diplomatic Service's hero); an office girl, an actress and a model. Rattigan was never happy with the tone of the production, although it opened at the home of his first success, French Without Tears, and also co-starred two of its cast (Robert Flemyng and Roland Culver). Still, it ran for just under a year and won Hart some very positive notices.
In Nancy Mitford's version of Andrew Roussin's French frivol The Little Hut, Hart was distinctly happier casting than the rather stately American original (Joan Tetzel), taking over as the desert-island Delilah opposite Robert Morley, directed by Peter Brook. Another long-running success came Hart's way with Joyce Rayburn's feather-light West End comedy The Man Most Likely To . . . (Vaudeville, 1968) opposite Leslie Phillips at his most raffishly urbane. She also had another long Vaudeville residence replacing Moira Lister in the successful Ray Cooney/John Chapman farceMove Over, Mrs Markham (1972).   That her range was much wider than that of the lighter commercial theatre drolleries was amply proved by two strikingly contrasted performances in an exciting period in Sloane Square when she worked at the Royal Court. Hart's first appearance there was as the mother in an early and powerful Howard Barker play,Cheek (Theatre Upstairs, 1970). She had an even better maternal role, which she played with movingly understated simplicity, in Morality (Theatre Upstairs, 1971), an underrated piece by Jeremy Seabrook and Michael O'Neill, directed by William Gaskill, a domestic drama about a schoolboy involved in a homosexual relationship with a teacher.
There were few similarly challenging London parts for her in later years, although she often worked in regional theatre playing, among other parts, the juicy title role in Maugham's Mrs Dot(Everyman, Cheltenham, 1974).   Hart's film career, which began with a small bridesmaid's role in the Margaret Lockwood costume drama The Wicked Lady (1945), included a spell under contract to 20th Century-Fox, although, frustratingly, she was rarely cast in rewarding parts or in worthwhile movies. But she particularly enjoyed working for Jean Negulesco in Britannia Mews (1949), one of his better films, scripted by Ring Lardner Jnr, and playing opposite a favourite actor, David Niven, in the musical Happy Go Lovely (1951).   She also made many television appearances, beginning at Alexandra Palace during the war. Her radio performances were even more numerous; she was popular with some of radio drama's most respected directors, especially Val Gielgud, but was versatile enough to score a success as Ted Ray's wife in his Ray's a Laughseries.
Hart's invention of the "Beatnix" corselet, which sold strongly in Marks and Spencer's stores during the 1960s, became a firm (if that's the right adjective) favourite in Soviet Russia, not least with the wife of the Russian premier, Mrs Alexei Kosygin, herself no slouch in the embonpoint department. The War Office took up another of Hart's notions, that of attaching by cable a farmer's harrow to a helicopter to rake the ground for plastic mines during the Falklands campaign.   A born political maverick, Hart stood as an Independent in the 1972 general election contesting Lewisham South (she lost her deposit), and also ran a campaign to encourage women to do more to enter Parliament.   A favourite Hart bolt-hole in London was the Chelsea Arts Club, of which she was a zestful member (her speed at solving cryptic crosswords was legendary). Until recently she was a familiar sight between the West End and the King's Road, weaving in and out of traffic on her bicycle, most usually clad in a voluminous mink coat.
Alan Strachan
The above "Independent" obituary can also be accessed online here.