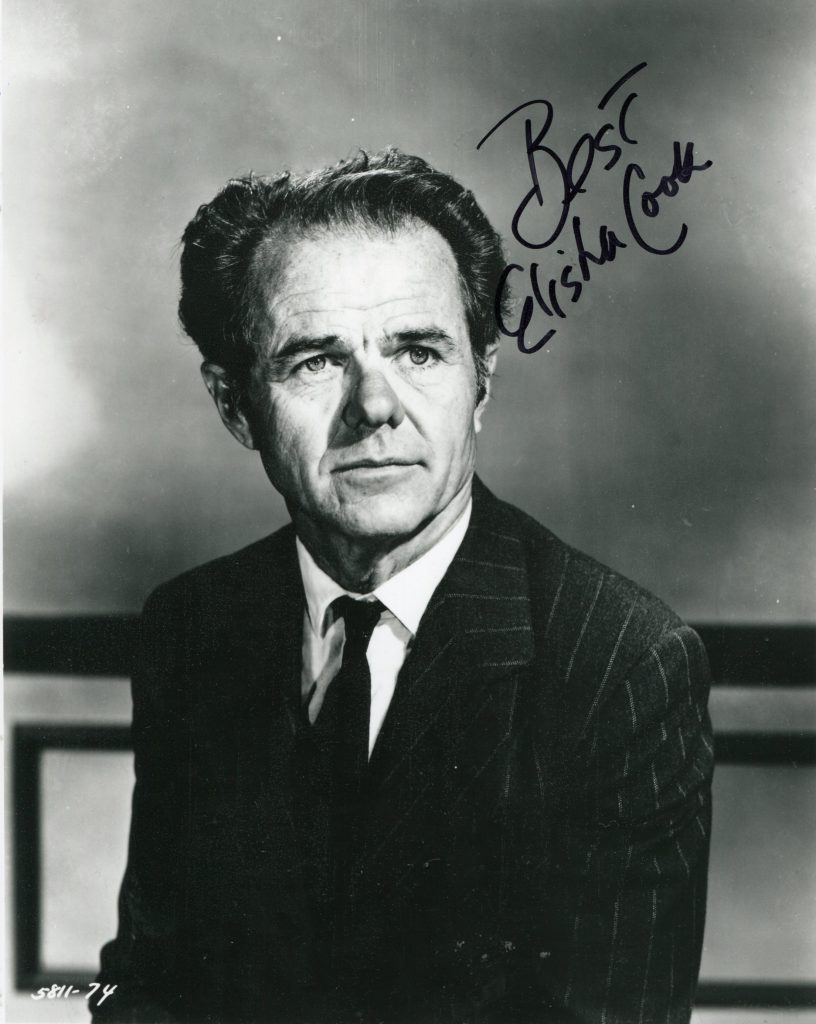 "Independent" obituary by Tom Vallance from 1995:
One of the finest and most familiar of screen character actors, the short and shifty-eyed Elisha Cook Jnr was the eternal loser.He could play anything, from farce (riddled with bullets in Hellzappoppin', he drinks a glass of water which spurts through a dozen holes) to tragedy (as the luckless homesteader gunned down by Jack Palance in Shane – one of his rare good guy roles), but his memory will be treasured most for his gallery of petty hoodlums whose aspirations and bravado rarely equalled their abilities. "Keep on riding me," he tells Humphrey Bogart in The Maltese Falcon, "and they're gonna be picking iron out of your liver", but his quavering voice and outsize overcoat make the threat derisory.
Born in San Francisco in 1906, Cook studied at the Chicago Academy of Dramatic Art before making his stage debut in vaudeville at 14. Joining the Theatre Guild, he appeared on the Broadway stage with Ethel Barrymore, and came to London in Coquette (1929). After an isolated film role in The Unborn Child (1929), repeating the romantic lead he had on stage, he returned to the theatre until 1936, when he settled in Hollywood.
Roles ranged from a brainy collegiate in Pigskin Parade (1936) to an ingenuous song-writer in Tin Pan Alley (1940), but it is to the genre of film noir that he made his most memorable contributions. In Boris Ingster's The Stranger on the Third Floor (1940) which, with its moody lighting is often credited as the first true film noir, Cook was an innocent taxi- driver convicted of murder. He followed this with perhaps his best known role as Wilmer, Sydney Greenstreet's twitchy henchman, in Huston's classic The Maltese Falcon (1940).
Often vulnerable to and exploited by women, he had a lethal passion for Carole Landis in I Wake Up Screaming (1941), was a disc jockey who kills for love of the venal Jane Greer in The Falcon's Alibi (1945) and a small- time hoodlum who dies to protect Sonia Darrin in The Big Sleep (1946), a role which gave him some rare, if pathetic, integrity. After he has witnessed Bogart being beaten up and Bogart asks why he did not come to his aid, he replies, "Listen, when a guy's doing a job, I don't kibbitz." (The line, cited by Cook as his favourite piece of dialogue, was written by the director Howard Hawks.)
Robert Siodmak's Phantom Lady (1944) includes one of the most famous sequences in cinema history in which Cook, as the trap-drummer Cliff March, works himself to an orgiastic frenzy drumming in a jazz-club while sensuously encouraged by Ella Raines garbed in clinging black silk. It is both a prime example of how film-makers would circumvent the Production Code and a quintessential piece of noir cinema, its extreme angles, harsh lighting and staccato editing influenced by German Expressionism. In Kubrick's The Killing (1956), Cook and the splendid Marie Windsor give the most indelible performances of a fine cast as the passive race-track cashier involved in a doomed caper, and his disdainful wife. Rising to her baiting, Cook tells Windsor that he is going to get half a million dollars. "Of course you are darling," she replies. "Did you put the right address on the envelope when you sent it to the North Pole?"
Andre DeToth's Dark Waters (1944), in which Cook perishes in quicksand, Robert Wise's Born to Kill (1947), in which he dies amid sand dunes, and Jules Dassin's under-rated Two Smart People (1946), where he meets a macabre death during a Mardi Gras, were among other noirs where he was the perennial loser. Even when well-meaning, as in Roy Baker's Don't Bother to Knock (1952), he gets bashed with an ash-tray after arranging a baby-sitting job for his neurotic niece (Marilyn Monroe).
Cook later did a lot of work in television, including a continuing role as a crime baron in Magnum P.I.; and he was still making films until his eighties. In a 54 year career, Elisha Cook Jnr was always a welcome presence on the screen.
Tom Vallance
Elisha Cook Jnr, actor: born San Francisco 26 December 1906; died Big Pine, California 18 May 1995.
The above "Independent" obituary can also be accessed online here.
TCM Overview:
Diminutive, wiry character player memorable for his numerous roles as cowardly villians and neurotics. Originally from vaudeville and the Broadway stage, Cook, who briefly entered films in 1929 before returning to the stage, made a strong impression with his definitive sniveling gunsel in "The Maltese Falcon" (1941), and followed with similar roles as weaklings or sadistic loser-hoods: Harry Jones in "The Big Sleep" (1946) and George Peatty in Stanley Kubrick's "The Killing" (1956) over a more than sixty-year care