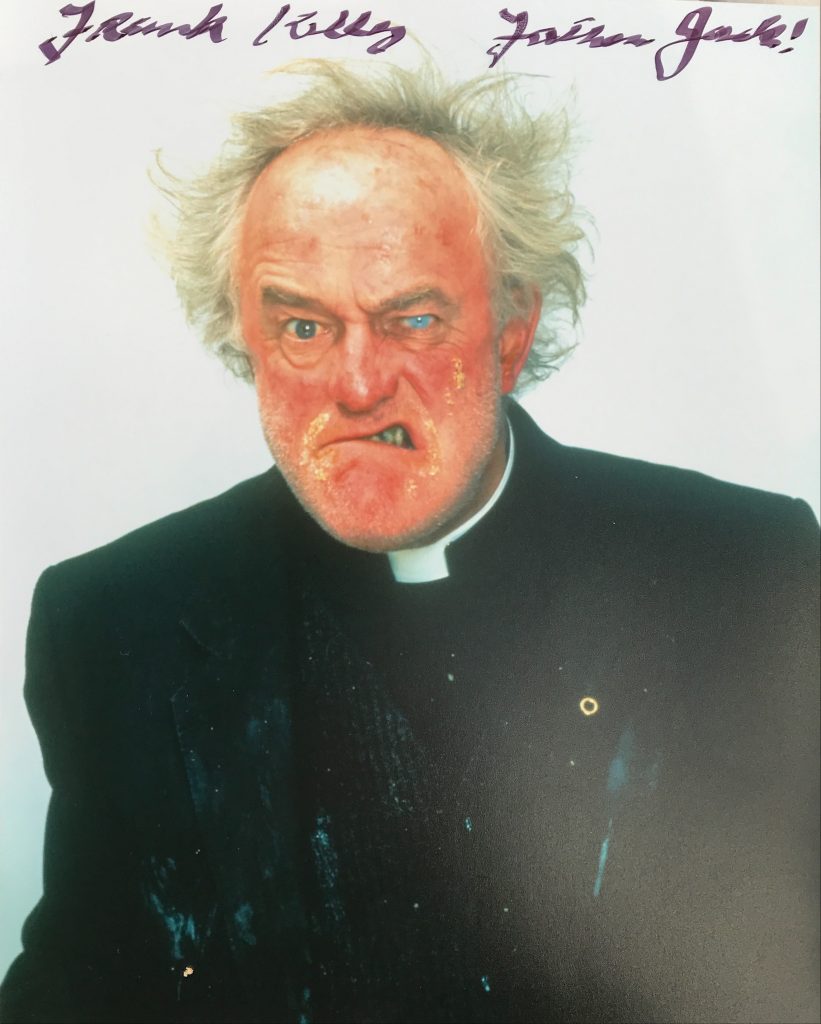 Frank Kelly will always be remembered as "Fr Jack" in the classic cult TV series "Fr Ted".   He died in 2016.
"Telegraoh" obituary:
Frank Kelly, who has died aged 77, was the actor best known for playing the irascible, foul-mouthed Father Jack Hackett in the sitcom Father Ted, which was broadcast on Channel 4 from 1995 until 1998.
Kelly's acting career spanned some 60 years and he was already well known in his native Ireland for his work on the satirical television comedy show Hall's Pictorial Weekly
(1971-1980), before his role as Father Jack brought him to a wider audience. Father Ted followed the hapless adventures of three priests who have found themselves exiled – for various misdemeanours – on Craggy Island, a fictional island off the west coast of Ireland, along with their chaotic and batty housekeeper, Mrs Doyle.
Much of the success of the series lay in the fond irreverence of the writing (by Arthur Mathews and Graham Linehan) and the interaction between the amiable but somewhat wayward Father Ted Crilly (Dermot Morgan – who died in 1998, shortly after the series ended), the doltish Father Dougal McGuire (Ardal O'Hanlon) and Kelly's Father Jack, best known for his liberal use of the word "feck" (as well as "arse", "girls" and "drink").
With his wall eye, wild grey hair, alcoholic incoherence and occasional lapses into mindless violence, Father Jack delighted viewers and became something of a cult figure. The reason behind his enforced exile was, as with his fellow priests, somewhat unclear, but seemed to be connected to his behaviour at a wedding. Once ensconced on Craggy Island, however, he was always treated with benign tolerance by Fathers Ted and Dougal.
Despite his appalling antics (including, in his attempt to get hold of some "drink", downing both Toilet Duck and Windolene), Father Jack somehow retained a grandfatherly presence in the series. Kelly later said that he was occasionally approached by young priests who would tell him that they too were taking care of a much older man. "They'll say, 'how do you know about ours?'" he explained in 2015. "[He's] not without foundation in reality."
Kelly himself could not have been less like his character. Softly spoken, genial and conservative in temperament, he was modest about his own achievements in the show ("Every raised eyebrow is in the script") and did not seem to mind that other professional achievements were often overshadowed by his role as the outrageous old priest. He treasured one particular page of the script, which he kept for years after the show ended. It read: "Caution. It is very dangerous to approach Father Jack."
Frank Kelly was born Francis O'Kelly in Dublin on December 28 1938, one of six children of the Irish cartoonist and satirist, Charles E Kelly, and educated at Blackrock College, where he was a schoolboy opera star, before going on to read Law at University College, Dublin. He was called the bar at King's Inns but decided to switch to acting as a career.
His first film role was as a prison officer in The Italian Job (1969), and from 1968 until 1982 he appeared in the RTÉ children's series Wanderly Wagon. His work on Hall's Pictorial Weekly, made his name in Ireland. The show's satirical take on the country's politics was such that it was said to have played a part in bringing down the Fine Gael-Labour Party coalition government in 1977.
From 1999 to 2001 Kelly starred in the RTÉ series Glenroe. Other parts included a role in 2003 as John Smith, leader of the Labour Party, in the Stephen Frears drama The Deal.
In 2010, he joined the ITV soap Emmerdale, but left after five months because he missed his family and Ireland. He also appeared as the judge in Mrs. Brown's Boys D'Movie.
He married Bairbre Neldon in 1964. She survives him with their seven children.
Frank Kelly, born December 28 1938, died February 28 2016