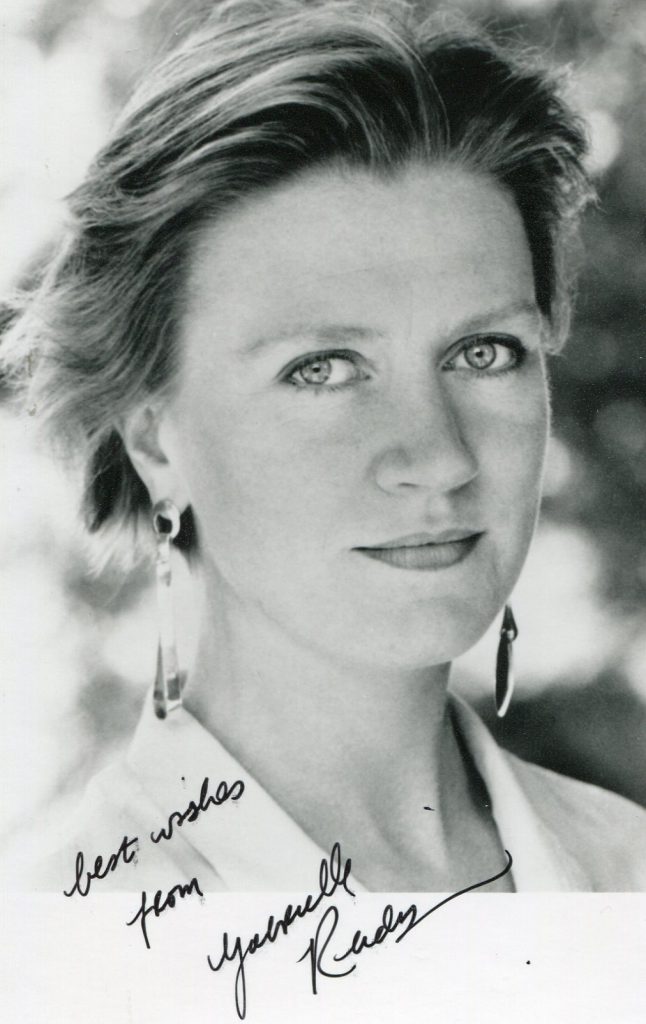 Gabrielle Reidy
"Guardian" obituary by Michael Coveney from Oct 2014:
The Irish actor Gabrielle Reidy, who has died of cancer aged 54, made her first appearance at the Abbey theatre in Dublin as a child and her last, four years ago, as Bessie Burgess in an acclaimed production of Seán O'Casey's masterpiece about the Easter Rising, The Plough and the Stars. In between, she had a varied career in television, film and on the stage, which included playing mother to both Scarlett Johansson and Daniel Radcliffe, respectively, in the film Girl With a Pearl Earring (2003) and the West End revival in 2007 of Peter Shaffer's Equus. In the latter, she was a flaky, Bible-thumping teacher and it was typical of her that she made the small role vivid and memorable without being self-aggrandising. Fiery and determined in life, with a broad open face and strong presence on stage, she was always asked to play the sort of tough maternal roles for which, ironically, she was now, in late middle age, best suited.
She was the youngest of three daughters, raised in Malahide, Co Dublin, of Robert Reidy, a pilot with Aer Lingus, and his wife, Patricia. Still a schoolgirl, Gabrielle appeared at the Abbey in 1971 in O'Casey's The Shadow of a Gunman. Joining the Trinity College Players the minute she went to the university, she performed in the Irish premiere of Samuel Beckett's Footfalls aged 17 and is remembered, too, for an emotionally powerful version of Racine's Phaedra.
Her career gathered momentum when she appeared in Graham Reid's first play, The Death of Humpty Dumpty (1979), at the Abbey, a searing study of sectarian violence in Belfast, with Colm Meaney and Liam Neeson; 10 years later, she was in Michael Harding's strange and disturbing Una Pooka, also at the Abbey, a play about homicide and impersonation, with Sean McGinley and Barry McGovern. Also in 1989, she filmed an Abbey solo show, Fragments of Isabella, the diary of a Holocaust survivor, which she also played in French at the Avignon festival. The previous year she had appeared at the Gate in Frank McGuinness's fine version of Ibsen's Peer Gynt, directed by Patrick Mason. She moved to London and appeared in Julian Garner's The Awakening (1990) at Hampstead theatre, embodying a sort of aphrodisiac to loneliness, a remarkable performance, in a story of redemption and child abuse on a remote Norwegian farm; and as an Irish writer revisiting her childhood in Geraldine Aron's Same Old Moon (1991) at the Globe (now the Gielgud) in the West End.
She was in Women of Troy directed by Annie Castledine at the National Theatre (1995), Much Ado About Nothing (2004, as Borachio) directed by Tamara Harvey at Shakespeare's Globe, and, significantly, García Lorca's The House of Bernarda Alba (1998) and Eugene O'Neill's Desire Under the Elms (1995), both directed by Polly Teale for Shared Experience. In the latter, she met her future husband, the actor Gary Lilburn; as Abbie, a rural giant whose body is a symbolic battlefield, Reidy hit the heights in a storming display of fierce sexual yearning. And she became a regular on popular television series such as The Bill, Peak Practice and Holby City.
Her last appearance in an English production was in Andrew Sheridan's Winterlong (2011), directed by Sarah Frankcom at the Royal Exchange in Manchester and the Soho theatre in London, a strange but talented play asking how best to express love in an apocalyptic climate. Her Bessie Burgess in Dublin (a 2012 Abbey theatre production of The Plough and Stars also toured in Ireland and the UK), a Protestant fruit vendor who expresses grief and sorrow in the Troubles and is shot in the back for her pains, linked her indelibly to the great Abbey tradition she so loved; the great Siobhán McKenna's performance in the role had changed her life when she saw it as a child.
Other movies included Alan J Pakula's IRA terrorist thriller The Devil's Own (1997), starring Brad Pitt and Harrison Ford, and Joel Schumacher's Veronica Guerin (2003), in which Cate Blanchett played the campaigning Irish journalist. Gabrielle's last major television work was playing a mother superior in this year's BBC series The Musketeers. She had lately taken up, and much enjoyed, teaching at the Mountview drama school in London.
She is survived by her sisters, and by Gary, and their teenage son, Finn.
• Gabrielle Mary Reidy, actor, born 23 July 1960; died 13 October 2014
The above "Guardian" obituary can also be accessed online here.