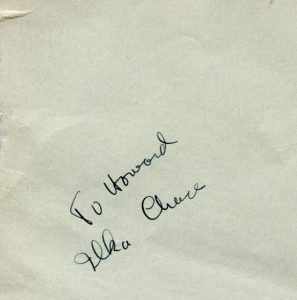 The daughter of Vogue's editor-in-chief for 40 years, Edna Woolman Chase, Ilka was named after a Hungarian friend of her mother's. She went to school in France and later acted in stock with Rube Miller in New York. Her first appearance on Broadway was as a maid in 'The Red Falcon' in 1924. After co-starring in her next play, the mystery 'Shall we Join the Ladies?' (with Leslie Howard, 1925), she established a reputation as an intelligent leading lady of the stage. She went on to have further successes in prestigious plays by Philip Barry ('The Animal Kingdom',1932,as Grace Macomber), Thomas Mitchell ('Forsaking all Others',1933,with Tallulah Bankhead), Eugene O'Neill('Days Without End',1934,as Lucy Hillman) and Clare Boothe Luce ('The Women',1936,as Sylvia Fowler). In 1944, she starred in her adaptation of her novel 'In Bed we Cry', playing an actress somewhat inspired by, or modelled upon, her own experiences and personality.
Ilka was known as much for her acting ability, as for her acidulous wit and sometimes scathing criticism, levelled at her contemporaries in general and her peers in particular. A member of the social elite herself, she used her insight in her best-selling autobiography, 'Past Imperfect', written in 1942. The book brought her nationwide fame, taking gratuitous pot-shots at writers, actors and socialites alike. It eventually led to her hosting a radio program, 'Luncheon at the Waldorf'.
Although she appeared in several motion pictures, few came close to showcasing her caustic personality. The exception was, perhaps, The Big Knife (1955), in which she portrayed a Hedda Hopper-like newspaper columnist. An earlier role of note included Now, Voyager (1942) 1942. Bosley Crowther thought her 'cool' in Ocean's 11 (1960).
Ilka Chase was actively involved in a number of charities and was a staunch advocate of wildlife preservation and protection.
– IMDb Mini Biography By: I.S.Mowis