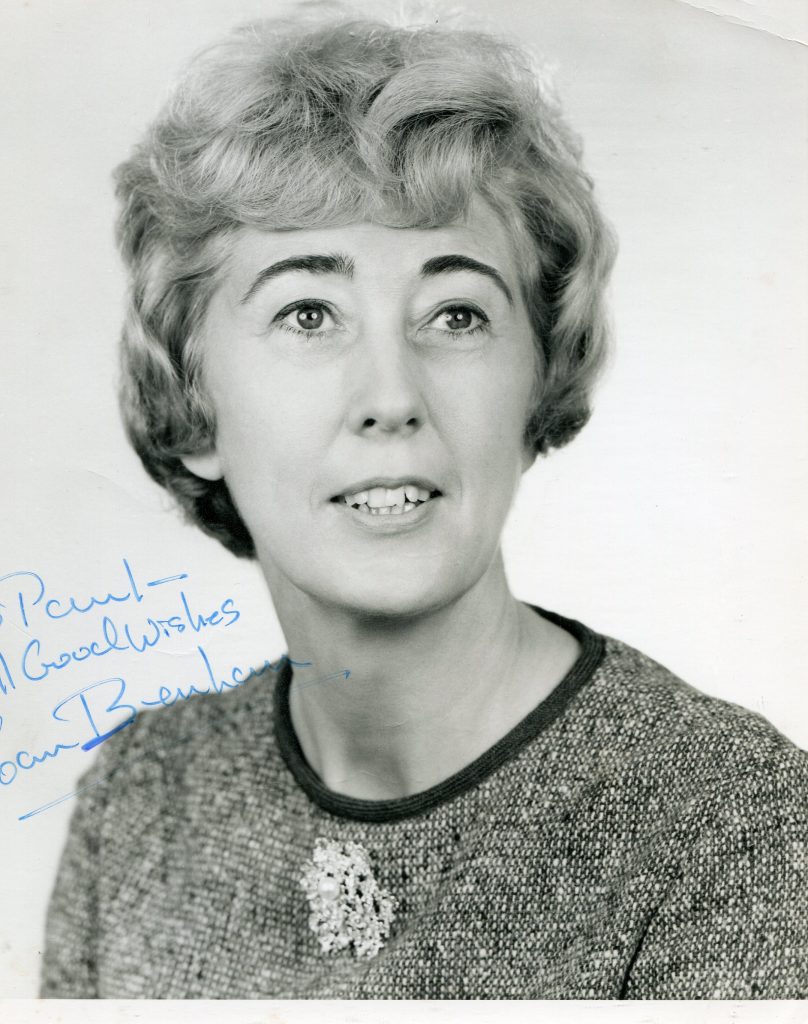 Joan Benham was born in 1918 in London. She is best known for her role as Lady Prudence Fairfax in ITV's long running classic TV series "Upstairs, Downstairs". Movie roles include "The Man Who Loved Redheads" and "The V.I.P.'s " in 1963. She died in 1981.
WIkipedia: Joan Benham (17 May 1918 – 13 June 1981) was an English actress best known for her portrayal of Lady Prudence Fairfax in the ITVperiod drama series Upstairs, Downstairs.[ She was born in London and was the first cousin of Hollywood actress Olive Sturgess.
Although her career mostly centred on television, Benham began her career appearing on the West End stage in the 1940s and continued to appear on the London stage periodically throughout her career. She appeared on Broadway as Helena in the 1954 revival of William Shakespeare's A Midsummer Night's Dream opposite Patrick Macnee as Demetrius.
Joan Benham appeared in sixteen episodes of Upstairs, Downstairs, from the first to the last series, as a Bellamy family friend, Lady Prudence Fairfax. Other television programmes she appeared in include, Mrs Thursday, Doctor in the House, Doctor in Charge, Father Brown, The Duchess of Duke Street, Doctor on the Go, Just William and Take My Wife.[7] Her film credits include the Miss Marple movie Murder Ahoy! (1964), Ladies Who Do (1963), Perfect Friday (1970), and Carry On Emmannuelle (1978).
Her last role was as Melinda Spry in the sitcom Terry and June.[ This episode, The Lawnmower, was broadcast on 13 November 1981, exactly five months after the day she had died, in Westminster, London, aged 63