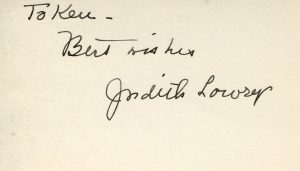 IMDB Entry:
Judith Lowry was born on July 27, 1890 in Fort Sill, Oklahoma, USA as Judith Ives. She was an actress, known for The Effect of Gamma Rays on Man-in-the-Moon Marigolds (1972), The Trouble with Angels (1966) and Phyllis (1975). She was married to Rudd Lowry. She died on November 29, 1976 in New York City, New York, USA.
Small, frail, white-haired character actress on the Broadway stage from 1916 who retired early to raise nine children. Returning to acting a couple of decades later and eventually came into her own in the 60s and 70s as playful elderlies on stage, screen and TV.
Capped her rather erratic career in 1975 playing "Mother Dexter" on the sitcom
Phyllis
(1975) starring
Cloris Leachman
. The endearing Judith began in a recurring part but was so well liked that she was made permanent by the end of the first season. On December of 1976, her 86-year-old character "married" her 92-year-old boyfriend Arthur on the show (played by
Burt Mustin
). Ironically, both she and Mustin died shortly after filming the episode – within two months of each other.
She had English, as well as some Scots-Irish (Northern Irish), Welsh, and Dutch, ancestry.