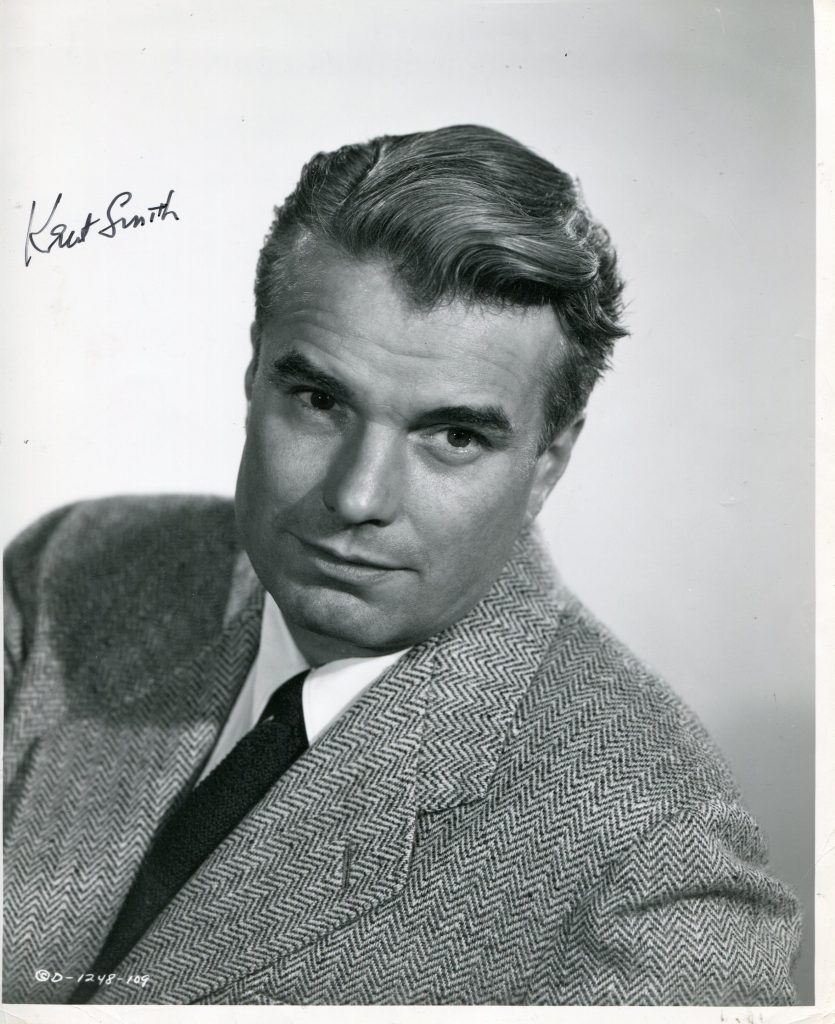 IMDB biography:
He was one of Hollywood's more interesting curiosities. Kent Smith, by most standards, had the makings of a topflight 40s and 50s film star — handsome; virile; personable; highly dedicated; equipped with a rich stage background; no slouch in the talent department. For some reason all these fine qualities did not add up and stardom would remain elusive in a career that nevertheless covered almost five decades. Today, Smith's name and face has been almost completely forgotten. His solid body of work on stage, screen and TV certainly defies such treatment. Perhaps his looks weren't distinctive enough; perhaps he was overshadowed once too often by his more popular female screen stars; perhaps there was a certain lack of charisma or sex appeal for audiences to latch onto; perhaps a lack of ego or even an interest in being a "name" star. Whatever the reason, this purposeful lead and second lead's resumé deserves more than a passing glance.
Christened Frank Kent Smith, he was born in New York City on March 19, 1907, to a hotelier. An early experience in front of a crowd happened during childhood when he performed as an assistant to Blackstone the Magician. Kent graduated from boarding school (Philips Exeter Academy in New Hampshire) and attended Harvard University, finding theater work at various facilities during his time off. One such group, the University Players in West Falmouth, Massachusetts, produced such screen icons as James Stewart, Henry Fonda and Margaret Sullavan.
Kent made his theatrical debut in the short-lived play "Blind Window" at the Ford's Theatre in Baltimore in 1929 in a cast that also featured young hopeful Clark Gable. Taking his first Broadway curtain call in "Men Must Fight" in 1932, a steady flow of theater work came his way throughout the rest of the 30s in which he performed opposite some of the theater's finest grande dames — Lillian Gish, Katharine Cornell, Jane Cowl, Blanche Yurka and Ethel Barrymore. He proved equally adept in both classic ("Caesar and Cleopatra," "Saint Joan," "A Doll's House") and contemporary settings ("Heat Lightning," "The Drums Begin").
Aside from an isolated appearance in The Garden Murder Case (1936), Kent's film output didn't officially begin until 1942. RKO took an interest in the stage-trained actor and offered him a lead role in the low-budget horror classic Cat People (1942) as the husband of menacingly feline Simone Simon. He returned to his protagonist role in the lesser-received sequel The Curse of the Cat People (1944). After a few more decent films, including Hitler's Children (1943) and This Land Is Mine (1943), Kent joined the U.S. Army Air Force and appeared in several government training films during his service, which ended in 1944.
He came back to films without a hitch during the post-war years posting major credits in The Spiral Staircase (1945), Magic Town (1947) , Nora Prentiss (1947), My Foolish Heart (1949) and The Fountainhead (1949), although he tended to pale next to his illustrious female stars — Dorothy McGuire, Jane Wyman, Ann Sheridan, Susan Hayward and Patricia Neal. Normally a third wheel in romantic triangles or good friend/rival to the star, he never found the one big film role (or TV show) that could have put a marquee name to the face.
Kent fared better on stage and in the newer medium of TV in the 1950s. Among the highlights: he complimented Helen Hayes both in the video version of her stage triumph "Victoria Regina" and in her Broadway vehicle "The Wisteria Tree", which was based on Chekhov's "'The Cherry Orchard". He was also given praise for his strong stage performances in "The Wild Duck" and "The Autumn Garden", and appeared alongside Elaine Stritch in the national touring company of the musical "Call Me Madam". He was everywhere on TV, guesting on such popular shows as "Wagon Train", "Naked City", "Alfred Hitchcock Presents", "The Outer Limits" and "Peyton Place". In 1962, he replaced Melvyn Douglas in the national company of Gore Vidal's "The Best Man". Also in the cast was actress Edith Atwater. The couple married that same year. His first marriage to minor actress Betty Gillette ended earlier in divorce after 17 years and one daughter.
The remainder of Kent's career remained quite steady, if unremarkable, in both films and TV, lending able character support as assorted gray-haired authoritarians usually upstanding in reputation but certainly capable of shady dealings if called upon. The actor died at age 78 of heart disease in Woodland Hills, California, just outside of Los Angeles. His widow Edith died less than a year later of cancer.
Perhaps with such a common last name as "Smith", it was destined that he would spend a life time trying to stand out. Nevertheless, a career as rich and respectable as his was, and with a wide range of roles that included everything from battling evil cats to spouting Shakespeare at Stratford, true recognition and reconsideration is long overdue.
– IMDb Mini Biography By: Gary Brumburgh / gr-home@pacbell.net