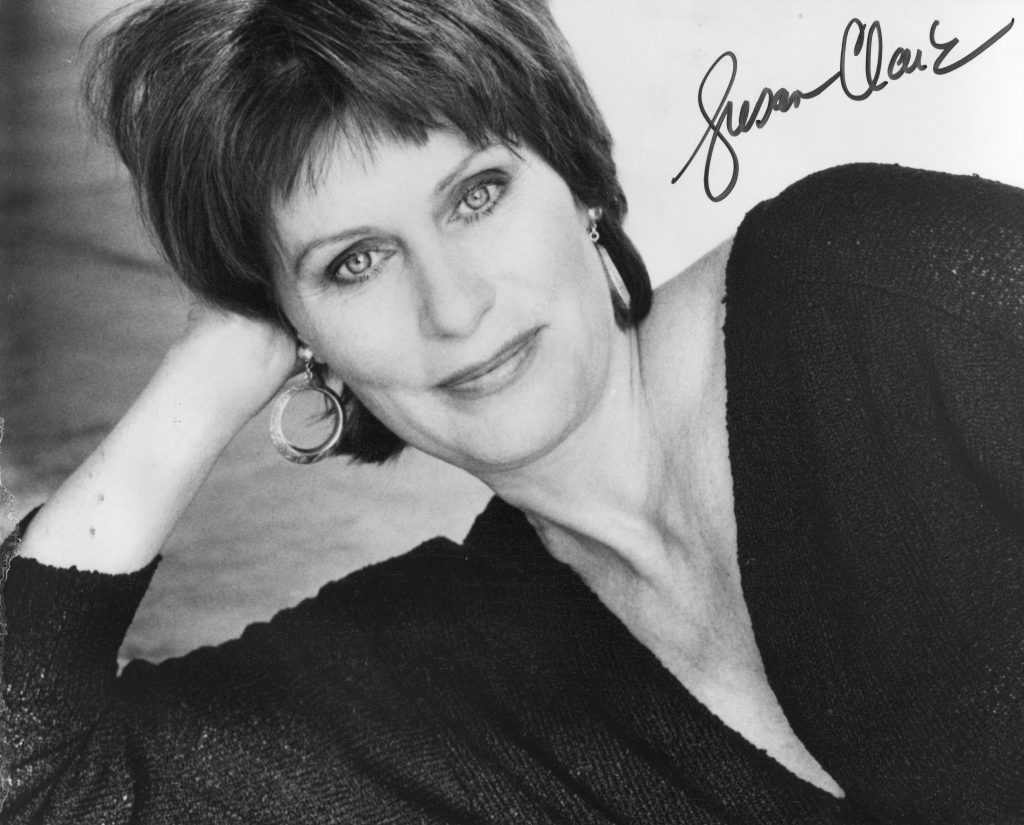 IMDB Entry:
Award-winning Canadian actress Susan Clark, born on March 8, 1940, took up acting at an early age (12) in her hometown of Sarnia, Ontario. Her family moved to Toronto around that period of time and she joined the Toronto Children's Players Theatre. Her first professional curtain call took place on the musical stage in a 1955 production of "Silk Stockings" which starred veteran actor Don Ameche.
The "acting bug" bit hard and a very determined Susan pressed her family to allow her to study at London's prestigious Royal Academy of Dramatic Arts. She gained valuable experience in repertory, making her London debut in "Poor Bitos" in the early 1960s. She even got a taste of on-camera work when she won multiple roles on a 1965 episode ofThe Benny Hill Show (1957). Returning to Canada, however, due to the illness of her father, she subsequently decided to trek, instead, to Los Angeles to continue her professional career. In search of on-camera work, she attracted notice in some guest roles on TV and this eventually led to a Universal contract. The ten-year contract was one of the last of its kind as Hollywood was witnessing the demise of the studio contract system.
After gaining some exposure on episodes of The Virginian (1962) and Run for Your Life(1965), Susan's first screen assignment for Universal was as the second female lead in the soap-styled drama Banning (1967) starring Robert Wagner, in one of his typical jet-setting playboy parts, and the scintillating Jill St. John, who would wed her "Banning" leading man two decades later. From there, Susan only grew in stature. Playing the second female lead again in the critically-praised crimer Madigan (1968) starring Richard Widmark and Inger Stevens, she finally earned top female billing opposite Clint Eastwoodin Coogan's Bluff (1968) playing a sexy parole officer and enjoying romantic clinches with the up-and-coming film icon on film.
Tall and willowy with incandescent blue eyes, Susan continued to impress on celluloid with roles in Tell Them Willie Boy Is Here (1969), Valdez Is Coming (1971) and, in particular,Skin Game (1971). It was 70s TV-movies, however, that would take full advantage of Susan's vibrant, intelligent acting talents. First came the tender-hearted mini-movieSomething for a Lonely Man (1968). While a vehicle for Bonanza's Dan Blocker, co-star Susan made a strong, spunky impression as his small-town romantic interest. This was followed by choice roles in The Challengers (1970) and The Astronaut (1972).
1975 was a banner year for Susan who not only provided a couple of excellent scenes asGene Hackman's wife in the film-noir Night Moves (1975) but, made a resounding, Emmy-winning impression on TV audiences as feminist track-and-field Olympian-turned-golf starBabe Didrikson Zaharias, who is later felled by cancer, in the TV mini-bio Babe (1975). This was a pronounced victory for Susan both professionally and personally for it was on this set that she met her second husband, co-star Alex Karras, who played Babe's spouse George. Susan was in immediate demand and was quickly cast as another feisty, ill-fated heroine, this time in the form of famed aviatrix Amelia Earhart (1976). Predictably, Susan was wonderful and earned a second Emmy nomination for her efforts (she didn't win).
She and Karras (who had a child, Katie, in 1980) went on to jointly act in and/or produce various film and TV projects, including the TV movies Jimmy B. & André (1980), and Maid in America (1982), and the films Nobody's Perfekt (1981) and Porky's (1981). This culminated in their biggest collaborative effort with the sitcom series Webster (1983) wherein both were unmercifully upstaged by the hopelessly cute antics of its tyke starEmmanuel Lewis. While the series hardly tested the couple's acting mettle and the plot was pretty much a "Diff'rent Strokes" rehash, the show proved quite popular on its own and put Clark and Karras firmly on the TV map between 1983 to 1988. Susan, herself, earned a Golden Globe nomination for "Best Actress in a Comedy Series".
Following the sitcom' demise, Susan relinquished the limelight a bit and found contentment on the local Southern California stage. Relishing acting challenges in such wide-ranging plays as "Meetin's on the Porch" (1990) with Patty Duke and Carrie Snodgress, "Afterplay" (1998), "Bicoastal Women" (2003) and "The Importance of Being Earnest" (2004) (as Lady Bracknell), she eventually became a dedicated member of the Rubicon Theater Company in Los Angeles, gracing such plays there as "The Glass Menagerie", "Dancing at Lughnasa", "The Devil's Disciple" and, most recently, "A Delicate Balance".
– IMDb Mini Biography By: Gary Brumburgh / gr-home@pacbell.net