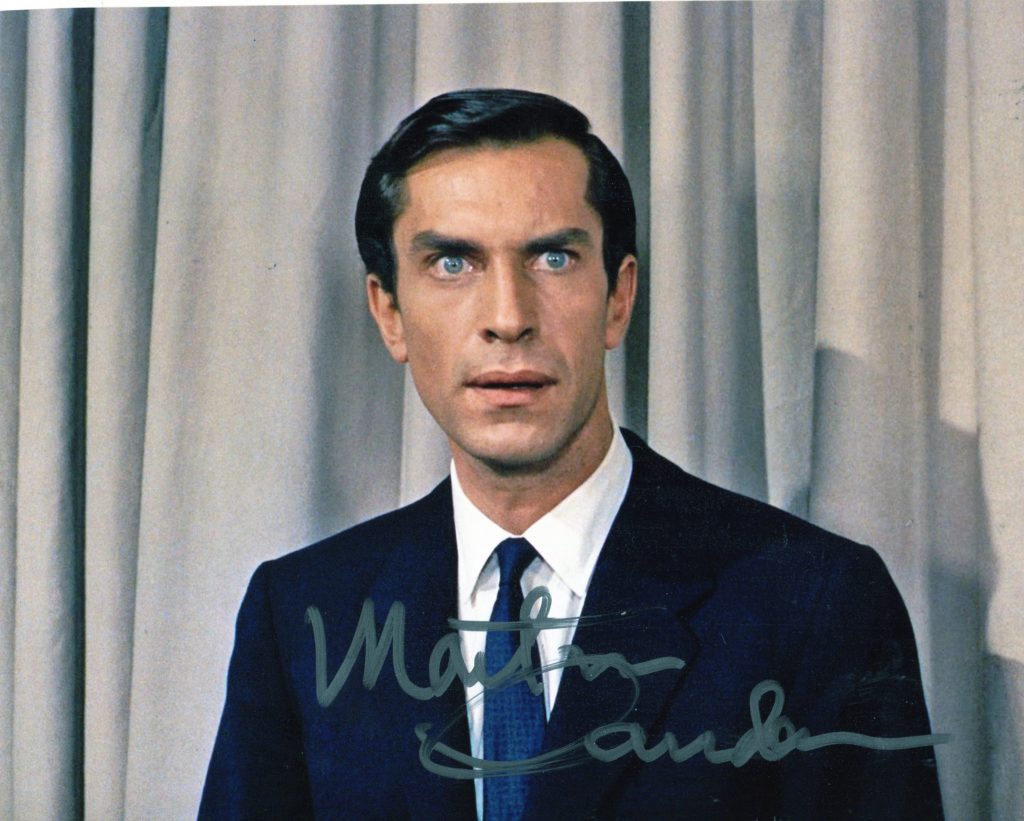 "Guardian" obituary:
In the first three series of the television show Mission: Impossible (1966-69), Martin Landau, who has died aged 89, played the ace impersonator Rollin Hand, one of the specialists used by the Impossible Missions Force. Hand was described as a "man of a million faces". Landau's own face was instantly recognisable, with its haunted eyes, wide mouth and furrowed brow; even when he broke into a smile, he could seem to be frowning.
Landau was disguised beneath heavy makeup for his best known film role, as the horror actor Bela Lugosi in Ed Wood (1994), Tim Burton's biopic of the cross-dressing director of trashy movies. Landau's Lugosi is a tragicomic creation: his wife has left him, he is addicted to morphine and most of Hollywood thinks he is dead. "This business, this town," he sighs, "it chews you up and then spits you out. I'm just an ex-bogeyman."
Landau would have known where Lugosi was coming from. After Mission: Impossible, he had been largely typecast, appearing in genre fare with titles that would have shamed Wood himself (such as The Harlem Globetrotters on Gilligan's Island, 1981).
But his career was rehabilitated by three films for quality directors: Francis Ford Coppola's Tucker: The Man and His Dream (1988), Woody Allen's Crimes and Misdemeanors (1989) and Ed Wood. All three earned Landau Oscar nominations for best supporting actor; the third resulted in victory (over Samuel L Jackson and Paul Scofield, among others). Lugosi was, he said in his speech, "the part of my life".
Born in Brooklyn, New York, Martin was the son of Jewish parents, Morris, an Austrian-born machinist who attempted a career as a singer, and his wife, Selma. After attending James Madison high school and Pratt Institute, he was employed from the age of 17 as a cartoonist on the Daily News. He worked on Billy Rose's syndicated column Pitching Horseshoes and assisted Gus Edson on the comic strip The Gumps.
Although offered promotion at 22, he decided to leave the newspaper and concentrate on acting. He juggled a dozen roles in summer stock in New England and auditioned for the Actors Studio in New York: Landau and Steve McQueenwere the only two hopefuls admitted from a batch of 2,000 applicants in 1955. That year was overshadowed by the death in a road accident of Landau's best friend, James Dean, whom he had met at a TV audition years before.
At the Actors Studio, Landau was taught by the best – Lee Strasberg, Elia Kazan, Harold Clurman – and began a relationship with a fellow student, Marilyn Monroe. They split up after several months; Landau found Monroe too complicated and was defeated by her frequent costume changes on their dates. When he became a teacher himself, Landau's students included Jack Nicholson, Anjelica Huston and Harry Dean Stanton. With Mark Rydell, he later ran the Hollywood-based branch of the Actors Studio, set up in 1967.
After a handful of TV appearances, Landau broke into film when Alfred Hitchcock saw him on stage in Los Angeles in a touring production of Paddy Chayefsky's Middle of the Night and cast him opposite Cary Grant in North By Northwest (1959). When Landau asked why he had been chosen for the role of James Mason's right-hand man, Hitchcock replied: "Martin, you have a circus going on inside you." Landau decided to make the character gay, adding an extra dimension to the relationship between boss and henchman.
He came to specialise in a particular type of unsettling, debonair heavy. In the epic Cleopatra (1963), Landau was General Rufio, hailing Rex Harrison's Caesar and doing his dirty work (consulting the auguries, finding the rest of the decapitated Pompey) and later memorably pleading with a bathing Elizabeth Taylor from behind a screen. He had a considerable amount of screen time, yet claimed his best scenes were left on the cutting-room floor.Later came a part as the Jewish high priest Caiaphas in The Greatest Story Ever Told (1965) and horse operas big and small, including Nevada Smith (1966 ) with McQueen. In the comedy western The Hallelujah Trail (1965) he was a deadpan Sioux tribesman, Chief Walks-Stooped-Over, leading an attack on a wagon train in a fierce sandstorm.
Mission: Impossible brought him primetime exposure and an opportunity to work with his wife, the actor Barbara Bain, whom he had married in 1957. The pilot episode found Rollin Hand disguised as a dictator bent on nuclear destruction. After more than 70 episodes, three Emmy nominations and a Golden Globes award, Landau left the series after a contract dispute.
In They Call Me Mister Tibbs! (1970), he was a preacher caught up in a murder investigation undertaken by Sidney Poitier. The film gave him a fiery sermon, delivered with wild eyes and abundant sweat before a packed congregation.
He and Bain moved to Britain to star in the TV series Space: 1999 (1975-77), created by the husband-and-wife team of Gerry and Sylvia Anderson. Landau was John Koenig, the commander of Moonbase Alpha, a character with integrity, humanity and authority. He was proud of how topical events were mirrored in the plots (one episode paralleled Henry Kissinger's role in the Middle East) but he felt the series became increasingly silly.
After leaving the show, Landau drifted in disappointing material for 10 years. Then came Tucker: The Man and His Dream and a role to savour. Landau excelled as Abe, a financier who hustles up the money for an engineer, Preston Tucker (Jeff Bridges), to create "the car of tomorrow, today". Previously, Landau's height had mostly been imposing. As Abe, he walked with a hunch, as if carrying the weight of his past. Always complaining, Abe is the antithesis of the exuberant Tucker – the same dynamic would exist between Landau and Johnny Depp's characters in Ed Wood.
It was not a box-office hit, but Coppola's film put Landau back on the map and he was rewarded with a rich and unusually large role in Crimes and Misdemeanors. Allen cast Landau as Judah Rosenthal, who intercepts a letter from his mistress to his wife and, after grappling with his conscience, sanctions his mobster brother to arrange a professional hit. Judah is an ophthalmologist who feels the "eyes of God" upon him; and Landau's troubled gaze, upon hearing that his brother has taken care of the situation, is the film's defining image. Offset by a comic plot involving Allen and Alan Alda, Landau's performance is full of anxiety and panic. Unusually for an Allen film, Landau was shown the whole script before filming began (Allen's actors often just see their section). He told Allen that viewers must be able to identify with Judah, and the character was adapted accordingly.
Another challenging part, as the Nazi hunter Simon Wiesenthal in the TV movie Max and Helen (1990), earned him a phone call from Wiesenthal: "I have something to say to you. You were perfect." After big-budget, bland choices, such as Sliver (1993) and Intersection (1994), Ed Wood gave Landau a dream role, if a daunting one.
"It's a Hungarian morphine addict alcoholic who has mood swings," he said. "That would be hard enough, but it has to be Bela Lugosi!" Ten years earlier, Landau had played Dracula on stage with the same script that had been used for Lugosi's theatrical performance as Dracula of the 1920s. Not only did Landau learn a Hungarian accent for Ed Wood, but he spoke the dialogue as if trying to conceal his heavy accent – just as Lugosi had.
After playing Geppetto in a pair of Pinocchio films (1996, 1999) and appearing in the 1998 film of the TV series The X-Files, he took a role in the Capra-esque The Majestic (2001), set against the backdrop of Hollywood in the 50s. On TV, he was Abraham in an all-star biblical epic, In the Beginning (2000), and had recurring roles in Without a Trace and Entourage that brought him Emmy nominations. His greatest later project was the stop-motion animated film Frankenweenie (2012), which reunited him with Burton.
With a heavy accent, Landau was the voice of the sinister science teacher Mr Rzykruski, who terrifies his pupils and has shades of the actor's knockout performance as Lugosi. In Remember (2015), he played an Auschwitz survivor who helps Christopher Plummer with his revenge mission to track down a former Nazi officer.
Landau and Bain divorced in 1993. He is survived by their daughters, Susan, a writer and producer, and Juliet, an actor.
• Martin Landau, actor, born 20 June 1928; died 15 July 2017