Paula Raymond obituary in "The Guardian" in 2003.
Ronald Bergan's "Guardian" obituary from 2003:
During Hollywood's golden age, most of the large film studios kept a roster of attractive young women under contract to play the supporting wives and girlfriends of male leads, roles, in other words, that bigger stars would not take. One of them was Paula Raymond, who has died aged 79, and was mainly paid to stand around looking pretty as others carved out large pieces of the action.In 1950, however, MGM gave her the chance to co-star opposite Cary Grant in Crisis, and Robert Taylor in The Devil's Doorway – and it looked as though Raymond, a striking brunette, might break into real stardom. Certainly in the former, the first feature by Richard Brooks, she is delightfully cool as she accompanies her brain surgeon husband (Grant) to a south American country, where the dictator (José Ferrer) needs an operation. Caught up in a revolution, the couple want to return to New York, where the chic Raymond would rather do some shopping.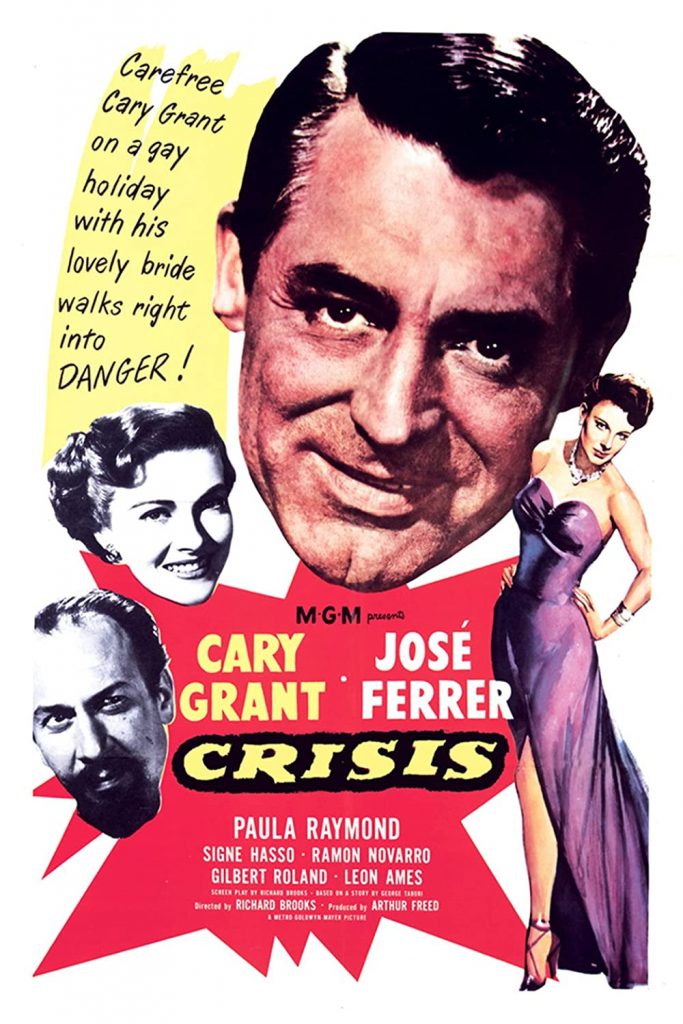 Anthony Mann's Devil's Doorway, one of the first anti-racist westerns, had Robert Taylor as a native American, who believes that his people can live in peace and harmony with the whites – as his own romantic relationship with Paula Raymond suggests. A courageous film with a downbeat finale, it was, not surprisingly, a commercial failure, and Raymond's memories of the production were dominated by her attempts to fend off the director's sexual attentions.
Nevertheless, a year later, she was again cast in an Anthony Mann picture, The Tall Target, though, as she explained later, "This time he left me alone; he had learned his lesson." Playing a southern belle in the movie, she is among a group of suspicious characters on a train where detective Dick Powell is trying to stop a possible assassination attempt on President Lincoln.
Born Paula Ramona Wright in San Francisco, Raymond studied ballet, voice, music and piano as a child. On a trip to Hollywood with her Irish-born mother at the age of 13, she made her screen debut in Keep Smiling (1938), as a bratty version of Shirley Temple, with her brown hair curled and dyed blond.
After attending Hollywood high school, she studied law in San Francisco, at the same time as appearing with various theatre groups. However, she gave up her acting ambitions when she hastily married Captain Floyd Patterson, while he was on leave from the war in the Pacific. Two years later, they divorced and, to support her young daughter Raeme (who predeceased her), Raymond returned to Hollywood to take bit parts under the name of Rae Patterson.
In 1947, she was signed by Columbia, where, as Paula Raymond, she spent two years appearing in B-movies, including a number of westerns such as Challenge Of The Range (1949), starring Charles Starrett. "The films I did at Columbia featured horses, dogs and children; forget the adults. I was just filling space," she recalled.
She was a little more visible at MGM, mainly because the films were more prestigious. In 1949, she played David Wayne's society girlfriend in the Katherine Hepburn-Spencer Tracy comedy Adam's Rib (1949), before her two, rare leading roles in Crisis and Devil's Doorway. In 1950, in the Esther Williams musical The Duchess Of Idaho, she was a secretary enamoured of her wealthy playboy boss John Lund, whom she saves from the advances of fortune hunters, and in Grounds For Marriage (also 1950), she was the snooty fiancée of divorcee Van Johnson, who was unfortunately still in love with his former wife, Kathryn Grayson.
After leaving MGM, Raymond appeared in the film for which she is pro-bably best remembered, the low budget, science-fiction cult classic, The Beast From 20,000 Fathoms (1953). As a palaeontologist who links several sea and beach disasters to a prehistoric creature on the loose as a result of an atomic test, she provided a little glamour and romance in a picture where the actors were secondary to Ray Harryhausen's special effects.
Raymond did not have much to do as the wife of philandering cop Gig Young in The City That Never Sleeps (1953), nor as the wife of faithful policeman Gary Merrill in The Human Jungle (1954). But in the 1950s, she was hardly off the small screen in such television series as Perry Mason, 77 Sunset Strip, The Untouchables, Maverick and Wyatt Earp. In 1962, she was involved in a car crash that required extensive facial plastic surgery. Yet within a year, she was back at work.
Aside from television appearances, Raymond made a few movies in the 1960s, including two for cheapo director Al Adamson, Blood Of Dracula's Castle (1967), in which she played the count's wife, and a lurid western entitled Five Bloody Graves (1969), where she was the madame of a travelling brothel.
After retiring for some years, in 1977 she got a role in a daytime US soap-opera, Days Of Our Lives, but – ever accident-prone – she tripped over a telephone cord on her third day, broke her ankle and was written out of the show. She made her last screen appearance in a mindless thriller called Mind Twister (1993).
· Paula Raymond (Paula Ramona Wright), actor, born November 23 1924; died December 31 2003