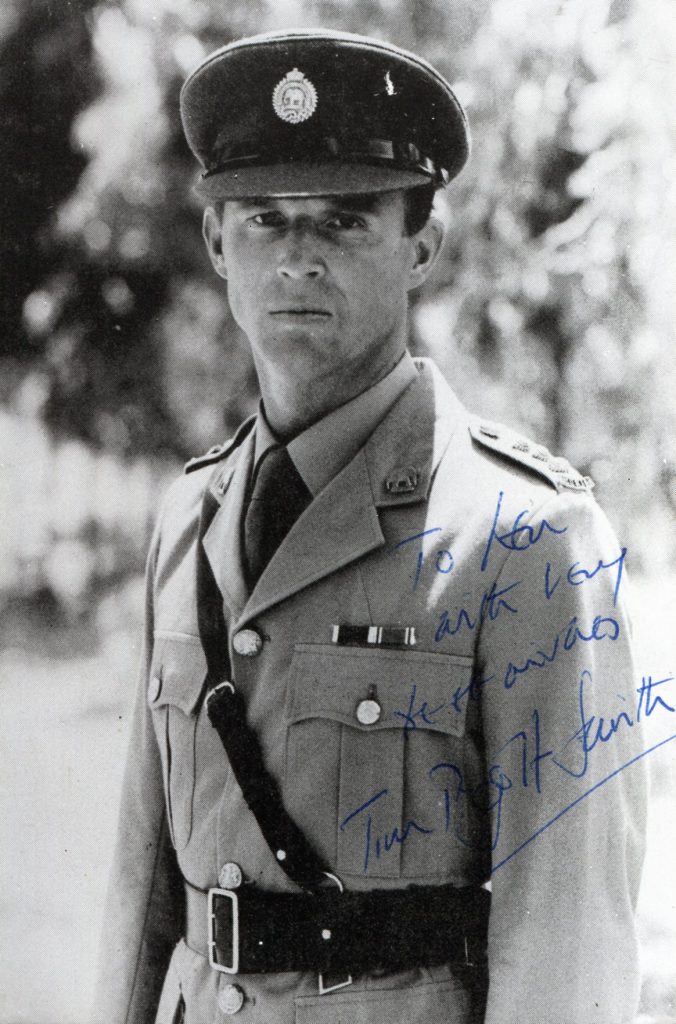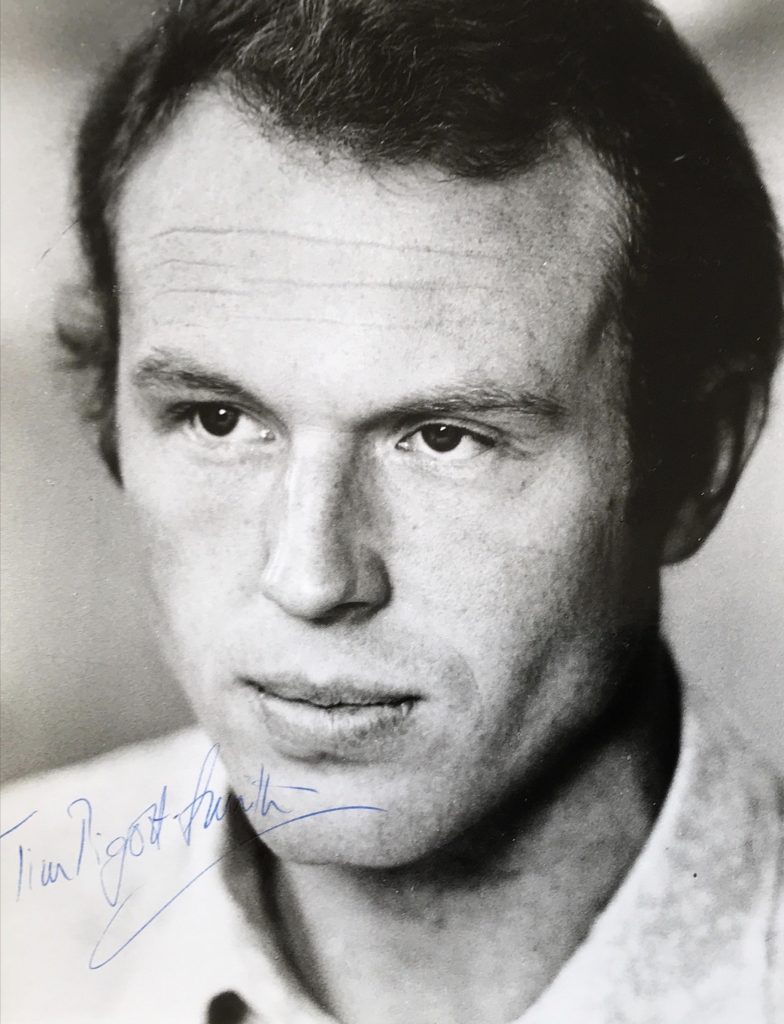 "Guardian" obituary:
The only unexpected thing about the wonderful actor Tim Pigott-Smith, who has died aged 70, was that he never played Iago or, indeed, Richard III. Having marked out a special line in sadistic villainy as Ronald Merrick in his career-defining, Bafta award-winning performance in The Jewel in the Crown (1984), Granada TV's adaptation for ITV of Paul Scott's Raj Quartet novels, he built a portfolio of characters both good and bad who were invariably presented with layers of technical accomplishment and emotional complexity.
He emerged as a genuine leading actor in Shakespeare, contemporary plays by Michael Frayn – in Frayn's Benefactors (1984) he was a malicious, Iago-like journalist undermining a neighbouring college chum's ambitions as an architect – and Stephen Poliakoff, American classics by Eugene O'Neill and Edward Albee, and as a go-to screen embodiment of high-ranking police officers and politicians, usually served with a twist of lemon and a side order of menace and sarcasm.
He played a highly respectable King Lear at the West Yorkshire Playhouse in 2011, but that performance was eclipsed, three years later, by his subtle, affecting and principled turn in the title role of Mike Bartlett's King Charles III (soon to be seen in a television version) at the Almeida, in the West End and on Broadway, for which he received nominations in both the Olivier and Tony awards. The play, written in Shakespearean iambics, was set in a futuristic limbo, before the coronation, when Charles refuses to grant his royal assent to a Labour prime minister's press regulation bill.
The interregnum cliffhanger quality to the show was ideal for Pigott-Smith's ability to simultaneously project the spine and the jelly of a character, and he brilliantly suggested an accurate portrait of the future king without cheapening his portrayal of him. Although not primarily a physical actor, like Laurence Olivier, he was aware of his attributes, once saying that the camera "does something to my eyes, particularly on my left side in profile", something to do with the eye being quite low and "being able to see some white underneath the pupil". It was this physical accident, not necessarily any skill, he modestly maintained, which gave him a menacing look on film and television, "as if I am thinking more than one thing".
Born in Rugby, Tim was the only child of Harry Pigott-Smith, a journalist, and his wife Margaret (nee Goodman), a keen amateur actor, and was educated at Wyggeston boys' school in Leicester and – when his father was appointed to the editorship of the Herald in Stratford-upon-Avon in 1962 – King Edward VI grammar school, where Shakespeare was a pupil. Attending the Royal Shakespeare theatre, he was transfixed by John Barton and Peter Hall's Wars of the Roses production, and the actors: Peggy Ashcroft, with whom he would one day appear in The Jewel in the Crown, Ian Holm and David Warner. He took a part‑time job in the RSC's paint shop.
At Bristol University he gained a degree in English, French and drama (1967), and at the Bristol Old Vic theatre school he graduated from the training course (1969) alongside Jeremy Irons and Christopher Biggins as acting stage managers in the Bristol Old Vic company. He joined the Prospect touring company as Balthazar in Much Ado with John Neville and Sylvia Syms and then as the Player King and, later, Laertes to Ian McKellen's febrile Hamlet. Back with the RSC he played Posthumus in Barton's fine 1974 production of Cymbeline and Dr Watson in William Gillette's Sherlock Holmes, opposite John Wood's definitive detective, at the Aldwych and on Broadway. He further established himself in repertory at Birmingham, Cambridge and Nottingham.
He was busy in television from 1970, appearing in two Doctor Who sagas, The Claws of Axos (1971) and The Masque of Mandragora (1976), as well as in the first of the BBC's adaptations of Elizabeth Gaskell's North and South (1975, as Frederick Hale; in the second, in 2004, he played Hale's father, Richard). His first films were Jack Gold's Aces High (1976), adapted by Howard Barker from RC Sherriff's Journey's End, and Tony Richardson's Joseph Andrews (1977). His first Shakespeare leads were in the BBC's Shakespeare series – Angelo in Measure for Measure and Hotspur in Henry IV Part One (both 1979).
A long association with Hall began at the National Theatre in 1987, when he played a coruscating half-hour interrogation scene with Maggie Smith in Hall's production of Coming in to Land by Poliakoff; he was a Dostoeyvskyan immigration officer, Smith a desperate, and despairing, Polish immigrant. In Hall's farewell season of Shakespeare's late romances in 1988, he led the company alongside Michael Bryant and Eileen Atkins, playing a clenched and possessed Leontes in The Winter's Tale; an Italianate, jesting Iachimo in Cymbeline; and a gloriously drunken Trinculo in The Tempest (he played Prospero for Adrian Nobleat the Theatre Royal, Bath, in 2012).
The Falstaff on television when he played Hotspur was Anthony Quayle, and he succeeded this great actor, whom he much admired as director of the touring Compass Theatre in 1989, playing Brutus in Julius Caesar and Salieri in Peter Shaffer's Amadeus. When the Arts Council cut funding to Compass, he extended his rogue's gallery with a sulphurous Rochester in Fay Weldon's adaptation of Jane Eyre, on tour and at the Playhouse, in a phantasmagorical production by Helena Kaut-Howson, with Alexandra Mathie as Jane (1993); and, back at the NT, as a magnificent, treacherous Leicester in Howard Davies' remarkable revival of Schiller's Mary Stuart (1996) with Isabelle Huppert as a sensual Mary and Anna Massey a bitterly prim Elizabeth.
In that same National season, he teamed with Simon Callow (as Face) and Josie Lawrence (as Doll Common) in a co-production by Bill Alexander for the Birmingham Rep of Ben Jonson's trickstering, two-faced masterpiece The Alchemist; he was a comically pious Subtle in sackcloth and sandals. He pulled himself together as a wryly observant Larry Slade in one of the landmark productions of the past 20 years: O'Neill's The Iceman Cometh at the Almeida in 1998, transferring to the Old Vic, and to Broadway, with Kevin Spacey as the salesman Hickey revisiting the last chance saloon where Pigott-Smith propped up the bar with Rupert Graves, Mark Strong and Clarke Peters in Davies' great production.
He and Davies combined again, with Helen Mirren and Eve Best, in a monumental NT revival (designed by Bob Crowley) of O'Neill's epic Mourning Becomes Electrain 2003. Pigott-Smith recycled his ersatz "Agamemnon" role of the returning civil war hero, Ezra Mannon, as the real Agamemnon, fiercely sarcastic while measuring a dollop of decency against weasel expediency, in Euripides' Hecuba at the Donmar Warehouse in 2004. In complete contrast, his controlled but hilarious Bishop of Lax in Douglas Hodge's 2006 revival of Philip King's See How They Runat the Duchess suggested he had done far too little outright comedy in his career.
Television roles after The Jewel in the Crown included the titular chief constable, John Stafford, in The Chief (1990-93) and the much sleazier chief inspector Frank Vickers in The Vice (2001-03). On film, he showed up in The Remains of the Day (1993); Paul Greengrass's Bloody Sunday (2002), a harrowing documentary reconstruction of the protest and massacre in Derry in 1972; as Pegasus, head of MI7, in Rowan Atkinson's Johnny English (2003) and the foreign secretary in the Bond movie Quantum of Solace (2008).
In the last decade of his life he achieved an amazing roster of stage performances, including a superb Henry Higgins, directed by Hall, in Pygmalion (2008); the avuncular, golf-loving entrepreneur Ken Lay in Lucy Prebble's extraordinary Enron (2009), a play that proved there was no business like big business; the placatory Tobias, opposite Penelope Wilton, in Albee's A Delicate Balance at the Almeida in 2011; and the humiliated George, opposite his Hecuba, Clare Higgins, in Who's Afraid of Virginia Woolf, at Bath.
At the start of this year he was appointed OBE. His last television appearance came as Mr Sniggs, the junior dean of Scone College, in Evelyn Waugh's Decline and Fall, starring Jack Whitehall. He had been due to open as Willy Loman in Death of a Salesman in Northampton prior to a long tour.
Pigott-Smith was a keen sportsman, loved the countryside and wrote four short books, three of them for children.
In 1972 he married the actor Pamela Miles. She survives him, along with their son, Tom, a violinist, and two grandchildren, Imogen and Gabriel.
• Timothy Peter Pigott-Smith, actor, born 13 May 1946; died 7 April 2017