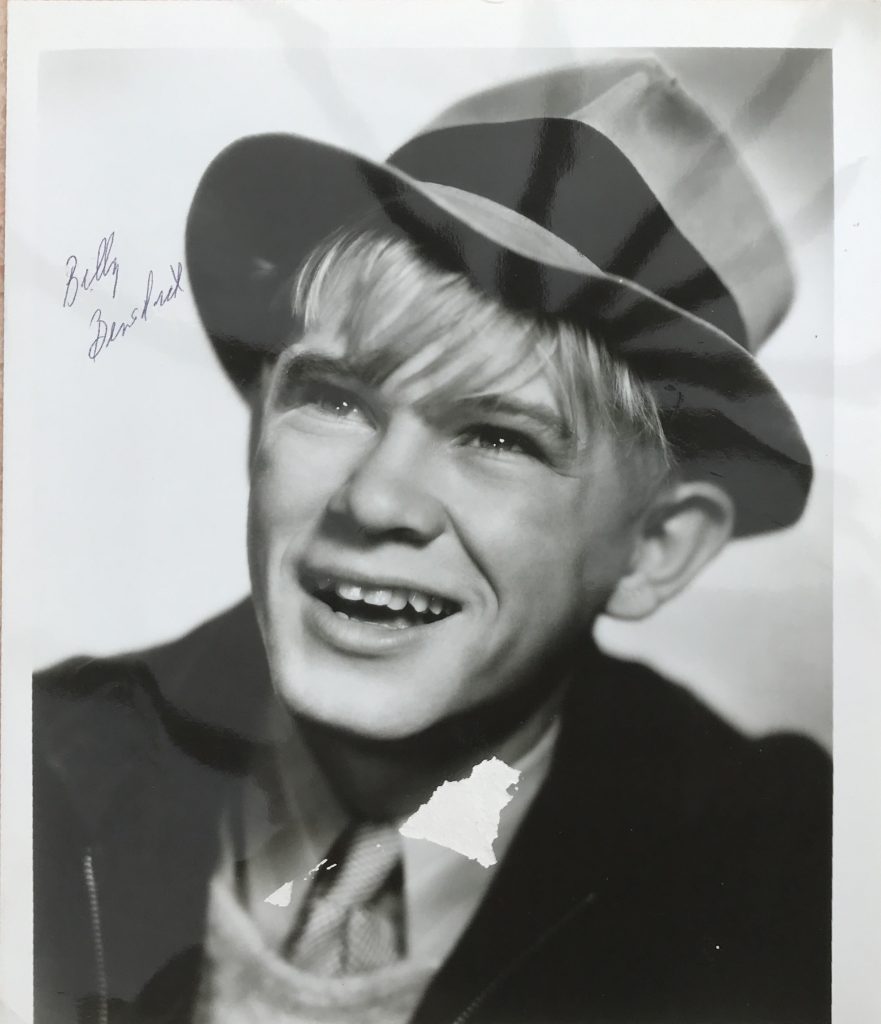 William Benedict obituary in "The Independent" in 1999.
BILLY BENEDICT was once described as "one of the most prolific Hollywood bit players of all time".
He enjoyed a lifelong career as a character actor, appearing in over 90 films and serials, and probably played more messenger boys, bellboys and newspaper vendors than any other actor, but will always be best remembered for his roles as "Skinny" in the East Side Kids series, and as "Whitey" in 24 of the subsequent Bowery Boys films. Though a peripheral member of the team, he made a distinctive impression with his white hair and perpetually befuddled, Stan Laurel-like expression. He led a more stable life than the star members of the team, Leo Gorcey and Huntz Hall, and went on to play dozens of small roles in films and on television until his late seventies.
Benedict was the oldest member of the Bowery Boys team, having been born in 1917 in Haskell, Oklahoma. To pay for a high-school education, he had a succession of jobs during his youth – he worked in a Tulsa bank, sold newspapers in Denver, worked in a Kansas wheatfield, and was a plumber's assistant in Portland, Oregon – but, after taking part in school plays and studying dancing, he determined on a show-business career.
Forced to leave school at 17 during the Depression, he hitchhiked to Los Angeles to try breaking into movies as a dancer, but instead his mousy features and blonde hair made it easier for him to find work as a juvenile. Signed to a contract by 20th Century-Fox, his first role, prophetically, was that of an office boy in $10 Raise (1935). His bucolic appearance also won him country bumpkin roles in such films as Henry King's Way Down East (1935) and The Country Doctor (1936).
Tim Tyler's Luck (1937) was the first of several serials in which Benedict was featured. In this popular jungle adventure he played the friend of young Tyler (Frankie Thomas) who is seeking his father in Africa and battling the notorious Spider Webb and his gang who travel in an armour-plated vehicle called a "jungle cruiser".
Howard Hawks' classic comedy Bringing Up Baby (1938) was Benedict's 24th film, by which time he had become adept enough to make an impression when sharing a scene with Katharine Hepburn and Cary Grant – as Grant's caddy, he is memorably mortified at the antics of Hepburn on the golf course. The same year he was cast by Universal as a character called "Trouble" in Little Tough Guys in Society, and made three more films in the studio's "Little Tough Guy" series.
Now freelancing, he also had roles in the Mae West/W.C. Fields comedy My Little Chickadee (1940), as a shy country boy whose schoolroom is taken over by West, the Gene Autry western Melody Ranch (1940) and the Laurel and Hardy comedy Great Guns (1941). He had a rewarding role in the Republic serial The Adventures of Captain Marvel (1941), as the sidekick of Billy Batson, the boy who turns into a superhero.
More typical bit roles came as an ice-cream seller in Confessions of Boston Blackie (1941), a telegram boy in Talk of the Town (1942), and a hotel doorman in Second Chorus (1942). Despite the brevity of some of these roles, Benedict would frequently make his presence felt – in William Wellman's The Ox-Bow Incident (1943), he was one of the townsfolk involved in the lynching of three innocent men, and has a telling, remorseful close- up at the film's end.
Benedict's first film with the East Side Kids was Clancy Street Boys (1943), after which he was a regular with the gang, usually as a member of their team but occasionally playing one of the antagonists – in Follow the Leader (1944) he is murdered. In the first film to feature the Bowery Boys, Live Wires (1946), Benedict created his regular role of Whitey and received featured billing beneath Leo Gorcey, Huntz Hall and Bobby Jordan, and he stayed with the series until 1951 while still doing messenger and bellboy roles in such films as Road to Utopia (1945), Do You Love Me? (1946), The Kid from Brooklyn (1946) and The Hucksters (1947).
After he left the Bowery Boys series, Benedict became an assistant in making miniature sets for Hollywood films, but returned to acting occasionally – he was a bellboy in Leo McCarey's comedy Rally 'Round the Flag, Boys! (1958) and a musician in Lover Come Back (1961). While making Hello, Dolly (1969), in which he played a newspaper vendor, he was married for the first time – to a girl named Dolly. Later films included The Sting (1973) and Farewell My Lovely (1975), and his television work included roles in Hill Street Blues, The Dukes of Hazzard and Gunsmoke.
He had recurring roles in the series Petticoat Junction (1963) and The Blue Knight (1975), and was featured in the mini-series The Moneychangers (1976) starring Kirk Douglas. More recently, he acted in television commercials. Once asked if he had any regrets, the actor confessed that he was sorry that, despite his long career and many parts, he had never been required to put his dancing skills to use.
William Benedict, actor: born Haskell, Oklahoma 16 April 1917; married; died Los Angeles 25 November 1999.