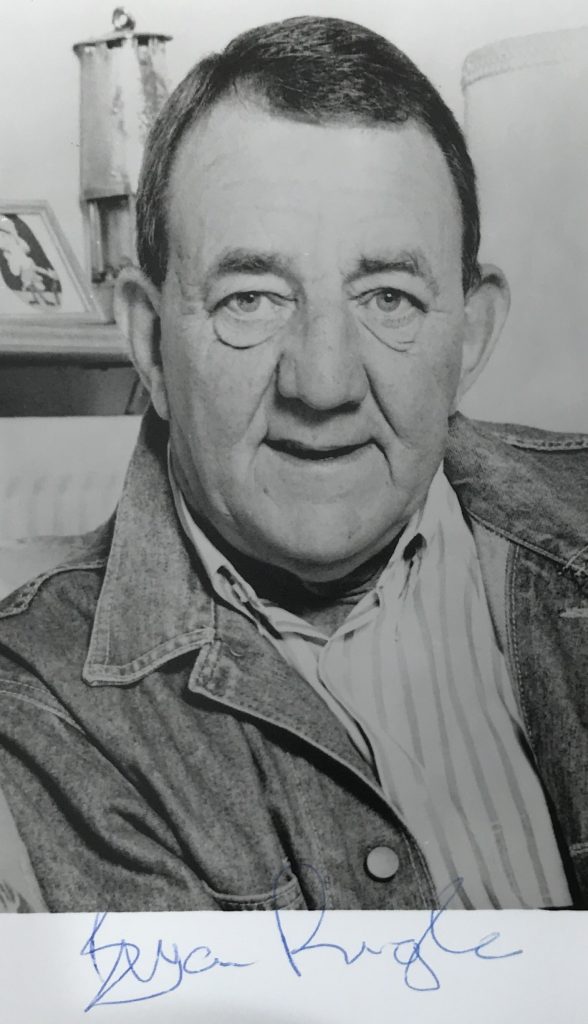 Eric Shorter's obituary on Bryan Pringle from 2002 in "The Guardian":
Bryan Pringle, who has died aged 67, was a first-rate character actor who excelled at underdogs. He brought to a wide range of nonentities, both on stage and screen, a warm humanity.
Perhaps best known in Jack Rosenthal's 1969 television series The Dustbinmen or, on stage, playing Pinter or Beckett, few actors had a likelier physique when it came to looking the part: lugubrious, with a long face, bulbous nose, heavy jowls and bags under both sad eyes. If not visibly under someone's thumb, Pringle seemed born to represent thoughtful inadequacy.
It was as Stanley in Pinter's 1964 revival of The Birthday Party that he first caught critical attention, as a seedy, one-time entertainer who had turned his back on the world to eke out a wretched existence in a seaside boarding house, where he fell victim to menacing visitors
Years later, he recalled: "Harold was, by then, a big name. It wasn't simply a question of struggling to find the meaning. He wouldn't have told us what it was about, anyway. We took it at face value. He just told us to be truthful and the text would play itself. And of course he was right."
Within a few weeks of that opening, Beckett's Endgame joined the Royal Shakespeare Company repertoire – and, as Nagg, Pringle's performance was likened to "a dead man speaking".
It would be five years before he caught the nation's imagination in The Dustbinmen, as the leader of a gang of refuse collectors – based, it was claimed, on daily Lancashire life – for once getting their own back on society. Wherever they went, Pringle's disorderly cohorts spread dismay – and garbage. To Rosenthal's popular sit-com, he brought one of his most grittily realistic and raucously observed characters of low life, and Dustbinmen went straight to the top of the ratings.
Although theatre critics would sometimes wish bigger roles upon him, as say, Uncle Mad in Keith Waterhouse's fragment of autobiography in a 1970s series, Childhood, Pringle's art flourished in fragments.
At Joan Littlewood's Theatre Workshop, for instance, he headed Henry Livings's Big Soft Nellie (1961), as a mildly demented mother's boy mocked by workmates; and 30 years later, in Twelfth Night, his Malvolio was arresting. "Large and magnificently pompous, he has an ugly, austere face which labours like a mountain to give birth to a hideous chasm of a smile," wrote one critic. In a national tour of My Fair Lady, Pringle's "anarchic, gravel-voiced" Doolittle glumly lit up the stage.
Pringle was born at Glascote, Staffordshire, the son of a clergyman. He trained at the Royal Academy of Dramatic Art before joining the Old Vic, under Michael Benthall, in the mid-1950s. In minimal parts, he shared the stage with Richard Burton, John Neville and Paul Rogers.
But it was in rep at the Nottingham Playhouse that Pringle got his first break. In Willis Hall's first stage play, The Long And The Short And The Tall, he was the only member of the original cast to be kept for the 1959 London opening, under Lindsay Anderson's direction. As Private Smith, on patrol in the Malayan jungle of 1942, he was an older married man comforting a frightened youngster. After another minor West End role, as a seaman called China in Beverly Cross's One More River, Pringle joined Littlewood's 1960 production of Fings Ain't Wot They Used T'Be.
What people will remember best, however, is his string of television cameos, and the reliably comic gloom of that deadpan gaze. Apart from Dustbinmen, other television appearances included the pat- ernal police-sergeant in The Growing Pains Of Pc Penrose (otherwise known as Rosie); the local publican and patronising youth-club manager in A Prince Among Men, who held that big heads never shrank; and the ruminative Mr Bebbington, and his slobbering bulldog, in Once Upon A Time. He was also Sgt Match in Joe Orton's What The Butler Saw; Grimsdale in All Creatures Great And Small; Ben Baker in Rumpole; and the pathologist in Prime Suspect.
All the while, Pringle continued adding to his theatrical credits, last year as an aged, discontented and ultimately assassinated parent in Orton's Entertaining Mr Sloane. Among his film credits were The Remains Of The Day, The Boy Friend and Lawrence Of Arabia.
He is survived by his wife, actor Anne Jameson, a son and a daughter.
· Bryan Pringle, actor, born January 19 1935; died May 15 2002
The following apology was printed in the Guardian's Corrections and Clarifications column, Friday May 24 2002
Contrary to what we said in this obituary, Bryan Pringle's wife Anne Jameson did not survive him, but died in 1999. Apologies.