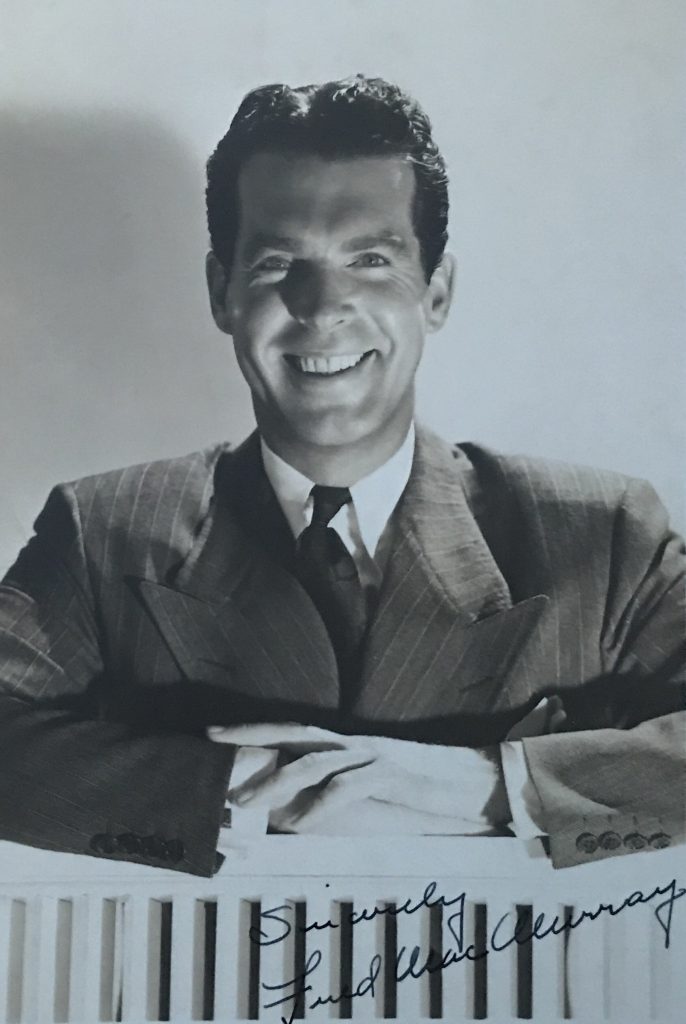 IMDB:
Fred MacMurray was likely the most underrated actor of his generation. True, his earliest work is mostly dismissed as pedestrian, but no other actor working in the 1940s and 50s was able to score so supremely whenever cast against type.
Frederick Martin MacMurray was born in Kankakee, Illinois, to Maleta Martin and Frederick MacMurray. His father had Scottish ancestry and his mother's family was German. His father's sister was vaudeville performer and actress Fay Holderness. When MacMurray was five years old, the family moved to Beaver Dam in Wisconsin, his parents' birth state. He graduated from Beaver Dam High School (later the site of Beaver Dam Middle School), where he was a three-sport star in football, baseball, and basketball. Fred retained a special place in his heart for his small-town Wisconsin upbringing, referring at any opportunity in magazine articles or interviews to the lifelong friends and cherished memories of Beaver Dam, even including mementos of his childhood in several of his films. In "Pardon my Past", Fred and fellow GI William Demarest are moving to Beaver Dam, WI to start a mink farm.
MacMurray earned a full scholarship to attend Carroll College in Waukesha, Wisconsin and had ambitions to become a musician. In college, MacMurray participated in numerous local bands, playing the saxophone. In 1930, he played saxophone in the Gus Arnheim and his Coconut Grove Orchestra when Bing Crosby was the lead vocalist and Russ Columbo was in the violin section. MacMurray recorded a vocal with Arnheim's orchestra "All I Want Is Just One Girl" — Victor 22384, 3/20/30. He appeared on Broadway in the 1930 hit production of "Three's a Crowd" starring Sydney Greenstreet, Clifton Webb and Libby Holman. He next worked alongside Bob Hope in the 1933 production of "Roberta" before he signed on with Paramount Pictures in 1934 for the then-standard 7-year contract (the hit show made Bob Hope a star and he was also signed by Paramount). MacMurray married Lillian Lamont (D: June 22, 1953) on June 20, 1936, and they adopted two children.
Although his early film work is largely overlooked by film historians and critics today, he rose steadily within the ranks of Paramount's contract stars, working with some of Hollywood's greatest talents, including wunderkind writer-director Preston Sturges (whom he intensely disliked) and actors Humphrey Bogart and Marlene Dietrich. Although the majority of his films of the 30's can largely be dismissed as standard fare there are exceptions: he played opposite Claudette Colbert in seven films, beginning with The Gilded Lily (1935). He also co-starred with Katharine Hepburn in the classic, Alice Adams(1935), and with Carole Lombard in Hands Across the Table (1935), The Trail of the Lonesome Pine (1936) — an ambitious early outdoor 3-strip Technicolor hit, co-starring with Henry Fonda and Sylvia Sidney directed by Henry Hathaway — The Princess Comes Across (1936), and True Confession (1937). MacMurray spent the decade learning his craft and developing a reputation as a solid actor. In an interesting sidebar, artist C.C. Beck used MacMurray as the initial model for a superhero character who would become Fawcett Comics' Captain Marvel in 1939.
The 1940s gave him his chance to shine. He proved himself in melodramas such as Above Suspicion (1943) and musicals (Where Do We Go from Here? (1945)), somewhat ironically becoming one of Hollywood's highest-paid actors by 1943, when his salary reached $420,000. He scored a huge hit with the thoroughly entertaining The Egg and I(1947), again teamed with Ms. Colbert and today largely remembered for launching the long-running Ma and Pa Kettle franchise. In 1941, MacMurray purchased a large parcel of land in Sonoma County, California and began a winery/cattle ranch. He raised his family on the ranch and it became the home to his second wife, June Haver after their marriage in 1954. The winery remains in operation today in the capable hands of their daughter, Kate MacMurray. Despite being habitually typecast as a "nice guy", MacMurray often said that his best roles were when he was cast against type by Billy Wilder. In 1944, he played the role of "Walter Neff", an insurance salesman (numerous other actors had turned the role down) who plots with a greedy wife Barbara Stanwyck to murder her husband in Double Indemnity (1944) — inarguably the greatest role of his entire career. Indeed, anyone today having any doubts as to his potential depth as an actor should watch this film. He did another stellar turn in the "not so nice" category, playing the cynical, spineless "Lieutenant Thomas Keefer" in the 1954 production of The Caine Mutiny (1954), directed by Edward Dmytryk. He gave another superb dramatic performance cast against type as a hard-boiled crooked cop in Pushover (1954).
Despite these and other successes, his career waned considerably by the late 1950s and he finished out the decade working in a handful of non-descript westerns. MacMurray's career got its second wind beginning in 1959 when he was cast as the dog-hating father figure (well, he was a retired mailman) in the first Walt Disney live-action comedy, The Shaggy Dog (1959). The film was an enormous hit and Uncle Walt green lighted several projects around his middle-aged star. Billy Wilder came calling again and he did a masterful turn in the role of Jeff Sheldrake, a two-timing corporate executive in Wilder's Oscar-winning comedy-drama The Apartment (1960), with Shirley MacLaine and Jack Lemmon — arguably his second greatest role and the last one to really challenge him as an actor. Although this role would ultimately be remembered as his last great performance, he continued with the lightweight Disney comedies while pulling double duty, thanks to an exceptionally generous contract, on TV.
MacMurray was cast in 1961 as Professor Ned Brainerd in Disney's The Absent Minded Professor (1961) and in its superior sequel, Son of Flubber (1963). These hit Disney comedies raised his late-career profile considerably and producer Don Feddersonbeckoned with My Three Sons (1960) debuting in 1960 on ABC. The gentle sitcom staple remained on the air for 12 seasons (380 episodes). Concerned about his work load and time away from his ranch and family, Fred played hardball with his series contract. In addition to his generous salary, the "Sons" contract was written so that all the scenes requiring his presence to be shot first, requiring him to work only 65 days per season on the show (the contract was reportedly used as an example by Dean Martin when negotiating the wildly generous terms contained in his later variety show contract). This requirement meant the series actors had to work with stand-ins and posed wardrobe continuity issues. The series moved without a hitch to CBS in the fall of 1965 in color after ABC, then still an also-ran network with its eyes peeled on the bottom line, refused to increase the budget required for color production (color became a U.S. industry standard in the 1968 season). This freed him to pursue his film work, family, ranch, and his principal hobby, golf.
Politically very conservative, MacMurray was a staunch supporter of the Republican Party; he joined his old friend Bob Hope and James Stewart in campaigning for Richard Nixon in 1968. He was also widely known one of the most — to be polite — frugal actors in the business. Stories floated around the industry in the 60s regarding famous hard-boiled egg brown bag lunches and stingy tips. After the cancellation of My Three Sons in 1972, MacMurray made only a few more film appearances before retiring to his ranch in 1978. As a result of a long battle with leukemia, MacMurray died of pneumonia at the age of eighty-three in Santa Monica on November 5, 1991. He was buried in the Holy Cross Cemetery in Culver City.
– IMDb Mini Biography By: Dave Curbow and Mike Bischoff and Jack Backstreet