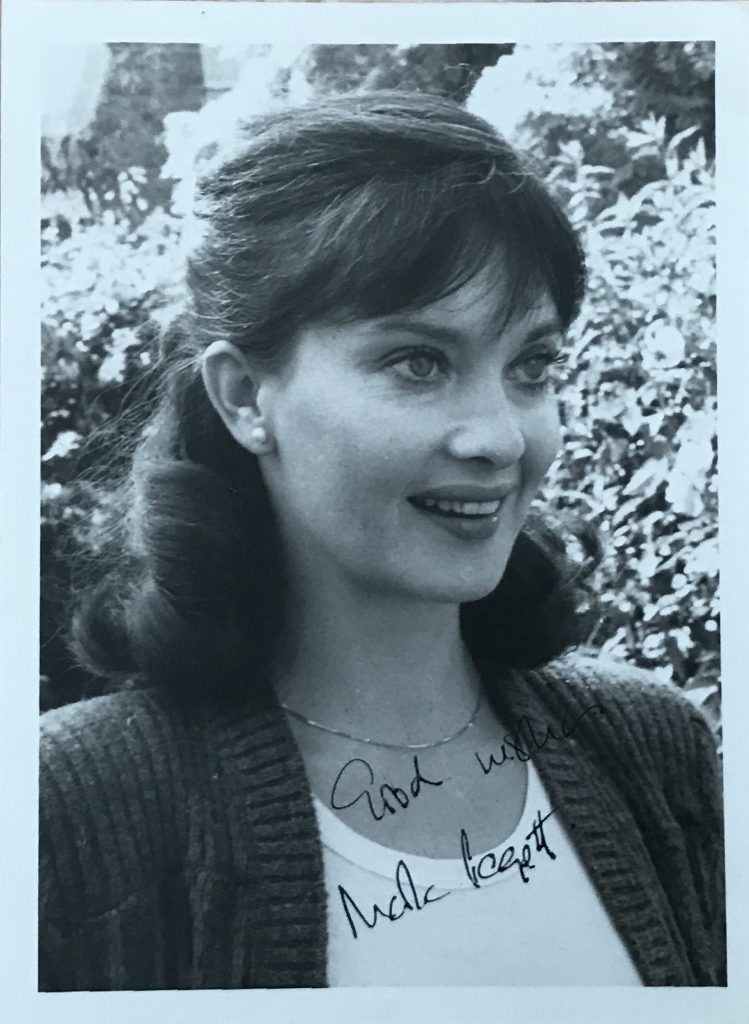 Nicola Pagett was born on June 15, 1945 in Cairo, Egypt as Nicola Scott. She is an actress, known for An Awfully Big Adventure (1995), There's a Girl in My Soup (1970) and Operation: Daybreak (1975). She was previously married to Graham Swannell.
Nicola Pagett obituary
Actress known for Upstairs, Downstairs whose career was cut short by mental health issues
Friday March 05 2021, 5.00pm GMT, The Times
As a young actress Nicola Pagett's dream was to appear in the West End "and have men with cloaks take me out to dinner". It was an ambition she achieved with some style, working on the London stage for more than 20 years including opposite Alec Guinness in Ronald Eyre's production of Voyage Round My Father at the Haymarket Theatre in 1971.
On television she came to attention in the early 1970s in the period drama Upstairs, Downstairs as Elizabeth, the headstrong daughter of Richard Bellamy and his wife Lady Marjorie. Later, following Greta Garbo and Vivien Leigh, she played the title role in Tolstoy's Anna Karenina (1977) with a thrilling death scene at the railway station. By then she was being recognised in the street. "There's nothing more gratifying than bursting into people's homes," she recalled of her television success.
Yet Pagett's career came to an abrupt halt in 1995 when she suffered a breakdown during a National Theatre production of Joe Orton's What the Butler Saw, a farce that features infidelity, nymphomania and a psychiatrist. She accused her husband of having an incestuous affair with their teenage daughter; danced all night in black underwear while smeared in lipstick; and developed a romantic obsession with Alastair Campbell, Tony Blair's press secretary, referring to him as "the Stranger" and sending him hundreds of long rambling love letters, signing herself "Moi".
Over several months her mania spiralled into psychosis. "Everything began to feel strange," she recalled of one episode. "My skin seemed so dirty and I was burning up again. My eyes were scratchy all the time and I couldn't stop. I couldn't stop destroying things." These included an old 45 record that had been a present from her husband. She also tore up pictures from their summer holiday, burning them on the terrace. She was sectioned, diagnosed with bipolar disorder and prescribed lithium, a drug used to control mood disorders.
As she began to recover Pagett recounted her troubles in disturbing detail in Diamonds Behind My Eyes (1997), a book described as a "lyrical memoir of everyday madness" that includes a heart-wrenching addendum by her husband. Eventually she came to recognise that she would only get better if she accepted that she would never be well.
She was born Nicola Mary Scott in Cairo in 1945, the elder daughter of Herbert Scott, an oil executive with Shell, and his wife Barbara (née Black). It was an unsettled childhood, with her father's work taking the family to Hong Kong, Cyprus and Japan, where she was educated at St Maur's, a Catholic school in Yokohama.
Her stage career began in Snow White. "A whole lot of people in the room actually kept quiet and listened to what I was saying, and that seemed a marvellous arrangement and I wanted it to last for ever," she told The Times in 1980. At 12 she was packed off to the Beehive, a boarding school in Bexhill, East Sussex. Homesick, she would sob in the cloakroom among the damp boots and in adult life the smell of wet rubber still brought tears to her eyes.
Pagett with David Jason in the comedy A Bit of a Do (1989)
Her parents wanted her to attend a Swiss finishing school, but "I didn't want to be finished off", she said. With her school's encouragement she auditioned for the Royal Academy of Dramatic Arts (Rada). "They said I'd have to wait a year until I was 17," she recalled. "So I went off and learnt to be a shorthand typist." On arriving at Rada the elfin-faced actress with big eyes "didn't know anything about men or anything else . . . that's where I found out".
She adopted the stage name Pagett and joined a repertory company in Worthing, "because my agent sent all his clients there". They kept her busy with Agatha Christie shows performed on minimal rehearsal: "One week I cut an entire act by mistake and the policeman had to come on and start looking for a body that hadn't even been murdered yet."
Reaching the West End in 1968, she gave a fine performance as a Lolita-esque character in A Boston Story at the Duchess Theatre, based on Henry James's The Bostonians. She met Graham Swannell, a playwright and actor, while appearing again with Guinness in A Family and a Fortune at the Apollo Theatre in 1975. They were married two years later but the marriage was dissolved in 1999. She is survived by their daughter, Eve, who has worked in the film industry.
Meanwhile, Pagett's career continued as Lieutenant Sylvia Morgan, the only female character, in Privates on Parade (1983). There were also stage appearances in Shakespeare, Molière, Pinter and Rattigan, "great minds that rub off into your everyday life", she said, as well as a Jonathan Miller season at Greenwich Theatre.
An interviewer in 1987 described her frequent use of a tar-resistant cigarette-holder. She also confessed to a passion for order in a life that was led "between the freezer and Sainsbury's", adding: "I am forever moving the bread to the bin and back and wishing I were not like that." That order in her house was mirrored by hard-won perfection in the garden, but insecurity was never far away. She would claim to quote Sybil Thorndike, saying: "When you have finished one part you don't think you might never work again, you know you will never work again."
She did work again, alongside David Jason in the award-winning comedy drama A Bit of a Do (1989), but then came her breakdown.
Once Pagett's illness was under control she tried to resume her career, using rare appearances such as in Who's Afraid of Virginia Woolf at Nottingham Playhouse in 1998 to publicise awareness of mental health. Latterly she lived quietly in East Sheen, southwest London, with a pair of Persian cats. and enjoyed relaxing holidays in Biarritz, the French coastal town that she had visited since 1971.
Madness, she explained when her book appeared, is not "all flapping arms and dribbling. It is an altered state and, in a funny way, I wouldn't have missed it no matter how terrible it was."
Nicola Pagett, actress, was born on June 15, 1945. She died from a brain tumour on March 3, 2021, aged 75