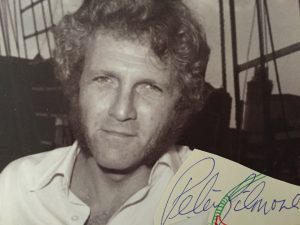 Peter Gilmore obituary in "The Guardian" in 2013.
James Onedin, the protagonist of the long-running BBC television series The Onedin Line, gained his splendid name from a sea nymph. After the programme's creator, Cyril Abraham, had read about mythological figure Ondine, he transposed the "e", thus making her a man. And what a man: Peter Gilmore, who played Onedin in 91 episodes from 1971 to 1980, had tousled hair, flinty eyes, hollow cheeks, mutton-chop sideburns racing across his cheek, lips pulled severely down, chin thrust indomitably forward to face down the brewing gale. He has died aged 81.
The sea captain did not so much talk as emit salty barks that brooked no demur. In 1972, while filming, Gilmore was buzzed by speedboats from the Royal Naval College. Still in character as Onedin, he yelled irascibly at the tyro sailors: "Taxpayers' money! Where are your guns? What use would you be if the Russians came?"
Like Horatio Nelson, Francis Drake and to a lesser extent the early 70s prime minister Edward Heath, the very cut of Gilmore's jib suggested that the British – if only in prime-time costume dramas – still ruled the waves. For many, Gilmore's name conjures up the stirring Adagio from Khachaturian's ballet Spartacus that was used on the opening credits. Madly and marvellously, Onedin set up a shipping line with sailing vessels in late-19th century Liverpool at a time when steamships were taking over the seaways.Advertisement
By series two, his business model had seen off the sceptics but his wife, Anne, had died in childbirth. That plot twist was partly explained by the fact that the actor who played her, Anne Stallybrass, had decided to return to the theatre.
To honour his dead wife's memory, Onedin added a steamship to his fleet called the Anne Onedin and then allowed Kate Nelligan (as a coal-merchant's eligible daughter) and Caroline Harris (as a 20-something worldly wise widow) to vie for his affections. He spurned both, marrying his daughter's governess, Letty Gaunt, who died of diphtheria. By the eighth and last series, Onedin was married to a third wife, Margarita Juarez, and had become a grandfather.
Before Howards' Way, The Onedin Line was the BBC's nautical franchise: Abraham wrote five novels loosely based on his television scripts, while Gilmore was frequently asked to launch ships and was also bombarded with fan mail and advice from veteran sailors. He parlayed fame into reviving a former career as a singer, releasing in 1974 an album of sailor shanties called Songs of the Sea and in 1977 another called Peter Gilmore Sings Gently.
He regretted that he became too typecast as Onedin to get other lead roles. In 1978 he starred opposite Doug McLure in the film Warlords of Atlantis as an archaeologist searching for the fabled underwater city who ends up battling a giant octopus and other sea monsters.
Gilmore was born in the German city of Leipzig. At the age of six, he moved to Nunthorpe, near Middlesbrough, where he was raised by relatives, later attending the Friends' school in Great Ayton, north Yorkshire. From the age of 14 he worked in a factory, but later studied at Rada. While undertaking national service in 1950 he discovered a talent for singing and after his discharge joined singing groups who performed all over the country.
During the 1950s and 60s he became a stalwart of British stage musicals, appearing in several largely unsuccessful shows, including one called Hooray for Daisy! in which he was the chief human in a drama about a pantomime cow. He even released a single in 1960 as a spin-off from his performance in the musical Follow That Girl, opposite Susan Hampshire. In 1958 he appeared on the pop programme Cool for Cats, where he met the actor Una Stubbs, then one of the Dougie Squires Dancers, who were weekly tasked with interpreting hit songs in movement. The couple were married from 1958 until 1969.
His success at this time in British and US TV commercials led him to be cast in comedies, with 11 appearances in Carry On films, two of which – Carry On Jack (1963) and Carry On Cleo (1964) – gave him early nautical roles. In 1970 he married Jan Waters, with whom he starred in both stage and television productions of The Beggar's Opera, he playing the highwayman Captain Macheath.
The Onedin Line brought Gilmore the fame that had eluded him. In 1976, he and Jan divorced and he started living with Stallybrass, whom he married in 1987. In 1984 a new generation of viewers saw Gilmore as Brazen, the security chief of a distant human colony called Frontios in Doctor Who's 21st series. Brazen died heroically while helping the Doctor escape. Gilmore made his last stage appearance in 1987 in Michael Frayn's Noises Off and his last screen one in the 1996 television movie On Dangerous Ground.
He is survived by Anne and a son, Jason, from his first marriage.
• Peter Gilmore, actor, born 25 August 1931; died 3 February 2013
• This article was amended on 7 February 2013. The original stated that Follow That Girl was Susan Hampshire's only foray into musicals. This has been corrected.