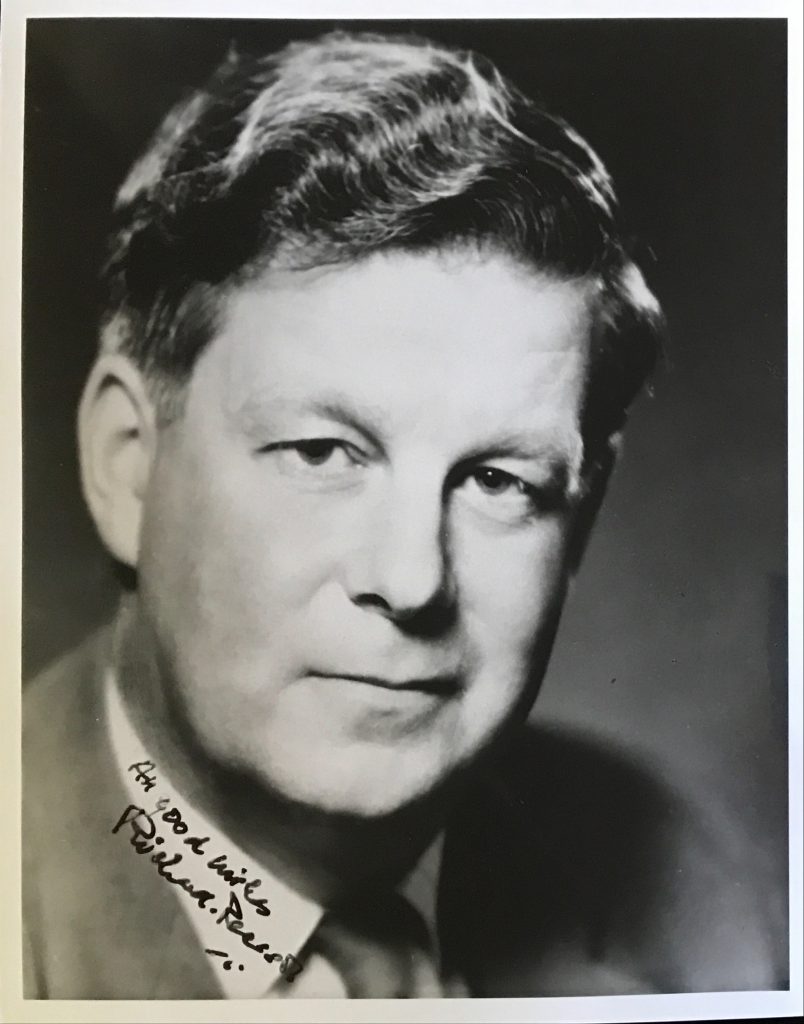 Richard Pearson obituary in "The Guardian" in 2011.
It was the destiny of the actor Richard Pearson, who has died aged 93, to be remembered for his role in one of the most famous theatrical failures of modern times: what you might call a flop d'estime. In 1958, he was the original Stanley in Harold Pinter's The Birthday Party. After a short, highly successful provincial tour, the play was critically slaughtered when it opened at the Lyric Hammersmith in London in May 1958. In all, Pearson enjoyed a fruitful career spanning around 70 years, often playing harassed establishment figures, but it was Stanley that he always listed as one of his favourite parts. He reprised the role in an ITV production in 1960.
With his high-pitched voice and crestfallen features, Pearson conveyed Stanley's baffled vulnerability. As Harold Hobson, the play's sole critical champion in 1958, wrote in the Sunday Times: "Pearson's Stanley, excellent throughout, is very moving in [his] hurt wonder when given the child's drum as a birthday present."
I once asked Pinter if the character of Stanley, a reclusive seaside lodger victimised by the invasive figures of Goldberg and McCann, had become more aggressive in later revivals. Pinter assured me that Pearson had got it right from the start, and had caught the element of cruelty in Stanley's goading of his voracious landlady, Meg, and hinted at his later resistance to his tormentors. Only with time did the political implications of Pinter's play become fully clear.
Born in Monmouth, south-east Wales, Pearson was educated in Worcester and Monmouth and made his first appearance on stage at the old Collins Music Hall in Islington, north London, in 1937. But, like many actors, he found his career interrupted by the second world war. He served in the army, in the 52nd Lowland Division, was mentioned in dispatches and reached the rank of lieutenant colonel.
On being demobbed in 1946, he quickly found work in the small London theatres, such as the Embassy in Swiss Cottage and the Q by Kew Bridge, that were the prototype of the modern fringe. In 1949, he married the actor Pat Dickson, whom he had met the previous year when they both auditioned successfully for a production of This Is Where We Came In.
With his solid physique and faintly plaintive air, Pearson soon graduated to the kind of drawing-room comedies that were staple West End fare in the mid-1950s: plays such as Arthur Macrae's Both Ends Meet, Gerald Savory's A Likely Tale and William Douglas Home's The Iron Duchess. After The Birthday Party, however, his career took a more decisive turn.
His capacity for conveying either outraged dignity or the frailty lurking within seemingly secure figures found its outlet in a number of very good productions. He played Maggie Smith's increasingly jealous husband in Peter Shaffer's The Public Eye in 1962 and was an empurpled cardinal in Edward Albee's Tiny Alice at the Aldwych in 1970.
He moved on to play William Cecil, opposite Eileen Atkins's Queen Elizabeth I, in Robert Bolt's Vivat! Vivat Regina! at Chichester – where he had a particularly strong period in the 1970s – and in the West End. He was then totally at home as the bonhomous but mountingly indignant Mr Hardcastle in a revival of Oliver Goldsmith's She Stoops to Conquer at the Young Vic in 1972.
He was later reunited with Smith in the West End, in a 1987 production of Shaffer's Lettice and Lovage, where he was a wonderfully bemused solicitor, and again in 1993 in Oscar Wilde's The Importance of Being Earnest, directed by Nicholas Hytner.
Pearson was the kind of actor on which the British theatre has always relied: utterly dependable and totally distinctive. His particular forte, with his slightly fluting voice, was for revealing the chink in the armour of middle-class respectability. Inevitably his capacity for bourgeois fluster led to a long career in television, where he made his first appearance in 1947.
He entered films three years later, with appearances in The Girl Is Mine (1950) and The Woman in Question (1950). He went on to appear in Anthony Asquith's The Yellow Rolls-Royce (1964), Albert Finney's Charlie Bubbles (1967), John Schlesinger's Sunday Blood Sunday (1971) and Roman Polanski's Pirates (1986).
He subsequently had success in several popular TV series including The Wind in the Willows (1984-88), as the voice of Mole; One Foot in the Grave (1992), as Victor Meldrew's absent-minded brother; My Good Friend (1995-96), as George Cole's fellow pensioner; and Men Behaving Badly (1995), as Gary's father. He could always be counted on to play doctors, accountants, politicians, policemen and churchmen: anyone, in short, who seemed to embody professional solidity. Pearson always managed to invest these characters with an inner life and a look of wounded dignity.
He is survived by Pat, their sons Simon and Patrick, who is also an actor, and two grandchildren, Katie and Anna.
• Richard de Pearsall Pearson, actor, born 1 August 1918; died 2 August 2011