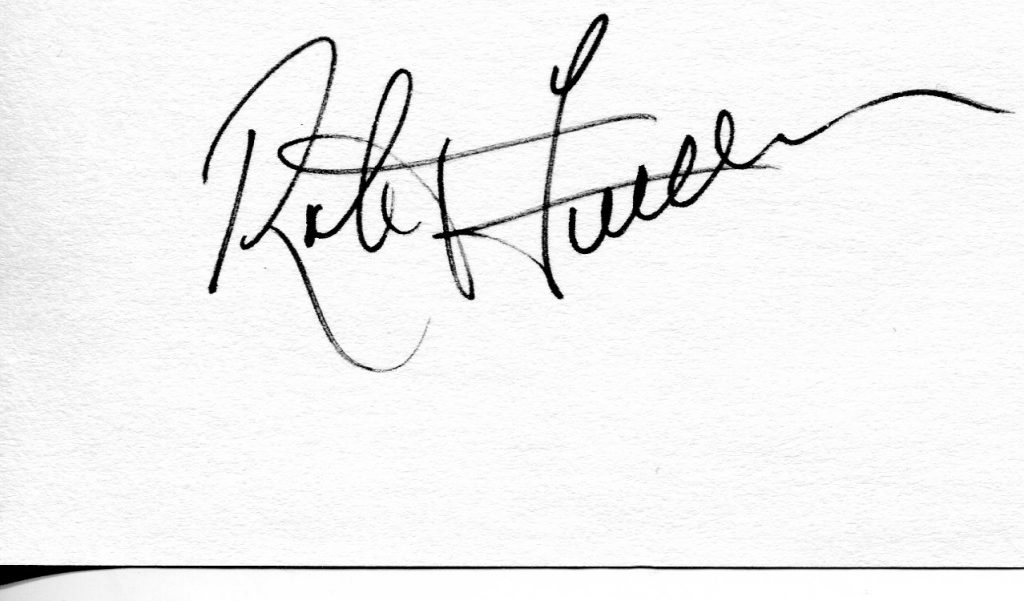 IMDB Entry:
Robert Fuller was born in Troy, New York on 29th July 1933 at 1.50pm and was raised in Key West, Florida. He was an only child and his birth name was Leonard Leroy Lee, but he was nicknamed Buddy Lee by his friends.
Robert started his education at St Mary's in New York and when his mother Betty divorced she took Robert and they moved to Florida where she was nightclub dancer. Robert was put into Miami Military Academy, where he did 5th to 6th grade. After that he spent one year in a standard school. At this time Betty met and married Robert Simpson who was a naval officer and they moved to Chicago for one year then returned to Key West where he attended Robert attended Key West High for 9th grade. (15 years of age). Robert quit school at 9th grade as he did not enjoy school and openly admits he did not do well there. He worked a variety of jobs before moving to Hollywood.
When his mother Betty married Robert Simpson, Robert took the name Robert Simpson Jr. This changed when Robert started acting and he decided he needed a different handle. At the time he had no idea what his name should be but he had a relative with a first name of Fuller and he figured it went well with his name so the handle of Robert Fuller was created. Robert was very close to his step-dad and considered him as a dad rather than a step-dad, so for the remainder of this biography I will refer to him as Robert's dad or father.
Eventually, Betty convinced Robert Simpson to quit the navy. She taught him to dance, and this led to them opening a dance school in Key West. In the daytime his mother taught ballet to the local children and in the evening they both taught ballroom dancing to the hundreds of navy personnel who were stationed in Key West at that time. In 1950 when Robert was just 16 his parents decided to move to Hollywood. Robert's dad became a very accomplished dancer, and had a plan to get into the motion picture business as a dancer, which he did successfully. His dad subsequently changed his name to Robert Cole and danced in almost every musical made between 1950 up to his retirement in 1987. This included working in many top grade musicals such as Oklahoma, Jailhouse Rock, Seven Brides For Seven Brothers and Gentlemen Prefer Blondes in which young Robert Fuller also appeared as a dancer in the chorus line.
After the move to Hollywood Robert had several jobs. The most significant of these was at Graumans Chinese Theatre where he started as a doorman and worked his way up to Assistant Manager. He met a number of people around his own age of 18 years, who were members of the Screen Extras Guild, and they convinced him to join as they were earning significantly more than Robert. This was the start of Robert's journey into acting, and it was then he changed from Robert Simpson Jr to Robert Fuller.
After joining SEG Robert started doing extra work and in 1952 got his first job in the movie Above and Beyond with Robert Taylor. This was followed by extra work in a great many films including Raintree County with Liz Taylor, The Harder They Fall with Humphrey Bogart and The Man In The Grey Flannel Suit with Gregory Peck.
His Dad convinced him to look for jobs as a dancer which he did successfully getting roles in I Love Melvin with Debbie Reynolds, Gentlemen Prefer Blondes with Marilyn Monroe and Latin Lovers with Lana Turner.
In 1953, while the Korean war was on, Robert at the age of 19 was drafted into the United States Army where he served 2 years, 15 months of which was in Korea. His unit was 19th Infantry Regiment and he was chosen 3 times as the outstanding soldier on Guard Mount, a decision based upon appearance, knowledge of military subjects and bearing.
When he returned home in 1955 he decided to give up his career in show business as he did not see any future in it. However his dad, along with his long time pal Chuck Courtney, convinced him to attend Richard Boone's acting class. This was a pivotal move for Robert as the class impressed him so much he changed his mind, decided to stay in show business and take a shot at becoming an actor. After studying with Boone for a year, Boone was impressed enough with Robert's potential that he recommended him to Sanford Meisner who accepted Robert into the New York Neighbourhood Playhouse School Of Theatre. Meisner was a highly respected acting teacher who taught future stars like Gregory Peck, Jon Voight, Robert Duvall, Edmund O'Brien and Grace Kelly. Robert was in good company.
In 1956 came his first speaking part in a movie where he played a union soldier and said to Gary Cooper "Bet you a dollar you can't do that again". The film was "Friendly Persuasion", and not only was it Robert's first talking part in a movie, it was also the first time he worked with his Laramie co-star John Smith. Originally director William Wyler had wanted another actor to play the part Robert was given, however he was unimpressed with the fact the other actor had false sideburns. Robert's sideburns were real and when Wyler saw Robert he called him over and asked him if he could act – Robert said "You Bet". Wyler then said "Say this line – "I bet I can knock down more than you can" . Robert repeated the line and Wyler without hesitation said "Give this kid the part".
This was a turning point for Robert and the beginning of a great career.
Following Friendly Persuasion Robert had a number of small speaking parts and then in 1956 came his big break in Teenage Thunder.
To get the part he and his good friend Chuck Courtney staged a fight to convince the Director, Paul Helmick, that he was the man for the part. Originally Helmick had wanted Edd Byrnes but after seeing Chuck and Robert perform Helmick gave the role of bad guy Maurie Weston to Robert. The very same year Robert did another film for the same company that produced Teenage Thunder and again worked with the same production team. This film was the cult science fiction movie "The Brain From Planet Arous" with John Agar. After over 50 years this film is still available on DVD.
This was followed by a part in a science fiction series where he played a bad guy and was killed in the 3rd episode. The name of this series was Outpost In Space.
He spent the next couple of years doing featured and guest star roles in a variety of TV programs mainly westerns.
In February 1959 Robert appeared again with John Smith, this time in a western series called Cimarron City and now Robert's career had progressed to the point where he was getting guest star billing. It was this appearance that led to his being offered the role of Jess Harper in "Laramie".
The story goes as follows;
While filming Cimarron City Robert was summoned to the Vice President of Talent, Patrick Kelly's office. He went there actually thinking he was going to be fired. However Kelly told him that he liked the work he had done in a number of shows over the previous year and wanted him to do a TV series. This was a very exciting prospect for Robert, however excitement soon turned to disappointment when Kelly offered him the second lead in a detective series starring Ray Milland called "Markham" Robert refused the role on the grounds he wanted to do a good western. Kelly was naturally dumbfounded that his offer was being refused but he accepted Robert's decision and Robert left his office. Then a couple of weeks later Robert was summoned again to Patrick Kelly's office. This time he offered Robert a part in a new 30 minute western called Laramie. Robert was delighted and read the script and loved it, but again things were about to turn awkward. Kelly offered Robert the role of Slim Sherman – Robert wanted the part of Jess Harper!!! So again Kelly found himself being refused. He explained to Robert that the role of Jess had already been given to John Smith who was already under contract with Revue. Yet again Robert stuck to his guns and again the two men parted without agreement. Robert left Patrick Kelly's office thinking that was the end of his career – you don't turn down those opportunities once let alone twice! However there was a twist – The very same day Robert's agent called him to say that he was required to test for the part of Jess Harper. The next day he was given the role that he wanted so much, a role that was truly made for him, a role that would make him an international star and transform his life.
John Smith was given the role of Slim Sherman and hindsight shows that these were the right roles for each of them. Robert Fuller WAS Jess Harper and John Smith WAS Slim Sherman. Had that role change not happened then Laramie would not have worked anywhere near as well as it did. Over the next 4 years Robert immortalized the character of Jess Harper and gained millions of fans worldwide. Robert said of this role that it was the best part he ever had.
In December 1962, while Laramie was still at its peak Robert married Patty Lyon.
Laramie ran from 1959-1963 and from there Robert went straight into "Wagon Train" as chief scout Cooper Smith. Coop was a less volatile character than Jess Harper and Robert played him very differently. The move into Wagon Train gave Robert the opportunity to work with some of the best stars in the business, people like John McIntire, Robert Ryan, Ernest Borgnine and Rhonda Fleming.
When "Wagon Train" finished in 1965, Robert moved onto the big screen, and in 1966 got his first starring role in a movie. This was the western "Incident At Phantom Hill" where he was re-united with his close friend Dan Duryea, a man for whom Robert had the greatest respect, and who had made a couple of guest spots in Laramie. It was an all action western where Robert's character Matt Martin had many of the characteristics of Jess Harper. Also in 1966 Robert was given second billing to Yul Brynner in the sequel to "The Magnificent Seven", a film aptly titled "Return Of The Seven". He was so busy in 66 that for the filming of Return Of The Seven they had to shoot around him while he was in Munich for the premiere of "Incident At Phantom Hill" .
The character of Vin he portrayed in "Seven" was the part previously occupied by Steve McQueen who had now gone on to become a superstar. McQueen was not offered the role in the sequel because it is likely that if he had been in the film then Yul Brynner would not. The stories of Brynner's less than cordial relationship with McQueen are now legendary. With Robert it was very different and he and Yul got along very well, and in fact remained close friends until Brynner died in 1985.
Robert remained busy doing movies in Germany, Israel and the States over the next few years, then in 1970 he made one of his best ever movies "The Hard Ride". This was a stunning film about a Vietnam vet, Phil Duncan who brought his dead buddy's body home and sets out to find his buddy's old biker friends to get them to attend the funeral. This was Robert Fuller at his best and while there were good performances he carried the film. Today you can still buy the soundtrack and the DVD.
Jack Webb saw Robert's performance in "The Hard Ride" and decided he wanted him to star in a new TV medical drama series called Emergency. Robert was grateful for the offer but did not want to play a doctor and he told Webb so. But Webb was determined and finally persuaded Robert to take the part. True, it was a departure from the action roles his fans were so used to, but Emergency was a major television success which ran for 7 years and resulted in another generation of fans – the show continues to be very popular still. Over 30 years after it ended there was an Emergency re-union which was attended by most of the stars plus fans from all over the world. Robert's old friend John Smith appeared in a couple of episodes playing a Fire Captain.
Since then Robert has been very busy in a wide variety of roles, sometimes to the delight of his fans, he returns to the western genre.
Robert's marriage to Patty Lyon ended in 1984 after 22years. They had 3 children Robert, Christine and Patrick. Nowadays Robert is married to the lovely Jennifer Savidge who played Nurse Lucy in "St Elsewhere" and appeared regularly in the hit TV series JAG.
Robert's last performance was playing 2 roles in the final episode of Walker Texas Ranger. He played Ranger Wade Harper, who was a descendant of Jess Harper, and an old west Town Sheriff.Robert retired after that show and it is fitting that his final part was in a western role.
In July 2004 Robert and Jennifer re-located from Los Angeles to Texas where they now live on a beautiful ranch. He still enjoys his lifelong passions of fishing and shooting and he now has more time to enjoy them.
Despite being retired he attends a number of western festivals each year where he spends a lot of time with his fans who have stayed loyal for over 60 years. Indeed at the National Festival Of the West in Phoenix Robert hosted many private parties with his fans where he would sit for hours talking to them and enjoying telling stories of his time in show business. It is testament to the talent and personality of Robert Fuller that fans still travel from the four corners of the earth just to spend a couple of days with him at the Festivals he attends. He has always loved his fans and that remains true today. He still has an international fan club – The Robert Fuller Fandom.
Robert Fuller has had a long and very successful career which is proven by the awards he has received. Look at this!
1961 – Best Actor Award in Japan 1961 – Japanese Golden Order Of Merit – awarded to him by the Empress of Japan. Robert was the first American to receive this award 1970 – Best Actor in Germany. Robert actually won 5 Ottos which are German awards that are the equivalent of the Emmy. 1970 – Buffalo Bill Award for outstanding western entertainment. 1975 – Star on the Hollywood Walk Of Fame 1989 – Golden Boot Award 2002 – Honoree Kanab Western Legends Roundup 2004 – Cowboy Spirit Award – National Festival Of The West, Phoenix October 2007 – Silver Spur Award April 2008 – Inducted into the National Cowboy & Western Heritage Museum, Oklahoma, Hall Of Great Western Performers
– IMDb Mini Biography By: Tony Gill