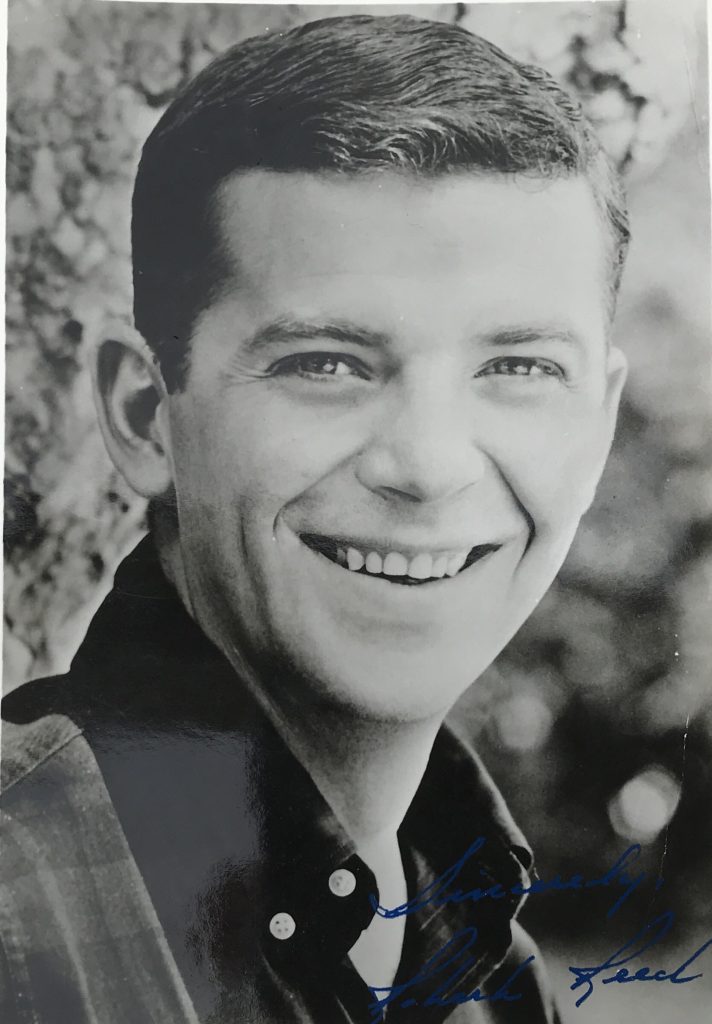 Robert Reed was born on October 19, 1932 in Highland Park, Illinois, USA as John Robert Rietz Jr. He was an actor, known for The Brady Bunch (1969), Bloodlust! (1961) and Rich Man, Poor Man (1976). He was married to Marilyn Rosenberger. He died on May 12, 1992 in Pasadena, California, USA.
Elliot Reid
New York Times obituary:
Robert Reed, who became a surrogate father to a generation as the head of an exceptionally large household on television's "Brady Bunch," died on Tuesday night at Huntington Memorial Hospital in Pasadena, Calif. He was 59 years old and lived in Pasadena.
He died of bowel cancer, said Ann Haney, a family friend.
"He'd been fighting this thing very privately since last Thanksgiving," Ms. Haney said.
On "The Brady Bunch," a Friday night fixture on ABC from September 1969 until August 1974, Mr. Reed played Mike Brady, a successful architect who held together a family of three sons and three stepdaughters. Coupling firmness with love, Mike Brady helped guide his children through a minefield of minor crises — including a broken vase, a daughter's failed driving test and a son's squeaking pubescent voice — that would temporarily turn the family upside down for much of each half-hour episode. Still in Syndication
The show, which also starred Florence Henderson as Mike's wife, Carol, continues to win fans through reruns in syndication. It has inspired a satirical Off Broadway show, "The Real Live Brady Bunch," and a new behind-the-scenes book written by Barry Williams, who played the eldest son, Greg.
"I'm very sad," Ms. Henderson said in a telephone interview yesterday. "I feel like I lost a husband, a father to my kids and a good friend all in one day."
Mr. Reed first gained a television following in "The Defenders," a 1960's dramatic series on which he played a progressive-minded young lawyer whose father was portrayed by E. G. Marshall. He also had roles in the television series "The Lawman" and "Mannix." In January, he filmed an episode of "Jake and the Fatman."
Mr. Reed, who was born John Robert Rietz Jr. in Highland Park, Ill., was reared in Muskogee, Okla. He studied drama at Northwestern University and then attended the Royal Academy of Dramatic Arts and the University of London.
Returning to the United States, Mr. Reed joined a young group of Off Broadway players, "The Shakespeare-wrights," with whom he performed in "A Midsummer Night's Dream" and "Romeo and Juliet." He made his Broadway debut in 1964, succeeding Robert Redford as the star of the Neil Simon play "Barefoot in the Park."
A sometime player on the regional stage, Mr. Reed last starred in a touring production of the play "Love Letters" in February.
"Every television actor says the same thing when you ask him why he's doing theater: to work up the juices," Mr. Reed once said. "But the basic reason is the script. In television, the scripts aren't very good."
Mr. Reed is survived by his mother, Helen Rietz, of Sallisaw, Okla.; a daughter, Karen Baldwin of Chicago, and a grandson