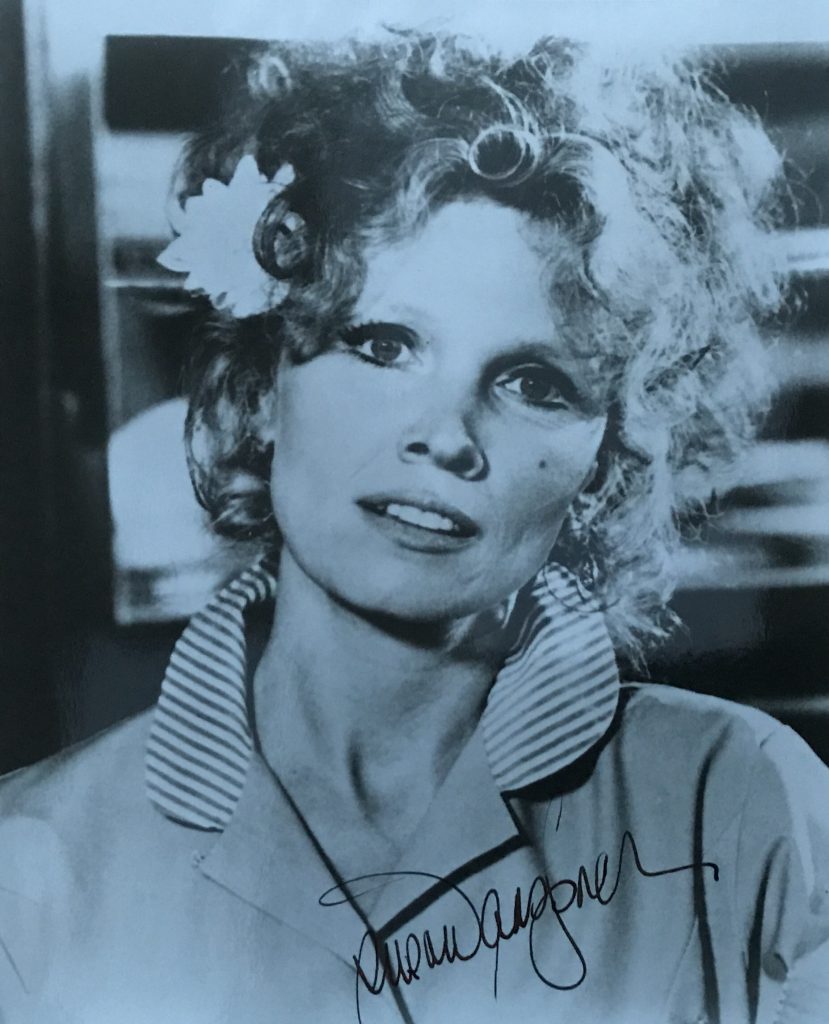 "Guardian" April 2018 Obituary:
With her vibrant appearance in Bob Rafelson's landmark road movie Five Easy Pieces (1970), Susan Anspach, who has died aged 75, emerged at the same time as her co-star Jack Nicholson as a significant figure in the new Hollywood of the 1970s. However, Anspach, unlike Nicholson, saw her film career dwindle after a decade that has been called Hollywood's last golden age.
"I was getting reviews that compared me to Katharine Hepburn and Bette Davis," Anspach said in 1978. "But there were no Hepburn or Davis parts." Nevertheless, she made the most of the strong female roles she was given in the Rafelson movie, and in Play It Again, Sam (1972), as the ex-wife of a film critic (Woody Allen), and Blume in Love (1973), as the ex-wife of a divorce lawyer (George Segal) – both former husbands are still in love with her.
She was born in New York City, to Renald Anspach, a factory worker, and Trudy Kehoe, a singer. After studying music and drama at the Catholic University of America in Washington, DC, Anspach began to get parts off-Broadway, notably in a revival of Arthur Miller's A View from the Bridge (1965) alongside Robert Duvall and Jon Voight.
Anspach's radical credentials were early in evidence when she took the lead role of the hippy queen, Sheila, in one of the first performances of Hair: The American Tribal Love-Rock Musical off-Broadway in 1967. She appeared in TV series such as The Defenders and The Patty Duke Show, before making her feature film debut in The Landlord (1970), Hal Ashby's satire on race relations. With a malicious twinkle in her eye, she played the liberated sister of Elgar (Beau Bridges), who has bought a building in a black neighbourhood, to the horror of his stultifying bourgeois family.
In Five Easy Pieces, she was a pianist who semi-reluctantly gives in sexually to her fiance's drifter brother (Nicholson), though she later asks: "Why should I go with you? If a person has no love for himself, no respect for himself, no love for his friends, family, work … how can he ask for love in return?"
In Play It Again, Sam, Anspach appears in Allen's imagination, talking about the breakdown in their marriage, and why she dumped him. She seems to have made a speciality of playing wives who break up with husbands, mainly to assert their freedom. In Paul Mazursky's Blume in Love, she was the newly liberated social worker who leaves her husband (Segal) for a musician (played by the country music singer-composer Kris Kristofferson).
It would be five years before she resumed her film career because "I was asked to do little more than what TV couldn't do – take off your clothes and swear." She did neither in the mediocre comedy thriller The Big Fix (1978) as a 60s student radical who get mixed up with a private eye (Richard Dreyfuss).
In Montenegro or Pigs and Pearls (1981), a Swedish-UK co-production directed by the anarchic Serbian film-maker Dušan Makavejev, Anspach gave a tour de force performance as a middle-class housewife whose boredom drives her to the edge of madness until she frees her libido with a gang of Serbian immigrant workers. According to the critic Roger Ebert: "Susan Anspach, who is not robust, and who is in fact rather shy and frail, may not seem like a likely candidate to enter this world, but she undergoes a transformation in the movie, from the suppressed, unbalanced housewife into a woman who was born to embrace Rabelaisian excess.
As well as a few inconsequential feature films, Anspach appeared in miniseries including The Yellow Rose (1983), Space (1985) and The Slap Maxwell Story (1987).
She is survived by Catherine, her daughter from a relationship with the actor Steve Curry, with whom she starred in Hair, and Caleb, her son with Nicholson. Both children were adopted by Mark Goddard, the Lost in Space actor, to whom Anspach was married from 1970 until 1978, though she expressed a disbelief in marriage. Her second marriage, in 1982, to the musician Sherwood Ball, also ended in divorce.
• Susan Florence Anspach, actor, born 23 November 1942; died 2 April 2018