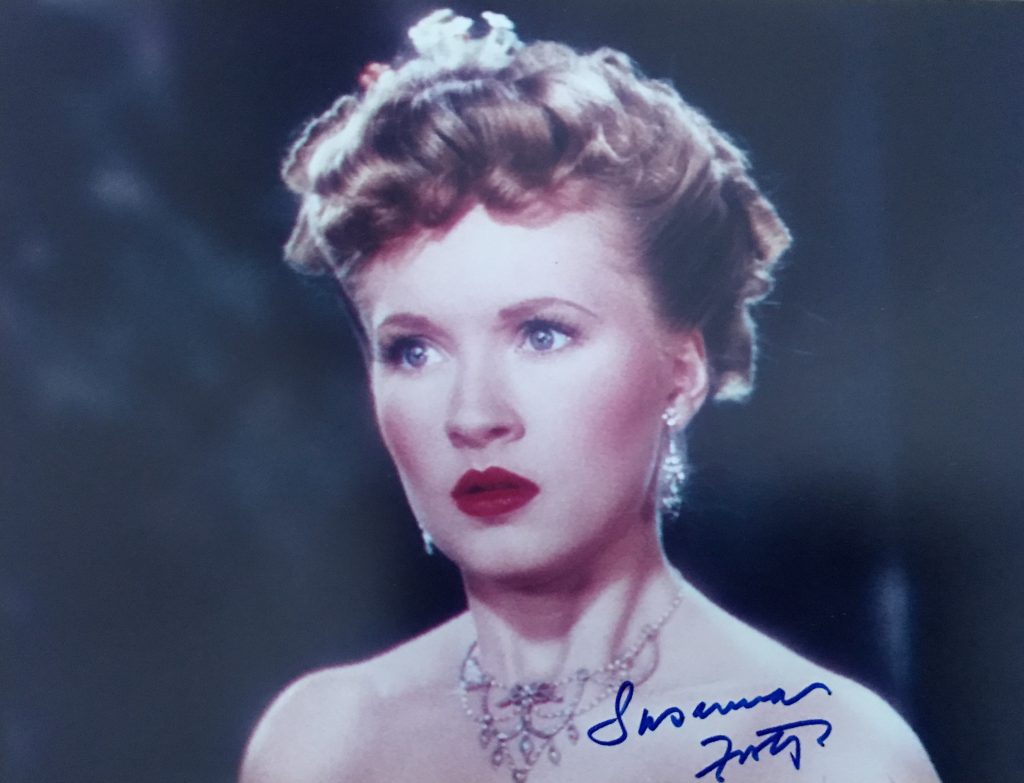 "Guardian" obituary by Ronald Bergan from 2009:
Radiating youth and beauty, and singing with an immaculate and fresh coloratura soprano voice in 11 Hollywood movies from 1939 to 1945, Susanna Foster, who has died aged 84, appeared to have everything. At the age of 19 she shone in her most memorable role as the operatic diva Christine Dubois in Phantom of the Opera (1943), which co-starred Nelson Eddy and Claude Rains. Her earnings from her Universal Studios contract enabled her to rescue her family from poverty. Yet, 13 years later, she was struggling to survive and bring up her two young sons, and her financial and mental situation worsened over the years.
Foster admitted that she was partly to blame for her changed circumstances, saying that she had made the wrong choices, including leaving films at the height of her popularity, walking out on her marriage and, when only 12 years old, turning down the title role in National Velvet because "there was no singing in it". Eight years later, MGM's film was to make Elizabeth Taylor a star.
Foster, who called herself a "skinny waif" at the time, was one of many well-scrubbed youngsters that MGM was grooming for stardom but, unlike Mickey Rooney and Judy Garland, with whom she was at school, she was released by the studio after a further proposition fell through. It was to be called B Above High C, a reference to the upper register of her voice.
Foster, who was born Suzanne DeLee Flanders Larson, in Chicago, and raised in Minneapolis, began to sing at the age of five, imitating the screen sopranos Grace Moore and Jeanette MacDonald. Paramount snapped her up as a teenager, casting her in the biopic The Great Victor Herbert (1939). She was a hit, playing Allan Jones and Mary Martin's daughter, and sang Kiss Me Again brilliantly, which prompted the New York Times to write: "The charming juvenile songstress Susanna Foster is a newcomer who is going to be very bearable to watch." After seeing Foster in the film, the newspaper magnate William Randolph Hearst flew her to his estate for a private recital for him and his mistress, Marion Davies, the former film star.
There's Magic in Music (1941), a showcase for several young musical talents, featured Foster as Toodles LaVerne, a burlesque queen who is discovered by a priest (Jones) and brought to a music camp to perfect her singing. In this role, she not only skillfully mimicked Marlene Dietrich but also sang operatic arias from Faust and Carmen. This led Universal to offer her the part of the diva in Phantom of the Opera when the studio's biggest star, the juvenile soprano Deanna Durbin, turned it down.
Foster, seen for the first time in Technicolor, was suitably attractive as the prima donna of the Paris opera house, loved by three men, the disfigured composer of the title (Rains), a baritone (Eddy) and a police inspector (Edgar Barrier).
Universal then starred her opposite the energetic young dancer Donald O'Connor in Top Man (1943), a lively "let's-put-on-a-show" teen musical, and This Is the Life (1944). Then, in Technicolor horror mode again, and in an attempt to repeat the huge success of Phantom of the Opera, came The Climax (1944), in which Foster is under the malign influence of a mad doctor, played by Boris Karloff, who wants to prevent her from singing for anyone but himself. She sings, with what one critic called "a very lusty larynx", in arias from pseudo-operas.
After three more films, Bowery to Broadway (1944), Frisco Sal (1945) and That Night With You (1945), Foster decided to give up show business and concentrate on her singing. In fact, Universal, hoping she would return to films, financed a six-month stay in Europe under the tutelage of the dramatic soprano Dusolina Giannini. On her return from Europe, she sang at a ball at the White House, with President Harry Truman and Eleanor Roosevelt in attendance.
In 1948, Foster made her stage debut in the Victor Herbert operetta Naughty Marietta, opposite the baritone Wilbur Evans, whom she married. They toured together in a number of operettas and musical comedies, trading on her name as a film star. However, it was Evans who got a huge break, playing Emile de Becque to Mary Martin's Nellie Forbush in the 1951 London production of South Pacific. A few years later, Foster suddenly left Evans, who was 20 years her senior, and whom she claimed never to have loved, taking her two young sons with her.
There followed years of living on and off welfare, and from hand to mouth. While trying to ensure her children were fed, she also attempted to help her alcoholic, widowed mother and mentally unstable younger sister. Foster, too, suffered depression and had problems with alcohol. In 1982, in order to save rent, she lived in her car at the beach in California. She was rescued for a while by a film fanatic, who let her share his squalid apartment, and she later cared for him when he lost his sight. In 1985, her younger son, who had become a drug addict, died of liver failure. Her surviving son, Michael, brought her back to the east coast, where she spent the last years of her life living in a nursing home.
Remembering her glowing screen performances only adds extra poignancy to her tragic decline.
• Susanna Foster (Suzanne DeLee Flanders Larson), actor and singer, born 6 December 1924; died 17 January 2009