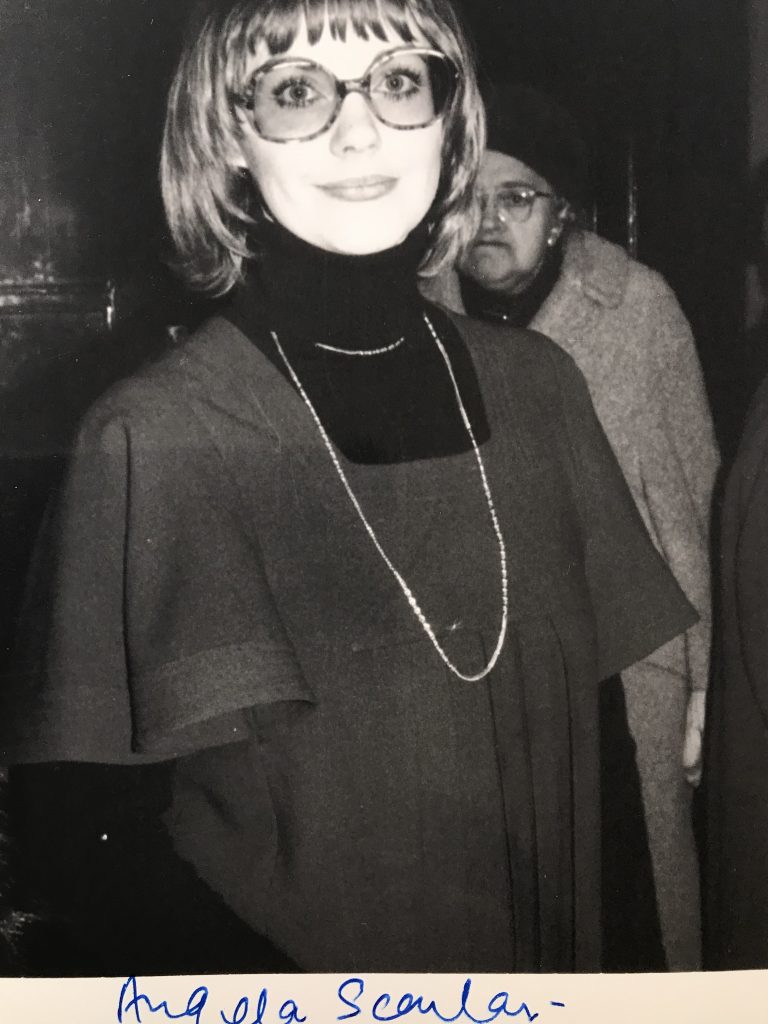 Angela Scoular obituary in "The Guardian" in 2011.
Angela Scoular who has died aged 65 after reportedly taking her own life, was known as the wife of the actor Leslie Phillips, but she also had several acting roles of her own that brought her public attention.
She twice played a "Bond girl". First, she took the part of Buttercup, sharing a bath with David Niven as James Bond, in the spoof, "unofficial" release Casino Royale (1966). Then she was the flirtatious farmer's daughter Ruby, bedded by once-only-007 George Lazenby, in On Her Majesty's Secret Service (1969), which also featured the former Avenger Diana Rigg and the future New Avenger Joanna Lumley.
Scoular later had a regular role as Lady Agatha Shawcross in You Rang, M'Lord? the "upstairs, downstairs" sitcom set in the 1920s, from the Dad's Army creators Jimmy Perry and David Croft. As the mistress of Lord Meldrum (Donald Hewlett) in the 1988 pilot and four series (1990-93), Lady Agatha is seen conducting the affair even with her third husband, Sir Ralph, in the house – she secretly gives him sleeping pills.Advertisement
The character's raunchiness is embellished with the backstory that she was once sacked as assistant matron at Eton following an incident with students. Lady Agatha eventually breaks off the affair with Lord Meldrum after he loses his money.
Born in London, the daughter of an engineer, Scoular attended St George's school, Harpenden, and Queen's college London. After training at Rada, she made her television debut in the crime drama No Hiding Place (1963). In 1967 she landed the prized role of Cathy in a four-part BBC adaptation of Wuthering Heights. It was a haunting scene with Scoular's Cathy at a window that inspired the singer Kate Bush to write her hit 1978 single of the same name.
Scoular made her film debut as a "society girl" in the Charlie Chaplin-directed comedy romance A Countess from Hong Kong (1967), starring Marlon Brando and Sophia Loren.
Then, long before her marriage to Phillips, she was his love interest in the film comedy Doctor in Trouble (1970). As Dr Burke, he is seen following his model girlfriend Ophelia (Scoular) aboard a Mediterranean-bound cruise liner, becoming a stowaway and, to avoid detection, masquerading as a female photographer. Scoular's other films included the sex comedies Here We Go Round the Mulberry Bush (1968), Adventures of a Taxi Driver (1976) and Adventures of a Private Eye (1977).
On TV, as Sue Silcock, she was another notch on Ray Langton's bedpost in Coronation Street (1972). Her roles in daytime serials included Frankie Prentiss in Harriet's Back in Town (1973) and Madeline Parsons in Rooms (1975). She also played Jill Savage in the sitcom Beryl's Lot (1974) and Maud in the family drama series Penmarric (1979).
Scoular took stage roles in Peter Shaffer's play Black Comedy (alongside Ian McKellen, at the Lyric theatre, London, 1968-69), Absurd Person Singular (Criterion, 1974) and Little Lies (Wyndham's, 1983-84).
In 2009 Phillips revealed that Scoular was being treated for bowel cancer. She had married him in 1982, a year after the death of his estranged first wife, the actor Penelope Bartley, in a house fire. Scoular is survived by Phillips and by her son, Daniel, from a previous relationship.
• Angela Margaret Scoular, actor, born 8 November 1945; died 11 April 2011