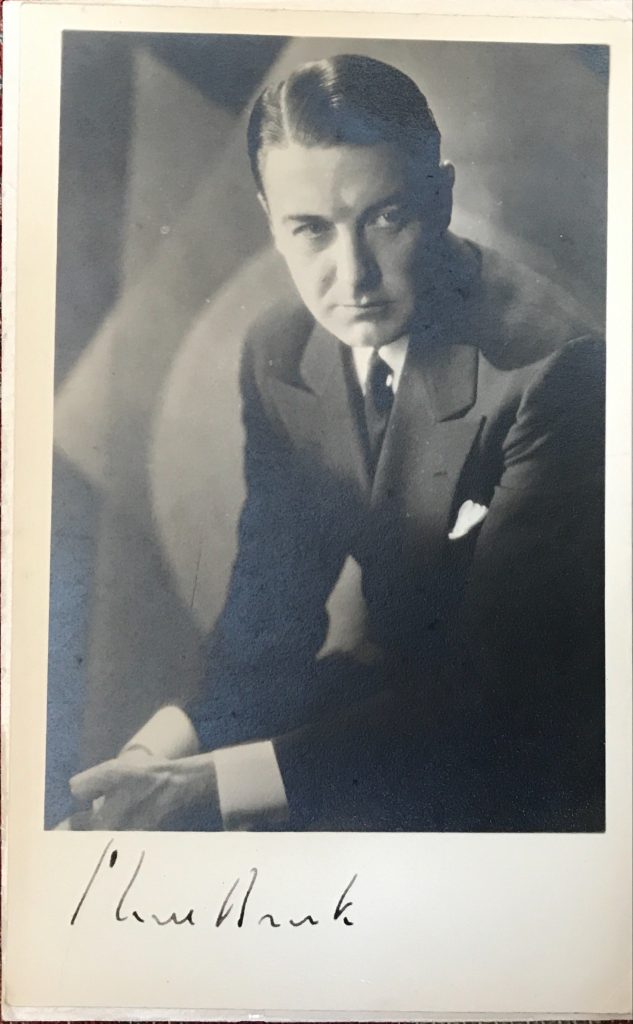 Clive Brook (Wikipedia)
Clive Brook was an English film actor.
After making his first screen appearance in 1920, Brook emerged as a leading British actor in the early 1920s. After moving to the United States, Brook became one of the major stars for Paramount Pictures in the late silent era. During 1928–29 he successfully made the transition to sound and continued to be featured in many of Hollywood's most prestigious films, including a number of literary adaptations. In the mid-1930s he returned to England, where he appeared regularly in leading film roles for a further decade.
Brook was born in Islington, London, the son of George Alfred Brook and Charlotte Mary Brook.[1] He attended Dulwich College because of his father's desire for him to be a lawyer, but family financial problems caused him to leave at age 15. He then studied elocution at a polytechnic.[2]
He served in the Artists' Rifles in the First World War, rising to the rank of Major.[3] Brook was 5 ft 11 in (1.80 m) tall and had brown hair with grey eyes.
Before Brook went into acting, he worked as a journalist and an insurance clerk.[3] He first appeared on stage in 1918 and also in films from 1919. He worked first in British films then in Hollywood.
Brook debuted on film in Trent's Last Case (1920).[2] One of his best remembered appearances was playing opposite Marlene Dietrich in Shanghai Express (1932). He played Sherlock Holmes three times: The Return of Sherlock Holmes and Sherlock Holmes (in that order), and as part of an anthology film, Paramount on Parade (1930).
In 1934 he was voted one of the most popular stars at the British box office.
Brook's final film was The List of Adrian Messenger (1963).[5]
Brook returned to England in 1935 because of kidnapping threats toward his children. In 1943, he adapted the comedy On Approval by Frederick Lonsdale and wrote, produced, directed and starred in the film with Beatrice Lillie, Googie Withers and Roland Culver. The costumes were by Cecil Beaton.
Brook starred as Josiah Bolton in the comedy Second Threshold from 2 January 1951 until 21 April 1951.
Brook died 17 November 1974 in Ealing, London.
In 1920, Brook married Charlotte Elisabeth Mildred Evelyn. Their children, Faith and Lyndon, were also actors.