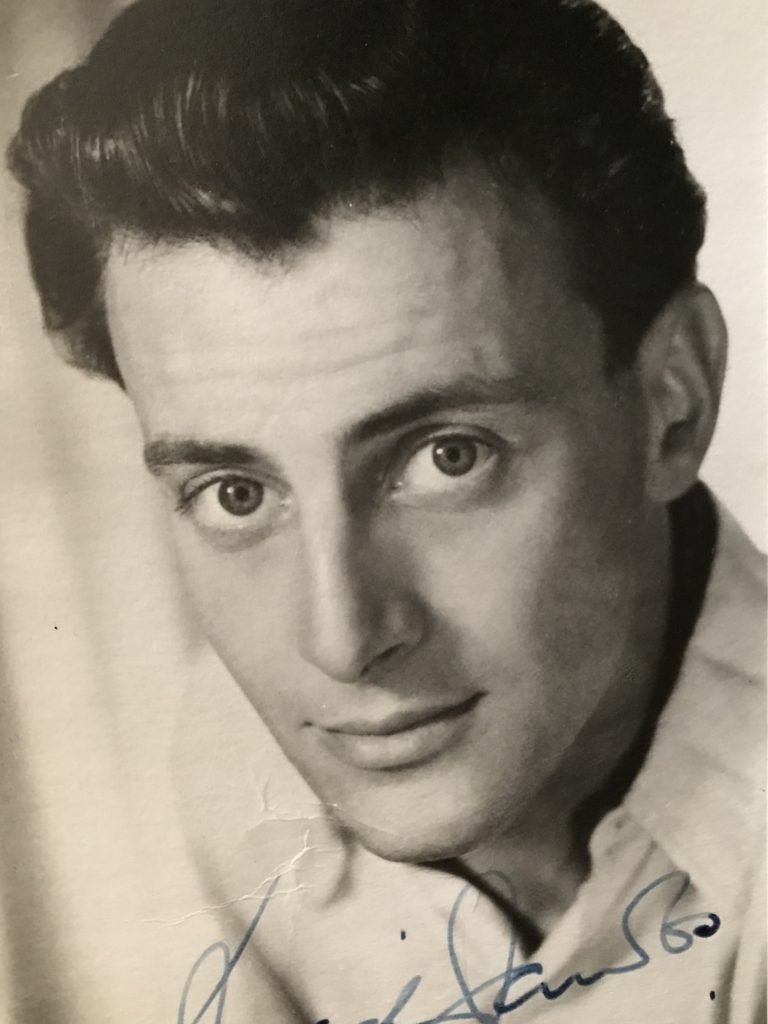 David Jacobs obituary in "The Guardian" in 2013.
David Jacobs who has died aged 87, was a radio and television broadcaster of considerable versatility and spirit. He was a reassuring presence whether introducing new pop records on BBC television's Juke Box Jury (1959-67) or keeping politicians and other pontificators politely but firmly in line on Radio 4's Any Questions? (1967-84). When this itinerant live programme made a 1976 visit to Basingstoke, in Hampshire, anti-fascist demonstrators hurled bricks because they objected to the presence of Enoch Powell on the platform. With great dignity, Jacobs led the team off the platform – and back on to it 10 minutes later when the police had re-established order.
For his final programme, he was allowed to choose his own panellists. His colourful lineup was the yachtswoman Clare Francis, Ken Livingstone, then leader of the Greater London Council, Lord (Richard) Marsh, then head of the Newspaper Publishers' Association, and the writer John Mortimer.
Very determinedly he survived much personal unhappiness, including the death of his son, Jeremy, from his first marriage in a traffic accident, and the death of his second wife, Caroline Munro, in a holiday car crash soon after their wedding in 1975. To any friends who complained of bad luck, he responded: "Count up your good luck."
Born in Streatham Hill, south London, David was the son of Jeanette Jacobs and her once-prosperous Covent Garden fruit importer husband, David senior. He had been ill for 10 years when his business collapsed just before the outbreak of the second world war in 1939. The chauffeur disappeared from the family's life, then the car, then the maid and then their home.
This precipitated David Jr into leaving school at 14. He drifted through dead-end jobs – stable boy, farm hand, errand boy, pawnbroker's clerk, leather worker, tobacconist and gents' outfitter's assistant – maintaining afterwards that the only one that gave him satisfaction was the tobacconist's kiosk in Piccadilly, where he bought American cigarettes from a US sergeant and sold them profitably to selected customers.
The nearest he had got to show business was appearing, with the encouragement of his genial Uncle Lew, at the Rex Cinema, Haslemere, Surrey, for a Sunday afternoon talent concert. When he joined the navy in 1944, fate came to his rescue. His flair for impersonations came to the ears of Lieutenant Commander Kim Peacock, himself an actor, who drafted him into the British Forces Broadcasting Service as an announcer. Peacock explained to Jacobs that his impersonations were awful, but he always introduced them so well.
After two years as chief announcer for the forces station in Ceylon (now Sri Lanka), he was an attractive enough proposition to the BBC Overseas Service to be given a job as an announcer. He lost it when he kept giggling at news items that amused him. After a period on Radio Luxembourg he was offered the freelance job of disc jockey on the radio programme Housewives' Choice, on which Jacobs had to play record requests and punctuate them with anodyne chat.
He was perfect for the job. It was a natural progression when he took over Juke Box Jury, chairing a celebrity panel as they assessed likely chart hits – hailed with a hotel reception bell – or misses – dismissed with a hooter. In a 1963 edition with the Beatles on the panel a regular audience of 12 million increased to more than 20 million.
The series made Jacobs a popular national institution. Firmly but politely he dealt with temperamental guests such as Zsa Zsa Gabor. He deterred her from insisting grandly that every man on the show must wear a dinner jacket by claiming – off the top of his head – that dinner jackets were never worn before 6.45 pm at Buckingham Palace. She believed him.
Jacobs broke into commercial TV when it started in 1955 by auditioning for a part in a play before Sidney Bernstein of Granada. Bernstein hired him but changed his mind, sending him a substantial cheque to cover his breached contract. Jacobs said he would keep it only in exchange for work, and found himself doing a half-hour outside broadcast at a Morecambe pleasure park which was almost empty because of driving rain. To hold the audience's attention, he ended up by walking fully clothed into the sea. Impressed at this ability to keep going whatever the difficulties, Bernstein offered him the chairmanship of the new quiz show Make Up Your Mind. At one time Jacobs seemed to be always on the television, with appearances on What's My Line, Top of the Pops, the Eurovision Song Contest, Come Dancing, Miss World and many more. He knew – though was alway mystified as to quite why – that there were some people for whom his toothy, emollient smiles just did not work. When a senior BBC executive advised him that it was all too much, he reinvented himself as a player with more gravitas, to succeed Freddy Grisewood on Any Questions?
At that time, before television's Question Time took up a similar formula with Robin Day, Any Questions? was the leading political discussion programme. On it Jacobs showed that he was more than just a practised charmer until he was succeeded by the more down-to-earth John Timpson.
Having conceded that he was "too square for the pop scene", Jacobs became a stalwart of Radio 2, presenting music programmes in a succession of formats. He maintained that he gave the necessary impression of one-to-one intimacy by following advice from the great cricket commentator John Arlott, to "always speak while holding, and fingering, a pencil". He broadcast regularly on the station until ill health – liver cancer and Parkinson's disease – intervened this July.
In 1960 Jacobs was declared the Variety Club's BBC TV personality of the year and in 1975 BBC radio personality of the year. In 1984 he received a Sony gold award for his outstanding contribution to radio. He presented six Royal Command Performances and served many charities.
His Granada experience notwithstanding, there was some acting, notably as Laurie in the BBC's first TV adaptation of Little Women (1950-51). In Ceylon, one of his radio colleagues was Charles Chilton: when Chilton's Journey into Space was broadcast in the 1950s, with Jacobs introducing it and taking 22 roles, it was a great hit. In a later one-off episode for Radio 4, Frozen in Time(2008), he played Captain Jet Morgan.
In 1949, Jacobs married Patricia Bradlaw, and they divorced in 1972. In the 1975 car crash, he and Marsh were travelling with their wives, who were both killed. Jacobs wrote a book, Caroline, published in 1978, and the following year married Lindsay Stuart-Hutcheson. She survives him, as do three daughters from his first marriage.
• David Lewis Jacobs, television and radio broadcaster, born 19 May 1926; died 2 September 2013