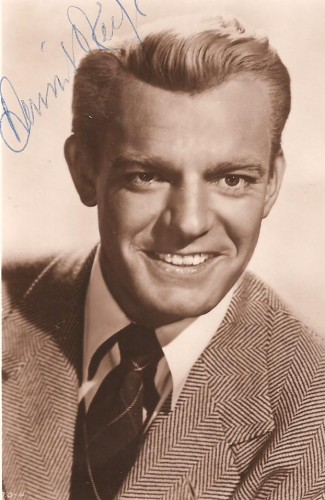 Dennis O'Keefe was born in Fort Madison, Iowa, O'Keefe was the son of Edward and Charlotte Flanagan,Irish vaudevillians working in the United States. As a small child, he joined his parents' act and later wrote skits for the stage. He attended the University of Southern California but left midway through his sophomore year after his father died.
O'Keefe continued his father's vaudeville act for several years after the father's death.[5]He started in films as an extra in 1931 and appeared in numerous films under the name Bud Flanagan. After a small but impressive role in Saratoga (1937), Clark Gablerecommended O'Keefe to Metro-Goldwyn-Mayer, which signed him to a contract in 1937 and renamed him Dennis O'Keefe. His film roles were bigger after that, starting with The Bad Man of Brimstone (1938) opposite Wallace Beery, and the lead role in Burn 'Em Up O'Connor (1939).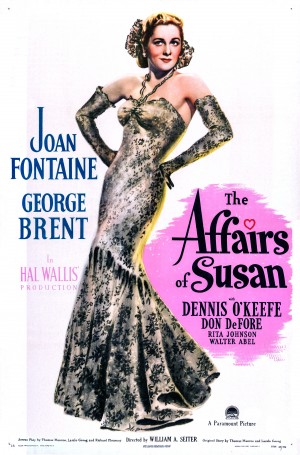 O'Keefe left MGM around 1940 but continued to work in mostly lower budget productions. He often played the tough guy in action and crime dramas, but was also known as a comic actor as well as a dramatic lead.
He gained great attention with a showy role in The Story of Dr Wassell and became a comedy star. He expressed interest in expanding into direction.
In the mid-1940s, he was under a five-year contract to Edward Small.O'Keefe starred in film-noir classics such as T-Men and Raw Deal, both directed by Anthony Mann.
In a 1946 newsreel following Howard Hughes' calamitous plane wreck into a neighbor's Beverly Hills house, O'Keefe can be seen walking through the home inspecting the damage.
In 1950, O'Keefe starred in the old-time radio program T-Man on CBS. Also in the 1950s, he did some directing and wrote mystery stories. He appeared on NBC's legal drama Justice and on the network's The Martha Raye Show. On October 3, 1957, he was a guest star on another NBC variety show, The Ford Show, starring Tennessee Ernie Ford. In 1957 he was to be the permanent host of Suspicion,[11]:1043 an anthology TV series in which ten episodes were produced by Alfred Hitchcock. After two episodes he left the series and was not replaced. From 1959-1960, he was the star of the CBS Television situation comedy, The Dennis O'Keefe Show.
O'Keefe's Broadway credits include Never Live Over a Pretzel Factory (1964) and Never Too Late.
O'Keefe wrote under the pen name Jonathan Ricks. His Don't Pull Your Punches was produced by Warner Bros.[5] In 1947, he was working on plans to co-produce and act in Drawn Sabers, another of his stories. He also wrote and directed Angela.
O'Keefe was married to Steffi Duna, an actress and dancer. They had two children, Juliena and James.
Dennis O'Keefe with Carmen Miranda, in Doll Face(1946).
A heavy cigarette smoker, O'Keefe died of lung cancer in 1968 at the age of sixty at St. John's Hospital in Santa Monica, California and was buried at Wee Kirk O' the Heather, Forest Lawn Memorial Park (Glendale).