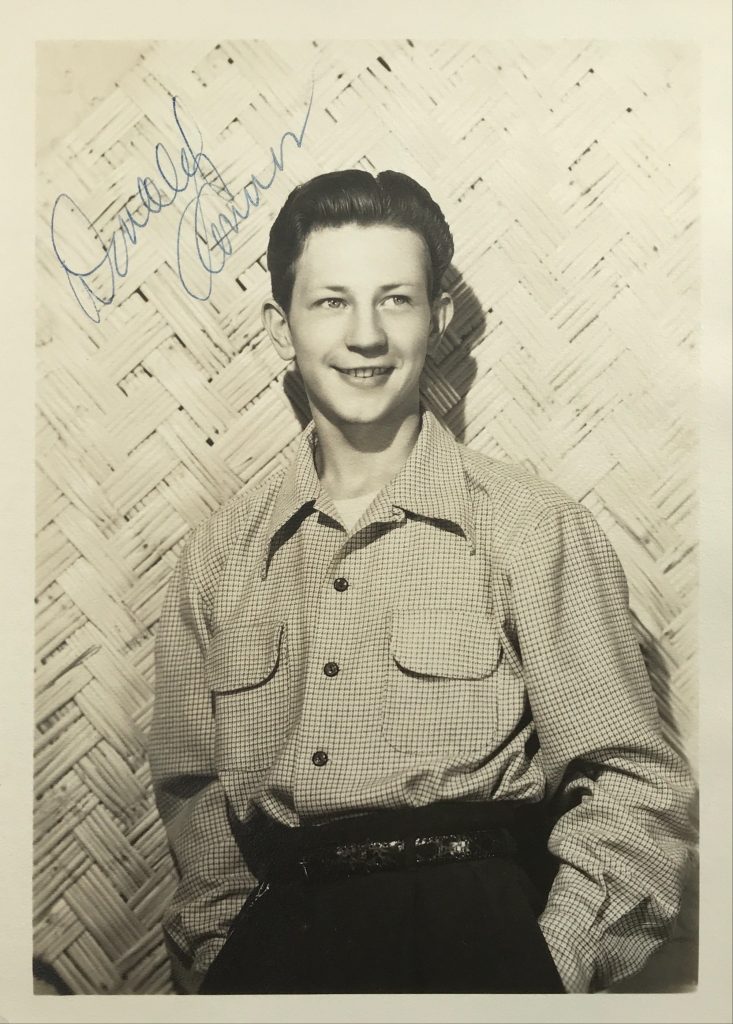 Oscar Levant had originally been chosen for the role of Cosmo Brown, Gene Kelly's best friend in the 1952 movie, but the directors, Kelly and Stanley Donen, wanted a dancer, and insisted on O'Connor. "Donald was a spontaneous artist and comedian," Kelly recalled, "and he could never do anything the same twice. There was no way you could say, 'Do it this way, and it will be funnier.' It was all improvisation.
"The dummy he uses in the dance, for example, was lying on a rehearsal stage next door to us. We walked in one day and Donald started to fool around with it. For half an hour, we just roared with laughter. Finally, we said, 'Well, let's put that in the number.' All of it came right out of Donald. It was unbelievable.We had to throw out 20 minutes of it." Advertisement
Apart from Make 'Em Laugh, in which he does a succession of backward somersaults and runs up walls – while singing all the time – O'Connor also danced two dynamic duets with Kelly, Fit As A Fiddle and the tongue-twisting tapper Moses Supposes.
O'Connor was born in Chicago, the seventh son of circus performers who went into vaudeville. His Irish-born father, John "Chuck" O'Connor, who died when his son was six months old, was a circus strongman and acrobat; his mother a bareback rider. Donald, who never went to school, joined the family act as soon as he could walk, though he admitted not having sung until he was two years old.
He made his screen debut at 11, in a speciality routine in Melody For Two (1937) with two of his older brothers, and the following year signed up with Paramount, for whom he made a dozen films in two years, playing cocky youngsters. He was Bing Crosby's jockey kid brother in Sing You Sinners (1938), Huckleberry Finn in Tom Sawyer: Detective (1938), Fred MacMurray as a child in William Wellman's Men With Wings (1938) and Gary Cooper as a child in Beau Geste (1939).
After a couple of years back in vaudeville, he returned to the screen in 1942 in a series of breezy, Universal B-musicals, becoming very popular as the juvenile lead, mainly opposite the equally lively and youthful Peggy Ryan. He was drafted during the second world war, but Universal kept on paying his salary.
His boyish elan kept him mostly in pubescent roles until Yes, Sir, That's My Baby (1949), when his character was married to Gloria de Haven. Then he found a new partner in Francis, the talking mule. This puerile, but highly successful series, in which the super-intelligent animal refused to speak to anyone but O'Connor, began with Francis (1950) and continued with Francis Goes To The Races (1951), Francis Goes To West Point (1952), Francis Covers The Big Town (1953), Francis Joins The Wacs (1954) and Francis In The Navy (1955). O'Connor finally left the series because "the mule was getting more fan mail than I was".
In 1953, he caught a rare fever transmitted by animals – for which he blamed the mule. The illness prevented him taking a role opposite Crosby in White Christmas, though he later starred with him in Anything Goes (1956).
After Singin' In The Rain, O'Connor appeared, also for MGM, opposite Debbie Reynolds in the charming I Love Melvin (1953), in which he danced and sang Life Has Its Funny Little Ups And Downs on rollerskates. He was then in two of Fox's huge Irving Berlin musicals, Call Me Madam (1953), delightfully singing It's A Lovely Day Today, and There's No Business Like Show Business (1954), in which he was driven to drink by Marilyn Monroe.
The latter role reflected his real life, not only in the vaudeville background but also because O'Connor had become an alcoholic. His wife Gwendolyn divorced him in the year the film was made, and refused him contact with his daughter. But two years later, after an effective cure, he got his career back on track, married his second wife, Gloria, and fathered another daughter and two sons.
In 1957, O'Connor was cast as the silent movie great in The Buster Keaton Story (1957), acquitting himself ably, with the help of Keaton himself on set. Thereafter, he rarely appeared in movies, giving more time to stage musicals (he toured in Little Me and Promises, Promises), cabaret work and musical composition. The Brussels Symphony Orchestra recorded some of his work, and in 1956 he conducted the Los Angeles Philharmonic in a performance of his first symphony, Reflections d'Un Comique.
In 1981, he returned to the screen as a dance instructor in Ragtime, and was triumphant on Broadway as Captain Andy in the 1983 revival of Showboat. In the 1990s, he performed regularly in the Fabulous Palm Springs Follies, did a few cabaret shows in London and appeared in such films as Toys (1992) and Out To Sea (1997), his last movie, starring Walter Matthau and Jack Lemmon. As he once said, "I was born in a trunk, and I'll die performing."
He is survived by his wife and children.
· Donald David Dixon Ronald O'Connor, dancer, actor, singer, born August 28 1925; died September 27 2003