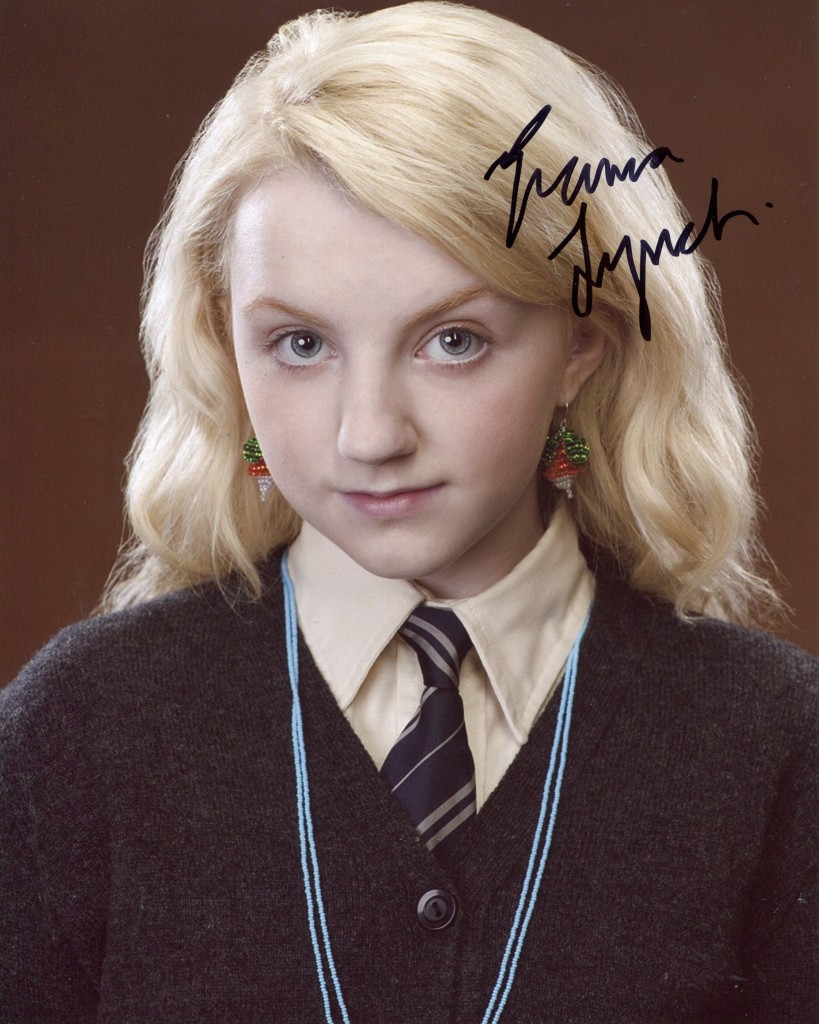 Evanna Lynch (Wikipedia)
Evanna Lynch is an Irish actress, vegan activist, voice actress and narrator. She rose to prominence for her role as Luna Lovegood in the Harry Potter film series, appearing in the last four films and their tie-in video games, as well as in the musical A Very Potter Senior Year.
Lynch was born in Termonfeckin, County Louth, Ireland, the daughter of Marguerite and Donal Lynch. She has two older sisters, Emily and Mairead, and one younger brother named Patrick. As a child, Lynch read the Harry Potter series and became a fan, sending letters to the author, J. K. Rowling. She attended Cartown National School in Termonfeckin until June 2004 and then moved to Our Lady's College in Drogheda, where her father was the deputy principal.  In 2008, Lynch studied speculative fiction and drama at the Centre for the Talented Youth of Ireland, a summer school for gifted teens, in Glasnevin. While on the Harry Potter set, she was tutored for at least three hours a day. From September 2010, Lynch attended the Institute of Education to repeat her Leaving Certificate.
Lynch has mentioned having a devout Catholic upbringing.
Lynch has worked to promote healthy self-esteem and body image in young girls because of her previous experiences with the eating disorder anorexia nervosa.[63]From the age of 11, Lynch was in and out of rehabilitation clinics for two years. She soon found a connection with the character of Luna Lovegood from the Harry Potter book series and was inspired by the character's embracing of her own oddities. Lynch wrote an essay entitled "Why the Body Bind is My Nightmare" in which she describes her emotional struggle with her appearance and how she managed to overcome this through the use of allusions that pertain to the Harry Potter series.
Her charity work includes participation with the Multiple Sclerosis Society of Ireland, in which she launched their MS Readathon fundraiser in 2010. Lynch is also a member of the Board of Advisors for the non-profit organisation, the Harry Potter Alliance (HPA). With the HPA, she has supported same-sex marriage in Maine, taken part in a webcast fundraiser, written an article about body image and contributed to a fundraising book.
In 2015, Lynch became vegan, and in November 2017, she started a podcast on veganism with, among others, fellow Harry Potterseries actor Robbie Jarvis, entitled The ChickPeeps.[70]
Lynch is also the co-founder, along with actress and entrepreneur Daniella Monet, of the vegan and cruelty-free make-up and beauty care box Kinder Beauty Box.
Lynch maintains a home in London, England.