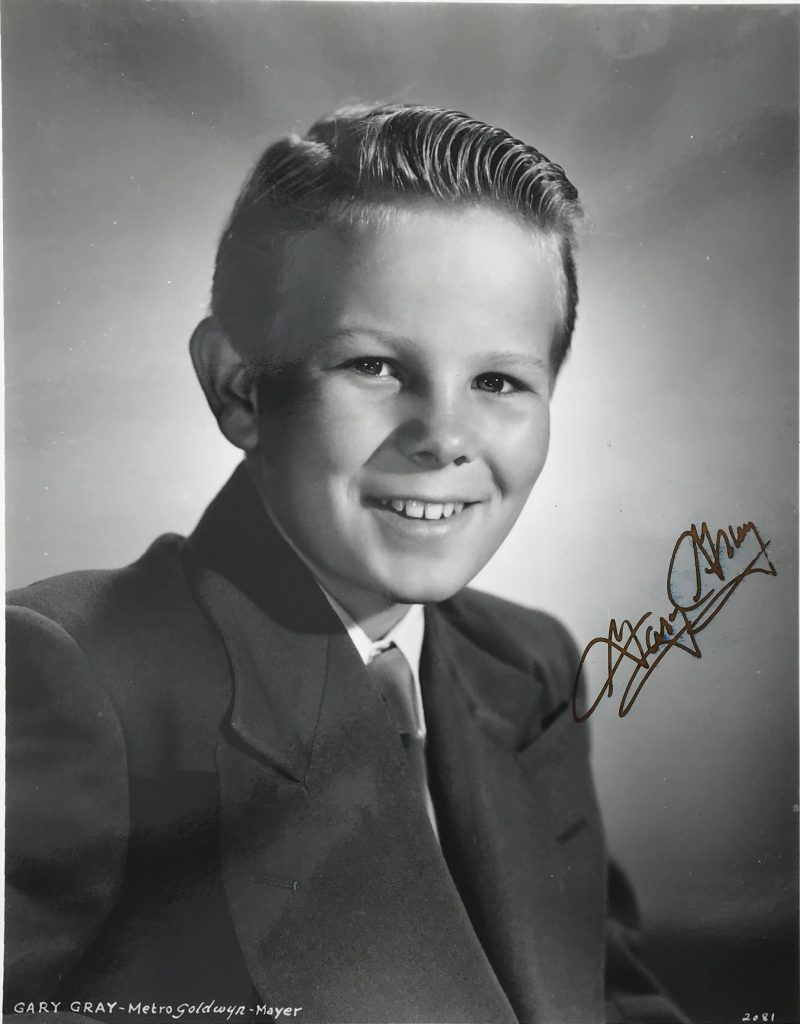 Gary Gray obituary in "The Independent" in 2006.
The child star Gary Gray graduated in his movie career from an earnest child to a teen heart-throb. Fair-haired and blue-eyed, he was the son of the agent Bill Gray, whose clients included the comics Jack Benny and Bert Wheeler, both of whom advised him to put Gary into films.
Born in 1936, Gary Gray made his screen début at the age of three with an uncredited part of a little boy in a sailor suit playing hopscotch in the park in George Cukor's A Woman's Face (1939), starring Joan Crawford. He later recounted how he fell during his scene and cut his knee:    
Before my mother could get to me, Joan Crawford picked me up, took me to her dressing room, cleaned my cut and was feeding me chocolates.
Because of his father's business, Gray was not overawed by stars, and formed close friendships with some, including William Holden, one of the stars of Gray's favourite of his films, Rachel and the Stranger (1947), a frontier drama in which he was the mischievous son of a widowed farmer (Holden) in the early 1800s. When Holden purchases a new wife (Loretta Young) to cook and help raise the boy, Gray resents her and Holden takes her for granted until a wanderer (Robert Mitchum) arrives and begins to court her. Gray and Mitchum recorded songs from the film for Delta Records in 1947.
Gray also befriended Rhonda Fleming when he appeared with the actress in the comedy The Great Lover (1949), starring Bob Hope as chaperon to a group of boy scouts on an ocean liner. "Hope was very businesslike," he recalled:
He did his work, went to his trailer and came out when he had scenes to do. Rhonda was beautiful, and all the kids liked her. I became president of the Rhonda Fleming fan club and she loved it. She had T-shirts made that said "Rhonda Fleming fan club" and she took us bowling. A great lady.
Another of Gray's favourite assignments was the musical Two Weeks with Love (1950), in which he was the younger brother of Jane Powell and Debbie Reynolds. He recalled how he and Reynolds became friends and would sit on the set watching Busby Berkeley at work. "That was a fun movie," he said. "Berkeley had grown weary by this time of his career and didn't direct entire films any more, just the musical numbers."
Father is a Bachelor (1950) reunited him with William Holden, who played a hobo "adopted" by five orphans, among them Gray and, as his brother, Billy Gray, a child star with whom Gary was sometimes confused (they were not related). Earlier the pair had played brothers in To Each His Own (1945).
Gary Gray's other films included Sun Valley Serenade (1941, as a wartime refugee), The Clock (1945, as a boy encountered in Central Park by Judy Garland and Robert Walker), and The Girl from Jones Beach (1949) with Ronald Reagan and Virginia Mayo. In the 1980s Gray was planning a trip to Washington on business and was urged by a friend to contact Reagan:
I told him I wasn't going to bother the busiest man in the world. My friend sent a fax behind my back. I was sitting in the living room when the phone rang. "This is President Reagan's office." So I met the President at the White House and he signed a still for me. I told him, "You know, Mr President, I was a lot more impressed with Virginia Mayo than you!" He laughed and said, "She was a very pretty woman."
Gray also acted as one of Raymond Walburn's sons in the "Latham family" B-movie comedies, including Leave it to Henry (1949) and Father Makes Good (1950), and he was the son of James Whitmore and Nancy Kelly in the controversial drama The Next Voice You Hear (1950), in which the voice of God emanates from a radio.
One of his final major roles was in The Painted Hills (1951), the last in MGM's series of films starring the famous collie Lassie. At the end of shooting, Gary was given one of Lassie's pups, which he christened Laddie. He acted in only five more movies, including Teenage Rebel (1956) and The Party Crashers (1958), co-starring Connie Stevens, who as a teenager had run a Gary Gray Fan Club. His last film was Terror at Black Falls (1962).
"I always got a regular job between movies," he said, and ultimately he was a sales manager for swimming-pool manufacturers.
Tom Vallance