Harry Towb obituary in "The Guardian" in 2009.
Harry Towb who has died aged 83, was a much-loved Irish character actor who was as familiar on screen as he was on stage. He could play soft, he could play harsh, and he could play in almost any accent – Belfast or Dublin, Jewish and American.
For this reason, his kindly oval face, with dark currant-bun eyes, poised on a slightly stooping frame in recent years, could light up a West End musical or a classic at the National as readily as an international Hollywood cast list or a long-running television series such as EastEnders, Casualty or The Bill.
He was in the 1951 London premiere of Tennessee Williams's Summer and Smoke, a poetic tone poem unfairly eclipsed by that playwright's better-known work; Saul Bellow's feisty triple bill The Bellow Plays at the Fortune theatre, London, in 1966 (one of his favourite gigs); and the Royal Shakespeare Company's world premiere of Tom Stoppard's Travesties at the Aldwych in 1975, playing Lenin.Advertisement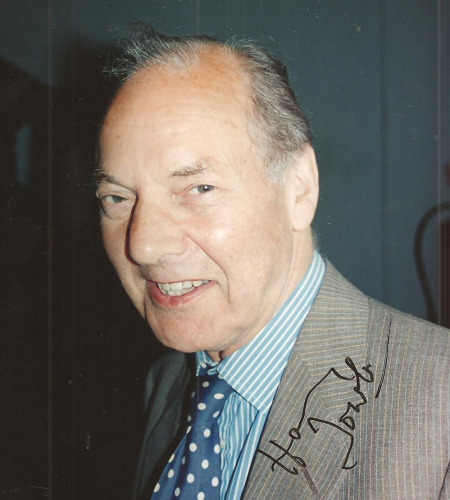 Although he often played Irish characters, most recently in Brian Friel's The Home Place with Tom Courtenay at the Comedy, London, in 2005, he was not classifiable as "Irish", and his melodic, velvety brogue often sounded more Canadian than anything. His personality on stage always came with an undertow of European or even Slavic melancholy and spirituality.
Towb was born in Larne, County Antrim, to a Russian father and an Irish mother, and was educated at school and technical college in Belfast. He made his professional debut at the Guildhall theatre in Derry in 1946, and played in regional reps around Britain. He made his West End debut as Ralph Berger in Clifford Odets's elegiac Awake and Sing at the now demolished Saville in 1950.
For the next two decades, he switched happily between stage and television, popping up in almost every significant series from Billy Bunter and The Army Game through to Dixon of Dock Green, Z Cars, Doctor Who, Minder, Holby City, Heartbeat and The Avengers, never pinned down as a bad guy, often a seedy criminal, sometimes a professional in authority. He appeared on EastEnders only last December as David, Janine Butcher's fiance.
Hector Malone in Shaw's Man and Superman for the RSC in 1977 was a signature role: a self-made American businessman of Irish peasant stock with social ambitions. And in 1978, it would have been almost impossible to imagine the musical of Jack Rosenthal's Bar Mitzvah Boy – adapted by Rosenthal from his own television play, with lyrics by Don Black and music by Jule Styne – without him as Victor Green, the boy's father. The show was charming, but it closed after 77 performances.
In the cinema, he often figured in strongly cast (mostly male) adventure stories, such as those involving the British navy, in Above Us the Waves (1955), with John Mills and Donald Sinden; German soldiers, in The Blue Max (1966), with George Peppard and James Mason; all-American heroes, in Patton (1970, Richard Nixon's favourite movie), starring George C Scott; and Irish priests, in Lamb (1986), with Liam Neeson.
He first appeared at the National theatre in 1986, in Neil Simon's Brighton Beach Memoirs – he played Jack Jerome, the hero's father, an old Polish-Jewish immigrant who cut material for raincoats and made extra money selling party favours out of cardboard suitcases. Towb's drooping, hangdog demeanour and trudging, worn-down gait was not the only reminder that this was Arthur Miller territory. He had other pungent senior character roles at the National: Polonius in the revival of Stoppard's Rosencrantz and Guildenstern Are Dead in 1996, and two years later in Max Stafford-Clark's glorious production of Sebastian Barry's Our Lady of Sligo, with Sinéad Cusack winning awards as Barry's alcoholic grandmother.
He was associated with the Gate in Dublin, where he played Canon Chasuble in The Importance of Being Earnest in 1997. But in the last years of his life he became a regular at the National, supporting Kenneth Branagh's great performance in David Mamet's Edmond in 2003 and capering genially, perfectly cast, as Erronius in A Funny Thing Happened On the Way to the Forum in 2004. Edward Hall directed both shows.
A telling cameo in Declan Donnellan's wonderful discovery of Nikolai Erdman's biting Russian comedy The Mandate in 2004 was bookended by participation in two of the most extraordinary NT ensemble pieces in the past five years: Owen McCafferty's Scenes from the Big Picture, in which 20 characters populated 40 scenes across 24 hours on the streets of Belfast in Peter Gill's breathtaking production; and Peter Handke's The Hour We Knew Nothing of Each Other, in which 27 characters came and went, wordlessly, and in various states of haste and consciousness, across a town square, directed by James Macdonald.
This exceedingly full and varied professional life was bolstered by a happy domestic one with his wife and fellow actor Diana Hoddinott, who survives him with their daughter and two sons.
Eric Shorter writes: Harry Towb was one of the gentlest, most imaginative and thoughtful actors of his generation. Deeply serious, but never solemn, he was always on stage if he could afford it – taking television and film work to balance out his income.
I first saw him in JP Donleavy's comedy Fairy Tales of New York at the Pembroke theatre, Croydon, in 1960. He played four American roles – something he was always at home with, and carried off very convincingly. This was the first outing of a successful production that transferred the following year to the Comedy theatre in the West End, and became an ITV play of the week.
The Bellow Plays went from London to Broadway, where the triple-bill was entitled Under the Weather, and he played opposite Shelley Winters. He never stopped working, and the stage came second only to his family in his affections.
• Harry Towb, actor, born 27 July 1925; died 24 July 2009